Kate Hudson just posted the best throwback to the '80s.
On Thursday, the 37-year-old actress shared an old photo of her family, who appear to be on vacation. In true '80s fashion, Hudson's famous parents – mom Goldie Hawn and stepdad Kurt Russell – are seen donning eccentric, oversized sunglasses.
"OG Squad," she captioned the photo.
At first, we almost didn't recognize Hudson in this snap! Considering how much the actress now looks like her mother, it's amazing how different she looks at such a young age.
The "Mother's Day" star is actually the little girl on the left. She and her famous brother Oliver (who is on the far right) are the children of Hawn and ex-husband Bill Hudson. Her parents divorced when she was just three years old. Hawn then got together with Kurt Russell a year later, and Hudson has been calling him "Pa" ever since.
The two other kids in the throwback are Russell's children: Boston and Wyatt. Boston, the elder boy, is Russell's son from his first marriage to actress Season Hubley. Wyatt, the baby, is Russell's only child with Hawn.
If you don't believe that Hudson looked that different as a child, then get a load of these throwback pics the actress previously posted. While Hudson was certainly adorable, we would never have guessed this was her!
Today, Hudson looks just like her famous mom in every way. Their hair, smile and fun-loving aura are exactly the same. Just take a look at these photos.
Here's Hawn and husband Russell in the '80s.
And here's Hudson sporting a similar hairstyle and big shades.
And here they are together at Hawn's annual "Love in for Kids" benefit back in May. The resemblance is seriously uncanny.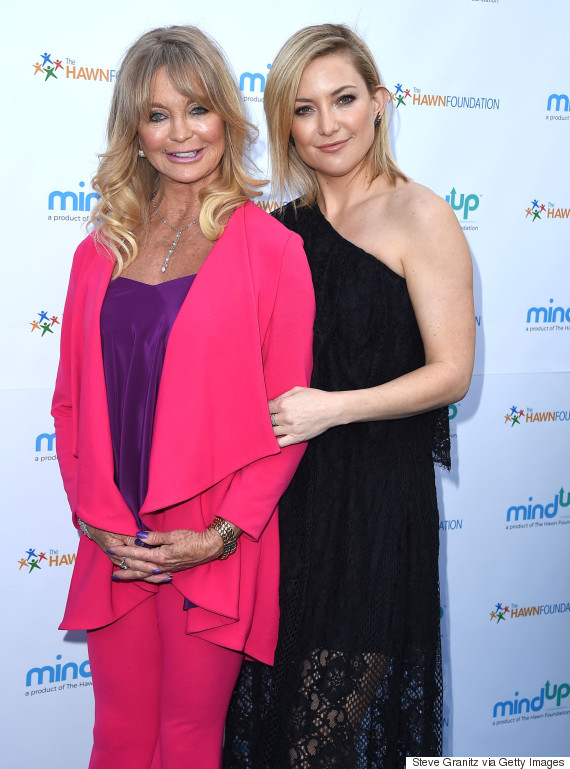 Earlier this year, Hudson opened up about her close relationship with her mother. "I've always had a really super open relationship with her," she told E! News. "I've never felt like I've had to hide anything from mom. If anything, she's always been my confidante."
She later added: "My mom, as busy as she was, was a very present parent."
Hudson is also a mom herself and has two boys. Her eldest son, 12-year-old Ryder, is from her marriage to Black Crowes frontman Chris Robinson. She then had her youngest, five-year-old Bingham, with ex-fiancé Matt Bellamy.
ALSO ON HUFFPOST:
Celeb Kids And Their Family Lookalikes