Penny Oleksiak's star has soared so quickly in the past week, Canadians are already calling on Team Canada to name her the closing ceremony's flag-bearer.
Canada's first and youngest gold medalist at the Rio Olympics made history this week at the 2016 Summer Games, winning four medals — two bronze, a silver, and a gold.
The 16-year-old's unprecedented achievements in the pool have made her the country's most accomplished summer Olympian.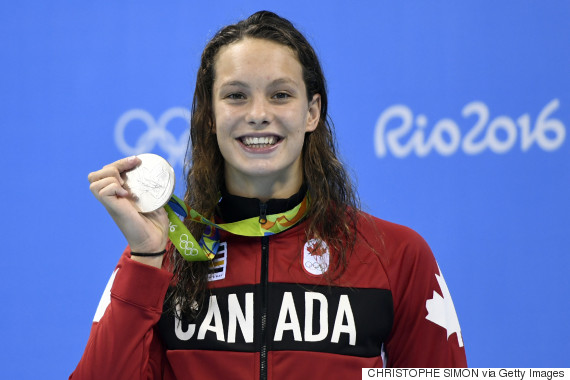 Penny Oleksiak celebrates on the podium after she won silver in the Women's 100-metre butterfly final in Rio de Janeiro on Aug. 7, 2016. (Photo: Christophe Simon/AFP/Getty Images)
For these reasons, it's not surprising that the swimming sensation has become the people's choice for Canada's flag-bearer for the closing ceremony on Aug. 21.
Penny Oleksiak should carry the flag at the closing ceremonies and the rest of team Canada should carry her on their shoulders.

— Andy (@_rallycap) August 12, 2016
Make her flag bearer for closing ceremonies, give her the Lou Marsh Award as CAN's top athlete. Hell, Penny Oleksiak for Prime Minister!

— Scott Janes (@scottjanes23) August 12, 2016
Canadian media outlets aren't shying away from lauding the teen either.
"How long does it take to become one of the greatest athletes in Canadian history? Apparently, you can get it done in six days," wrote Globe and Mail columnist Cathal Kelly. "Even more efficiently than God."
Toronto Star columnist Bruce Arthur declared her the "greatest swimmer in Canadian history, right now."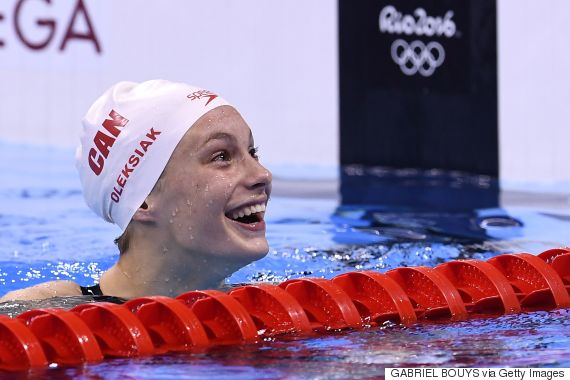 To make everyone's dreams come true, Oleksiak would need to curry favour with her teammates.
Closing ceremony flag-bearers are nominated by fellow Team Canada members, not by public opinion. And if she's chosen, Oleksiak would get to bring home more than her medals.
Flag-bearers are allowed to keep the flag.
Should she be selected, Oleksiak would be joining the ranks of footballer Christine Sinclair and now retired speed skater Cindy Klassen.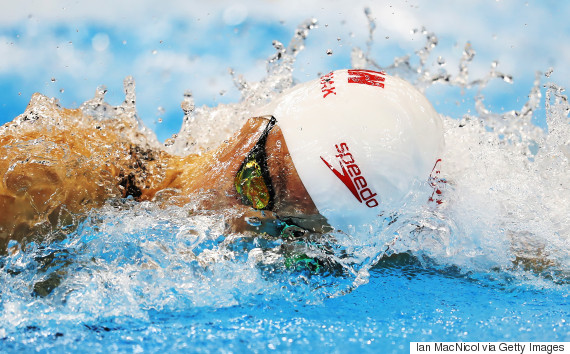 The honour of representing Canda would be well-deserved.
With her relay teammates, she won bronze in the women's 4x200-metre and 4 x 100-metre freestyle relays. By herself, Oleksiak won silver in the women's 100-metre butterfly.
What truly won the hearts of Canadians was her incredible seventh place comeback during the women's 100-metre freestyle tied her for gold with U.S. swimmer Simone Manuel. Together, they broke the freestyle record with a swim time of 52.70 seconds.
She, along with teammate Taylor Ruck, also broke a a record of millennial proportions: the International Olympics Committee confirmed Oleksiak and Ruck as the first Olympic medallists to be born in the 2000's.
While Oleksiak's achievements in Rio are historic, the title of most decorated Canadian Olympian from one Olympics still belongs to Klassen, who had previously won five medals at the 2006 Winter Olympics in Turin.
But at only 16, that title could be hers for the taking at the 2020 Summer Games in Tokyo.
Also on HuffPost
Canadian Medallists at the 2016 Rio Olympic Games