While Penny Oleksiak and Simone Manuel shared the podium and gold medal standing in Rio on Thursday, their moms also tied for Olympic pride in the stands.
Co gold medalist moms! #Rio2016 pic.twitter.com/oCLSvDVApf

— Swimming Canada (@SwimmingCanada) August 12, 2016
In this awesome photo, Oleksiak's mom, Alison, and Manuel's mom, Sharon, stand side-by-side holding up "number one" gestures. Their faces are absolutely beaming after their daughters tied for first place in the women's 100-metre freestyle.
Simone Manuel of US, Canadian Penny Oleksiak tie for gold in 100-meter freestyle https://t.co/MKrpLGzoEb #Rio2016 pic.twitter.com/rGQnRqLHJe

— The Boston Globe (@BostonGlobe) August 12, 2016
"It's a little surreal, frankly, when you think of your 16-year-old as an Olympian athlete," Alison admitted to Yahoo in an interview before the summer games. "We're all a little shellshocked. That her first senior international event is an Olympics, and not just in the relay but in three other events as well, is -- almost as much as her data bills. And they can be pretty big."
At the Rio Olympics, Oleksiak has already won four medals: two bronze, one silver and now a gold.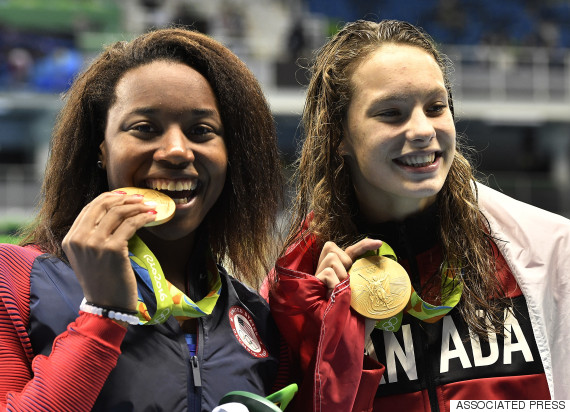 Their moms weren't the only ones beaming yesterday. Check out Mark Tewksbury congratulating Oleksiak on her first Olympic gold medal.
Sharing a moment with golden girl @OleksiakPenny. The baton is officially passed! @CBCOlympics #HERstoryishistory pic.twitter.com/CqU2ebiImr

— Mark Tewksbury (@marktewks) August 12, 2016
Tewksbury won gold for Canada back in 1992 in the men's 100 metre backstroke. The baton has been passed indeed.
Also on HuffPost
7 Canadian Olympic Gold Medalists Then And Now