RIO DE JANEIRO — Undefeated Canadians Sarah Pavan and Heathen Bansley advanced to the quarter-finals of the Rio Olympic women's beach volleyball tournament on Saturday while dispatching another Canadian pair in the process.
Pavan of Kitchener, Ont., and Bansley, of Waterdown, Ont., topped Victoria's Jamie Broder and Toronto's Kristina Valjas 2-0, earning their fourth straight win of the Rio Games.
Set scores were 21-16, 21-11.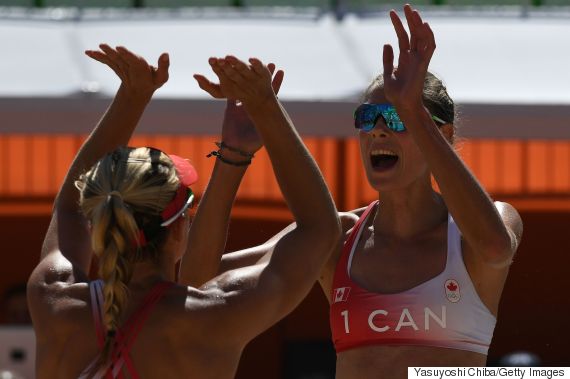 Canada's Heather Bansley and Sarah Pavan celebrate a point during the women's beach volleyball round of 16 match between Canada and Canada at the Beach Volley Arena in Rio de Janeiro on Sunday for the Rio 2016 Olympic Games. (Photo: Yasuyoshi Chiba/AFP via Getty Images)
Pavan and Bansley, who opened the tournament with three straight wins in the preliminary round to top Pool E with six points, fired three aces and had 26 digs to Broder and Valjas' 14.
Broder and Valjas were 2-1 through round-robin play, second place in their pool.
Canada sent the maximum four teams to Rio — two men's teams and two women's teams.
One of the men's pairs, Ben Saxton and Chaim Schalk, played a team from the Netherlands later Saturday.
Josh Binstock and Sam Schachter did not advance to the Round of 16.
Also on HuffPost
Canadian Medallists at the 2016 Rio Olympic Games