No shoes? No problem For Etenesh Diro.
Representing Ethiopia in the Rio Olympics, Diro was leading in the women's 3000-metre steeplechase gold qualifier when the unthinkable happened.
The track-and-field athlete was knocked from behind and caught in a collision with other runners. The jostling caused Diro's right running shoe to start slipping off, the Associated Press reports.
Diro wasted several seconds trying to re-fasten her shoe. Deciding it was a lost cause, she threw her sneaker away, NBC reports. A few steps later, she slipped her sock off too.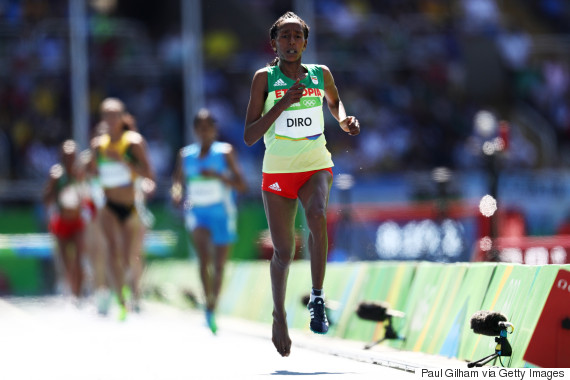 Diro ran for three laps without a shoe, jumping over vaults and splashing through water.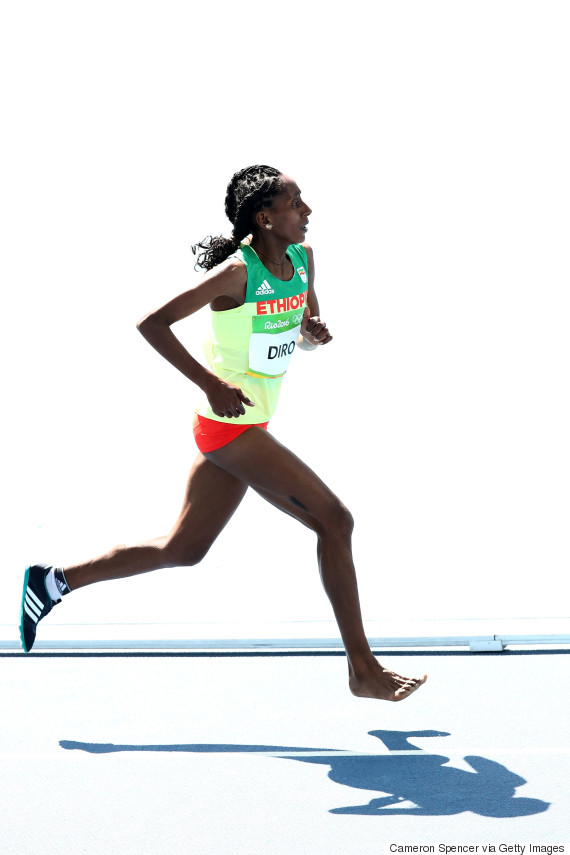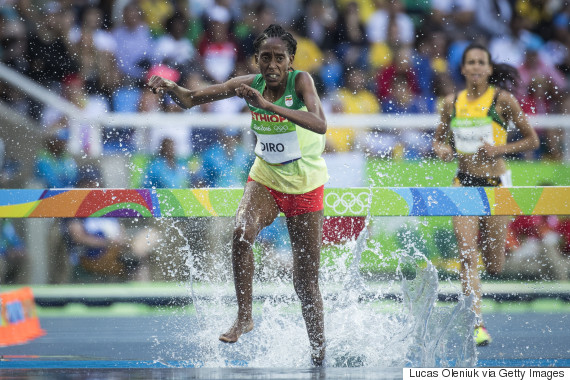 She sped past other runners, overtaking them as the crowd cheered for the determined shoeless athlete.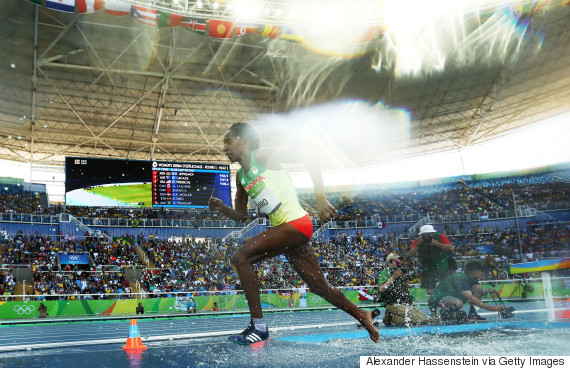 After crossing the finish line, Diro collapsed on the ground visibly distraught.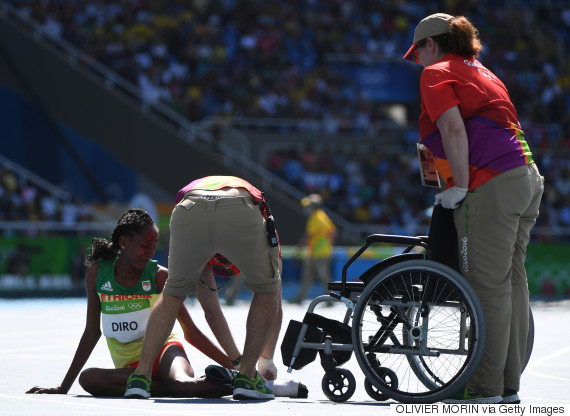 Olympic officials helping steeplechaser Etenesh Diro stand up.
Although Diro placed seventh, Twitter was amazed with her indomitable attitude.
Etenesh #Diro of Ethiopia was first in 3000 Steeplechase, then her shoe fell off. So she ran BAREFOOT.
A role model and a HERO #Rio2016

— Cursed Child Fekri (@f_fekri) August 13, 2016
Ethiopia's Etenesh Diro may not have won her race but she certainly won #Olympics with her determination & just one shoe! #BarefootChampion

— Kiran Sajwani (@KiranSajwani) August 13, 2016
Great news for Etenesh Diro of #ETH : She was kicked, lost her shoe & suffered a fall, still managed to finish 7th https://t.co/HGSduFJleQ

— Fisseha Tegegn (@total_433) August 13, 2016
Diro of #ETH lost one of her shoes during 3000M Steeplechase...and she is still goin one foot being barefoot...That's dedication #Rio2016

— Wayne R (@WaynieTDot) August 13, 2016
Olympic officials were impressed too. NBC reports that after an appeal from Team Ethiopia, as well as teams belonging to the advancing steeplechasers, Diro will be advancing to the steeplechase finals. She joins Jamaica's Aisha Praught and Ireland's Sara Treacy in pursuit of steeplechaser gold on Monday.
Etenesh Diro, @aishapraught
and @sara_treacy all advance to the 3000m steeplechase final following appeal #Rio2016 pic.twitter.com/8m2i45Trao

— IAAF (@iaaforg) August 13, 2016
Diro's shoeless scamper was following the footsteps of Ethiopian marathoner Abebe Bikila, who won Olympic gold in 1968 while running barefoot. The first East African to win a medal at the Games, Bikila wasn't able to find shoes that fit him before the race.
Also on HuffPost
Mesmerizing Photos From Rio Olympics 2016