Olympic gymnast Gabby Douglas has dealt with criticism, racism and bullying since the beginning of her athletic career, and sadly, it seems as if not much has changed during the Rio Summer Games.
As a world-renowned gymnast who lead Team USA at the 2012 and also during this 2016 Games, you'd think the 20-year-old has earned her keep as one of America's most valued athletes. But many don't seem to be giving Douglas the respect she rightfully deserves.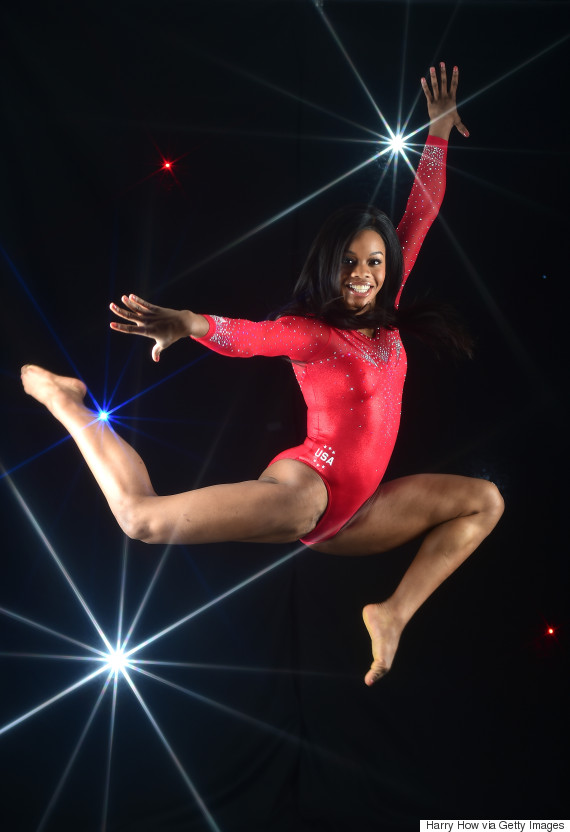 Some Twitter users have decided to speak negatively about of gymnast's hair, asking why it's "still not combed," and suggesting that she "coulda got her hair done."
Why is Gabby Douglas' hair still not combed? 🙄

— WHITLEY (@xotailand_) July 11, 2016
Gabby Douglas definitely coulda got her hair done...

— ok kim (@_ShesKimberly) July 9, 2016
For black women, the subject of hair can be an extremely sensitive topic. And often when hair is in its natural state, it's subject to harsh scrutiny.
"She's had to deal with people criticizing her hair, or people accusing her of bleaching her skin," Natalie Hawkins, mother of Douglas recently told Reuters. "They said she had breast enhancements, they said she wasn't smiling enough, she's unpatriotic."
And to make things worse, Douglas has been bombarded throughout the Games with questions on how she feels about the online attacks, rather than her performance.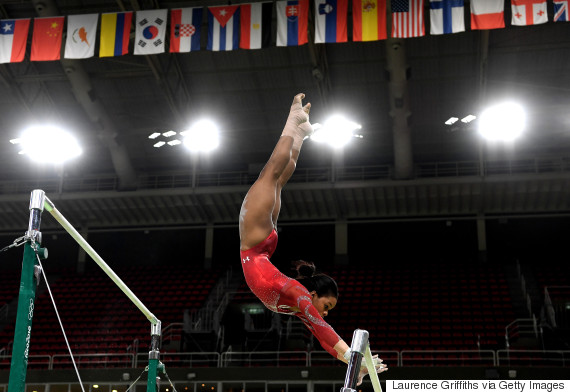 Gabby Douglas of the United States practices on the uneven bars during an artistic gymnastics training session on August 4, 2016 at the Arena Olimpica do Rio in Rio de Janeiro, Brazil. (Photo by Laurence Griffiths/Getty Images)
"I've been trying to stay off the internet because it is so much negativity," she told reporters on Sunday. "When they talk about my hair or me not putting my hand on my heart or me being salty in the stands and, you know, really criticizing me ... It doesn't feel good. For me, it was a little bit hurtful."
Douglas was referring to an instance last week when she put her hands in front of her instead of on her heart during the U.S. national anthem, and received serious flack online, with some calling it "unpatriotic" and "disrespectful," Variety reported. The gymnast apologized for her mistake, saying she never meant any disrespect.
Some also suggested the Virginia native was jealous of her teammates, after she didn't stand up to clap for them on Friday.
Even though that clearly wasn't the case, according to her Twitter.
Congratulations to my girls @Simone_Biles @Aly_Raisman for winning GOLD & SILVER in the ALL AROUND! I love you guyyyssss!!!! 😍❣😘 #TeamUSA 🇺🇸

— Gabrielle Douglas (@gabrielledoug) August 12, 2016
But despite what some naysayers spewed, many fans still seem to have the young star's back through it all.
@_ShesKimberly...why is Gabby's hair even an issue with YOU....why? why? why? why? why? why? why? why? why? why? Girl...get a life!!!!

— TJ Gardner (@TenaIke) August 11, 2016
@writelikeryan @NatalieLHawkins @Angipooh @gabrielledoug The national anthem is not the Pledge of Allegiance.

— Lady Kate (@KatRMitch) August 10, 2016
@Angipooh She's written a classy apology for any offense. We are represented by hardworking and talented athletes. https://t.co/ygRi7fJm2e

— Nathan Naze (@nanaze) August 10, 2016
And Ghostbusters actress, Leslie Jones, who has faced some unwarranted criticism herself recently, started the hashtag #LOVE4GABBYUSA on Monday to spread support and positivity for Douglas, and it seems to be taking Twitter by storm.
Yo I just heard Gabby getting attacked on her page show her the love you showed me #LOVE4GABBYUSA send to @gabrielledoug

— Leslie Jones (@Lesdoggg) August 15, 2016
@Lesdoggg Nothing but love for @gabrielledoug You have nothing to apologize for. Thank you for representing USA. #love4gabbyusa

— Jenelle Riley (@jenelleriley) August 15, 2016
@Lesdoggg @gabrielledoug amazing athlete and wicked muscle tone nothing but #Love4GabbyUsa and a little jealousy!!

— LC_everywhere (@lor_c920) August 15, 2016
So haters, listen up. Gabby Douglas is a three-time Olympic gold medallist at age 20. She's going to shine whether you like it or not. So just give it a rest, seriously.
Like Venus Swirl, @GabrielleDoug #MovesLikeNoOther. Cheers to a *smooth* routine on the uneven bars, Gabby! #Rio2016 pic.twitter.com/seeHgXqBHa

— Gillette Venus (@GilletteVenus) August 14, 2016
Follow Huffington Post Canada Style on Pinterest, Facebook and Twitter!
Also on HuffPost
5 Fun Facts About Gabby Douglas