MARKERVILLE, Alta. — The Icelandic poet Stephan G. Stephansson may not be a household name in North America, but his legacy lives on in central Alberta.
Stephansson, a poet and farmer, eventually settled along with several other Icelandic immigrants near the tiny hamlet of Markerville in 1889, and locals say his homestead is one of two must-stop spots, along with Gimli, Man., for any Icelander visiting Canada or fans of his work.
"It is the pilgrimage,'' says Brooke Henrikson, manager of the Stephan G. Stephansson Icelandic Society, which owns and operates the museum, church, hall and cemetery in what is referred to as Historic Markerville.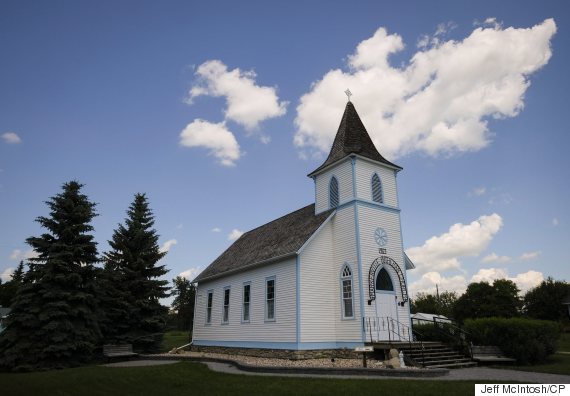 This Lutheran church is over a century old. (Photo: Jeff McIntosh/CP)
Stephansson was self-educated and influenced by the work of American writer Ralph Waldo Emerson and they shared the same beliefs in many matters, including equal rights for men and women.
He wrote only in Icelandic and had great influence in his home country.
His poems were published in a six-volume book called "Andv'kur'' (Sleepless Nights).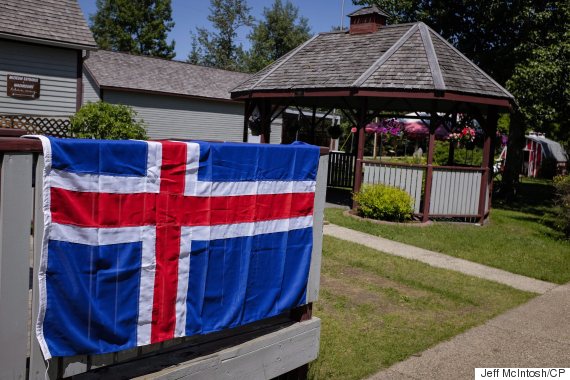 In Icelandic flag is displayed in Markerville, Alta. (Photo: Jeff McIntosh/CP)
Stephansson's homestead near Markerville is an Alberta Provincial Historic Site.
"Stephansson is still very big in Icelandic culture,'' said Henrikson.
She said the first immigrants went to North Dakota, but after a serious drought some moved to "New Iceland'' in Manitoba and the rest to central Alberta.
"A group of them sent out a scout to find a place where they could establish themselves, and in this area they didn't have to clear too much and it reminded them of home with the rivers and landscape.''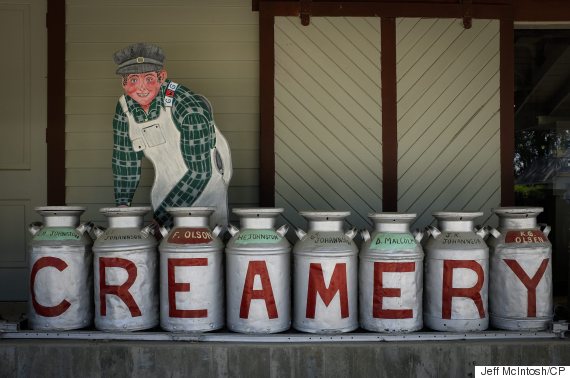 A cutout of a worker sorts jugs at the creamery museum in Markerville. (Photo: Jeff McIntosh/CP)
Markerville is about 30 kilometres off the main highway between Calgary and Edmonton near Red Deer, and the area attracts about 13,000 visitors each year between May and September.
Stephansson House is a few kilometres away, but in the hamlet there is an historic church, the Markerville Creamery Museum, a community hall and the Tindastoll Cemetery, which opened in 1899.
The entire area has a distinctive Scandinavian feel, said Henrikson.
"We are actually working on a Scandinavian Trail because there is a lot of little businesses in the area, a lot of artists here in Markerville. We have Stephansson House provincial site and we have Markerville,'' she said.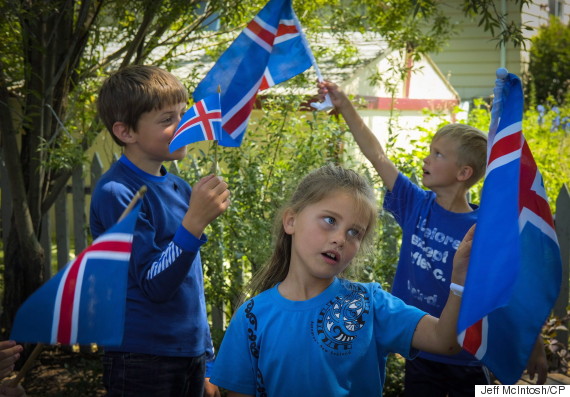 Children of descendants of the first Icelandic settlers in Alberta cheer for Iceland's soccer team in June 2016. (Photo: Jeff McIntosh/CP)
"If you go further west there's the Dickson Store Museum and the Danish Canadian National Museum. It's a very Scandinavian area.''
The area also hosts a number of summer festivals, including the Icelandic Picnic, Cream Day, which celebrates the cheques farmers used to receive every week while the creamery was still open, and the Viking Cup Golf Tournament.
"I just love Markerville. It's just such a quaint little hamlet and it's just for relaxation or for the kids to go back in time to enjoy the quiet and play. It's just a beautiful little place,'' said Henrikson.
"The hamlet itself and the community is just amazing — with the beautiful flowers and wildlife and lots of bird species in here and we're nestled right on the banks of the (nearby) Medicine River, which brings in the wildlife.''
___
If You Go ...
Visit Historic Markerville: http://www.historicmarkerville.com/
Stephansson House Provincial Historic Site:
http://history.alberta.ca/stephansson/default.aspx?gclid
Viking Days at the Danish Canadian Museum:
http://www.thedanishcanadianmuseum.com/
Follow @BillGraveland on Twitter.
Also on HuffPost:
11 Pulse Pounding Adventures In Alberta