HALIFAX — A Conservative senator has won more than $70,000 in legal costs from his rural Nova Scotia neighbours after they attempted to seize part of his oceanfront property. Senator Tom McInnis, a 71-year-old former deputy premier, found himself feuding with his new neighbours in Sheet Harbour shortly before he was appointed to the Senate in 2012. Daniel and Francine Stone claimed a piece of McInnis' property, and called police repeatedly when the senator and his wife went on the land, according to an Aug. 12 ruling from Nova Scotia Supreme Court Justice Arthur Pickup.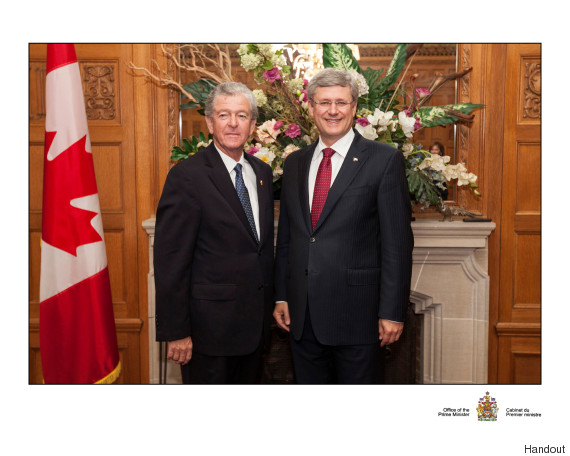 Senator Tom McInnis is shown with former prime minister Stephen Harper in this handout image.
"When we did go to the property just to go for a walk or sit in our chairs, Mr. Stone called the police and they would come to our home, no matter the time of day," McInnis said in an affidavit. "We have been literally shut out of the McInnis property virtually since the Stones moved in ... and put their boat in the water in 2011." The Stones excavated and graded part of McInnis' property, and installed a fire pit on it. "On one occasion in 2013 on a Saturday afternoon, I saw Mr. Stone at the fire pit that he had constructed ... Mr. Stone looked at me and smiled and said 'Tom, I am going right down to the bottom' and waved to the water," McInnis said in the affidavit. Pickup said McInnis bought, surveyed and registered the land — adjacent to family property he inherited — and the Stones were "very aware" the disputed land and water access were not part of their property.
'Virtually robbed' of his own land
Their actions "virtually robbed" McInnis of his own land, the judge said. "I find the actions of (the Stones) to have been calculated, malicious, inexcusable and a departure from a standard of decent behaviour," Pickup ruled. The judge had earlier awarded McInnis $5,000 in damages; the new ruling awarded him another $70,569.69 in legal costs. McInnis should not be put to any expense to defend himself and his property, Pickup said. "Despite being told they had no claim to Mr. McInnis's land at the time they purchased (their property), they did everything possible to take Mr. McInnis's lands, including preventing him accessing his lands. The Stones systematically advanced into his lands, then cobbled together legal arguments after the fact to justify their actions." McInnis, who is a lawyer, represented the area provincially for 15 years, but lost to the Liberals in 1993 after the electoral map was redrawn.
ALSO ON HUFFPOST: