Having started only in 2014, the bi-annual event has become a showcase for the top menswear talent in Toronto and Canada. From a market perspective it's timely; whether it's athleisure or a newfound taste for bespoke, Canadian men are putting cash into their closets.
Jeff Rustia, founder of TOM*FW, describes it to HuffPost Canada Style as a "Menaissance" or, "a huge cultural movement that was sweeping across the globe among the millennial men that promoted dressing sharp, looking good, and loving fashion because it was intrinsically linked to success." Whatever it is, people are paying attention — and big bucks.
Yet despite these clear reasons for having a men's fashion week in Toronto, there are other factors at play. Domestically, Toronto Fashion Week was cancelled last month, leaving a hole for a larger event that could bring in substantial international attention. Beyond that, men's fashion weeks in larger, more recognized markets including the Big Four (New York, Paris, London and Milan) are flatlining.
Ultimately, it begs the question: does Toronto need a men's fashion week?
Perhaps that could be better said as: is a men's-only event the most beneficial option for Toronto's fashion community? Let's get the lay of the land and qualify that a little.
The flagship of the city's fashion events, Toronto Fashion Week (or, the artist formerly known as World MasterCard Fashion Week) is permanently out of style. Now, a market already starved of international media and buyer attention has one less major draw. (Fortunately, there's still Drake.)
One could argue that this makes TOM*FW more important than ever. That it, along with the city's other major fashion presentations — including StartUp Fashion Week, Fashion Art Toronto, Made InLand and The Collections — have the opportunity to rise to the occasion. However, given their disparate timings and varied offerings, they never seem able to bring in the international media, buyer and consumer interest necessary to launch Toronto into fashion "it" city status. Instead, they often rely on the same local outlets and bloggers for coverage.
The struggle for attention is real elsewhere, too. Internationally, men's fashion weeks are in jeopardy. Though London Collections: Men was only started in 2012 and New York Fashion Week: Men's just last year, both are struggling to attract —and keep — big name presenters.
As the Business of Fashion notes, the revolving door of creative directors at the biggest houses in the industry meant Zegna, Calvin Klein, Brioni, Cavalli, Costume National and Ermanno Scervino all skipped Milan in June, and Berluti and Saint Laurent opted out of Paris.
Androgyny, speeding up the time between runway and retail, merchandising and keeping costs down are among the myriad of market-driven reasons for brands to combine men's and women's shows into one presentation — usually at the expense of the men's events.
The schedules at 2016's men's events were sparse, with Burberry, Tom Ford, Bottega Veneta, Vetements, Gucci and Alexander Wang having eliminated their men's fashion shows altogether, preferring to do one presentation for their entire collection of women's and men's.
Given this, would Toronto better be served by a unified fashion event? Mattew Biehl, fashion editor at Sharp Magazine, tells HuffPost Canada Style, "I feel like a unified fashion week will be something that will happen in the future."
"I think for now, [TOM*FW is] what menswear in Toronto needs," he says. "The consumer interest is there, which is really exciting."
Toronto fashion lawyer Anjli Patel, agrees there is a definite benefit to the event.
"It helps for people who live outside of Ontario and Canada, whether they are press or buyers or fashion enthusiasts, to know that same time, same place, every year, this takes place," Patel tells HuffPost Canada Style.
However, she feels that TOM*FW, alongside the other smaller fashion platforms in the city, could be doing more (read: better) through collaboration.
"To my knowledge, none of them attract a significant audience outside Toronto or Canada," she says. ("Significant" being the key word. Beyond Vogue Italia and spare mentionings in GQ, she's right.)
Without suggesting they amalgamate or collapse, she posits that if they could organize themselves around a singular week, perhaps just before or after the Toronto Film Festival to capitalize on the people and press attention, that they could produce a Canadian fashion week more marketable nationally and internationally
"What I am in favour of is everybody working together, within a particular timeframe, and then once we've shown — given the optics — that we can organize ourselves, I think that we'd be in a better position to go to the government or go to other organizations, and ask for assistance — whether that's marketing or specific funding or something else," she says.
As it stands, Rustia says TOM*FW relies entirely on corporate and private sponsorship, and does not receive funding from any level of government. Patel notes this even extends to basic marketing. Tourism Toronto's website, SeeTorontoNow.com, features most of the city's major festivals and cultural events, and is funded by the Government of Ontario. Noticeably absent: Toronto Men's Fashion Week. (Toronto Fashion Week did receive recognition in its last season.)
So, could a unified "Canadian Fashion Week" of sorts be in the works? If it is, Rustia won't be leading the charge. He says, "Our jam-packed runway schedule of menswear designers proves that there is a need and demand for a mens-focused fashion week."
He continues, "These brands need an outlet and a fashion week of their own. Ultimately, it would not make sense to blend the shows. Menswear has its own set of audience, consumers, buyers and media."
This desire to remain niche is admirable creatively, though with dwindling Canadian journalistic fashion coverage and outlets, as well as fickle and frantic buyers adapting (or, playing it safe) to a shifting retail landscape, getting international attention once again becomes an issue.
"Without more support from retailers, buyers, consumers and editors, everybody at home in Canada, maybe that kind of support system would help designers gain more traction. And if they're successful here, that would help them be successful internationally," says Biehl.
When asked what makes Toronto's menswear community unique, Biehl notes, "If you're in Italy, there's a history of suiting and tailoring. And Savile Row in the U.K. In Toronto, there's no confines of tradition or expectation."
Which means they can be more experimental — and that isn't exclusive to Toronto's menswear scene. Looking to the other platforms, Fashion Art Toronto, StartUp Fashion Week, The Collections, Made In Canada — even the Toronto Fashion Incubator — these all speak to the city's youthful, risk-welcoming emerging talents. Their beauty is that they are as diverse, fearless and accessible as the city itself.
So all in all? Yes, we need still need a Toronto Men's Fashion Week. However, the sooner all the city's fashion platforms, including TOM*FW, start celebrating their commonalities and collaborating, whether it be through timing or marketing or media coverage, the sooner Toronto will become an actual fashion "it" city.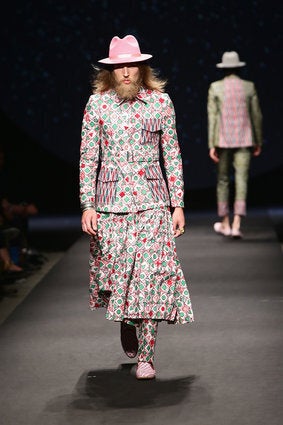 Highlights From Europe's Men's Fashion Week