Liberals won't confirm if a House of Commons debate and vote will be held before they commit Canadian troops to Africa for what's expected to be a lengthy mission.
Defence Minister Harjit Sajjan announced Monday that the federal government will soon unveil Canada's expanded contribution to United Nations peace efforts, but did not reveal precisely where.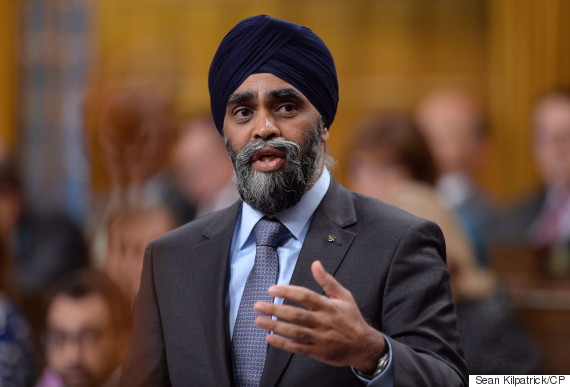 Defence Minister Harjit Sajjan speaks in the House of Commons on May 3, 2016. (Photo: Sean Kilpatrick/CP)
Sajjan told reporters during a teleconference from the Democratic Republic of Congo that the mission would go beyond traditional peacekeeping, involve more than the military, and last for a "long duration."
But iPolitics reports that Sajjan, who was wrapping up a five-day fact-finding mission in Africa, did not answer when he was asked if a vote would be held in Parliament on future peace operation deployments.
Sajjan's spokeswoman Jordan Owens told The Huffington Post Canada that Liberals were clear about their priorities on the campaign trail last fall. She highlighted Prime Minister Justin Trudeau's mandate letters to Sajjan, Foreign Affairs Minister Stephane Dion, and International Development Minister Marie-Claude Bibeau.
'A clear mandate from Canadians'
"The Government of Canada has a clear mandate from Canadians to increase our contribution to peace support operations," Owens said via email. "It was defined and discussed throughout the campaign, and we are committed to implementing the real change that Canadians voted for in the last election."
Owens rejected criticism from Tory defence critic James Bezan that the federal government hasn't been transparent on the issue. Sajjan's trip allowed the minister to get the "ground truth," she said, so that the right decisions can be made in an "extremely complex situation."
Debate, vote held on revamped ISIS mission
Conservatives are already pushing for Liberals to hold a debate and vote on the mission, as government did last March on the revamped military efforts against the so-called Islamic State.
While deploying troops is an executive decision and there is no constitutional requirement that Trudeau and his cabinet first ask the House to weigh in, former prime minister Stephen Harper sought the support of MPs in such situations, even after capturing a majority government.
Conservative finance critic Lisa Raitt, who is mulling a run to replace Harper as Tory leader, took to Twitter Monday to say she looks forward to a future debate on the proposed mission.
Looking forward to discussing and debating this governments proposed mission in the House of Commons. https://t.co/QARVgsBp45

— Lisa Raitt (@lraitt) August 16, 2016
And in a Facebook post Monday, later shared on the official Conservative Party page, Bezan warned Canadians should be "concerned about the lack of details and transparency" around the looming mission in Africa.
"How can Liberals be committing to deploying troops on a long-term mission that hasn't even been debated in Parliament?" he asked.
The Tory critic said Sajjan needs to provide more details, and accused Liberals of shifting the pledge of 'peacekeeping' to 'peace operations' without explaining to Canadians what this means."
Liberals promised in their platform, however, to "recommit to supporting international peace operations with the United Nations" and to provide "well-trained personnel that can be quickly deployed" amid escalating conflicts.
'War zone'
Late last month, Bezan and associate Tory defence critic Pierre Paul-Hus released a statement highlighting a deadly attack on UN peacekeepers in Somalia by members of the terror group Al-Shabab.
"Before the Liberals send our troops into a war zone against jihadi terrorists, we call on the government to bring this to Parliament for a debate and vote," the MPs said.
"Canadians are demanding to know where and when will our troops be deployed? How many will be deployed? Will they be given the necessary tools to defend themselves? What are the rules of engagement?"
&nbsp
When the prime minister sat down with HuffPost last March for a global town hall, he acknowledged the modern peacekeeping "landscape" includes insurgents and terrorist groups.
"Obviously, peacekeeping these days looks different than decades ago when a line of Canadian soldiers could stand between two different countries and prevent them from shooting at each other," Trudeau said at the time.
With files from The Canadian Press
ALSO ON HUFFPOST:
Current MPs With Military Experience (2016)