There are plenty of reasons to love gold medal-winning Olympian Rosie MacLennan.
The 27-year-old was Canada's flag-bearer at the opening ceremonies for the 2016 Rio Olympic Games, and won gold in women's trampoline days later.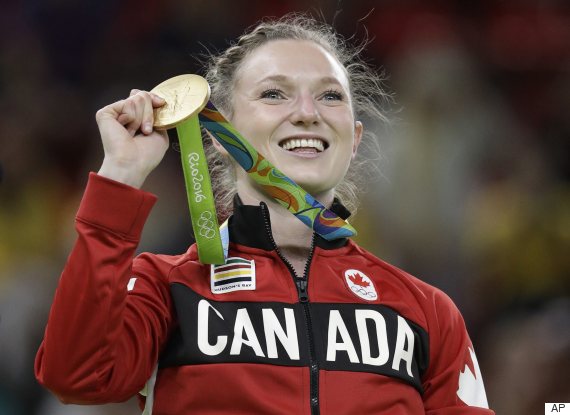 Rosie MacLennan displays her women's trampoline gold medal on Aug. 12, 2016. (Photo: Julio Cortez/The Canadian Press)
It was the Ontario-native's second gold medal, after she won her first at at the 2012 London Games.
Now there's yet another reason to love MacLennan — her grandmother.
MacLennan opened Canadian Tire's Red Door From Rio, expecting to speak with fans in Canada through a video chat.
Instead, she found Grandma Jean:
Watch @RosieMacLennan open the Red Door From Rio to an emotional surprise! #StepUpStandTall pic.twitter.com/dwr5oa1KGd

— Canadian Tire (@CanadianTire) August 15, 2016
MacLennan gasped in surprise and said what we all say when we unexpectedly run into our grandparents.
"I was actually just saying that I had to call you!"
Despite the Olympian's obvious delight, Grandma Jean had an important message to relay to her granddaughter — she's tried of all the attention.
"I'm not used to this sort of thing, Rosie. I don't like being a celebrity," she said, while MacLennan laughed.
Grandma Jean is happy for her granddaughter and all, but she had 18, EIGHTEEN, voicemails on her phone about MacLennan. Way too many.
Even then, the grandmother is unbelievably proud of MacLennan's incredible Olympic performance, telling her granddaughter, "You did a super job."
She sure did.
Also on HuffPost
Canadian Medallists at the 2016 Rio Olympic Games