The 2016 Rio Olympics have been nothing short of amazing, especially seeing talent from athletes (go Team Canada's women!) from around the world.
But on Friday, after two separate (and arguably most-watched) swimming events, it was one newspaper headline that made a law professor call out sexism.
U.S. world champion Michael Phelps tied for silver during the 100-metre butterfly, while 19-year-old U.S.-born Katie Ledecky set a new world record for the women's 800 freestyle.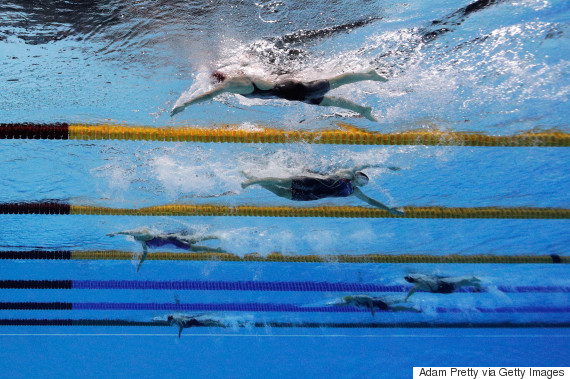 Katie Ledecky of the United States competes in the Women's 800m Freestyle Final on Day 7 of the Rio 2016 Olympic Games.
After looking at headlines for an upcoming class, law professor Nancy Leong of the University of Denver tweeted one Associated Press story in the sports section of The Eagle, with this tagline: "This headline is a metaphor for basically the entire world."
This headline is a metaphor for basically the entire world. pic.twitter.com/5WpQa04N0o

— Nancy Leong (@nancyleong) August 14, 2016
The headline had highlighted Phelps' silver medal win in a large bold font, while a line about Ledecky's world record sat underneath in smaller text size.
"This seemed like a particularly clear-cut example of a situation where you have two achievements, one by a man and one by a woman, that were given the wrong treatment," she told BuzzFeed News. "Not only that, but the achievement by the woman is objectively more impressive, but it was put in smaller font below the man's headline."
Many social media users agreed. Some people called the headline placement "appalling," "infuriating," and pointed out how the media continues to cover the Olympics unfairly.
@Jon_Alper @nancyleong it just throws into sharper relief that the world catering to men's interests persists even in defiance of reality

— alamkara (@alamkara) August 15, 2016
Others mentioned the headline in particular was used to sell papers — with Phelps being the bigger household name — and Phelps losing was more unexpected than Ledecky winning.
"She dominated, as expected. Phelps lost, unexpected, and he's insanely famous. Has nothing to do with gender," on tweeter noted.
@nancyleong I'm not saying you're wrong, but that's a newspaper built to sell headlines. Phelps is a household name and sells papers.

— Colin Mansfield (@ColinMansfield) August 14, 2016
Either way, much of the Summer Games' media coverage has already been called out for its sexism in the past week and a half.
The Chicago Tribune tweeted a picture of U.S. medallist Corey Cogdell-Unrein, identifying her as the wife of a not well-known NFL player, and on another day, TV cameras were quick to turn to Hungarian swimmer Katinka Hosszu's husband as the man "responsible" for her gold medal victory.
According to Buzzfeed News, The Eagle responded with the following statement:
"When I first saw it I wondered why it was that way, as well. Could it have been better? Yes," editor Kelly Brown told the news site. "But I don't think it's as egregious as people are saying, especially because [Leong] cropped out the key part of it.
And while both athletes haven't responded to the criticism of sexist coverage, Phelps was recently photographed asking Ledecky for an autograph — something she had done 10 years prior.
ICYMI: @MichaelPhelps & @katieledecky recreated their iconic photo & it was amazing! https://t.co/YmAPkmK0s5 pic.twitter.com/gEOl93rfko

— TODAY (@TODAYshow) August 16, 2016
On Tuesday, both Ledecky and Phelps, along with superstar/super human gymnast Simone Biles, were revealed to be on the most recent cover of Sports Illustrated flashing their medals as "The Greatests."
What do you think? Is this headline sexist? Let us know in the comments below.
ALSO ON HUFFPOST:
Canadian Athletes To Watch At Rio Olympics 2016