UPDATE: An autopsy shows that a woman who police say was killed randomly with her husband by a 19-year-old Florida State University student was beaten to death.

Martin County sheriff's spokeswoman Trisha Kukuvka released the results of 53-year-old Michelle Mishcon's autopsy Wednesday. Sheriff William Snyder said earlier that Mishcon's 59-year-old husband, John Stevens, died of multiple stab wounds and blunt force trauma.

Mishcon had also been stabbed, but the autopsy showed those wounds were not fatal. She died of blunt force trauma.

Kukuvka said accused attacker Austin Harrouff remains in stable condition but has been unable to speak because of a breathing tube.

Harrouff is accused of killing the couple outside their Tequesta home Monday night.
Earlier from The Associated Press
FORT LAUDERDALE, Fla. — The mother of a 19-year-old Florida State University student charged with fatally stabbing a couple outside their home and then biting the dead man's face told police her son had been acting strangely for days and claimed to have superpowers, according to a report released Wednesday.
Mina Harrouff called Jupiter police about three hours after Austin Harrouff stormed out of a restaurant Monday night following an argument with his father, the report said. She told an officer her son had been acting strangely for about a week, said he had superpowers and that he was "here to protect people,'' the report said. She told Officer Luis Rocha her son had no history of mental illness nor heavy drug use.
"Mina told me that she does not believe him to be a danger to anyone or to himself,'' Rocha wrote.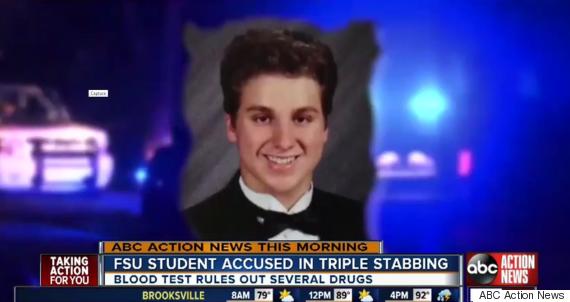 19-year-old Austin Harrouff allegedly attacked Michelle Mishcon and John Stevens outside their home Monday night.
She and Rocha didn't know that 45 minutes after he left Duffy's restaurant, Austin Harrouff had been arrested in neighbouring Martin County by sheriff's deputies, who said they saw him mauling the body of John Stevens, 59. Sheriff William Snyder says Harrouff attacked Stevens and his wife, 53-year-old Michelle Mishcon, randomly as they sat in their garage, stabbing them multiple times.
It took numerous deputies and a dog to subdue Harrouff, a muscular former high school football player and wrestler who shook off electric shocks from a stun gun, Snyder said. He has said Harrouff was "abnormally strong,'' incoherent and making "animal-like noises.''
Harrouff was listed in stable condition at a hospital Wednesday and was scheduled to undergo surgery on his hand.
Snyder has said Harrouff tested negative for cocaine, methamphetamine, heroin and other common drugs, but that further tests would be conducted to see if he had ingested a hallucinogenic drug like flakka or bath salts.
Harrouff's attorney, Michelle Suskauer, did not return a call and email seeking comment.
Also on HuffPost
10 Major Crimes That Shocked America (SLIDESHOW)