RIO DE JANEIRO — A senior Olympic executive from Ireland was taken to a hospital Wednesday after police came to his beachfront hotel to arrest him as part of an investigation into ticket scalping.
Patrick Hickey, a member of the International Olympic Committee's executive board, is accused of plotting with at least nine others to illegally sell tickets for the Rio de Janeiro Olympics.
Hickey's involvement was through Ireland's Olympic committee, which police said helped transfer tickets to an unauthorized vendor who would set high fees and disguise the transaction as a hospitality package. Hickey was charged with conspiracy, ticket scalping and ambush marketing and will be detained while the investigation continues. Agents estimate the scheme's profits were about $3 million.
Police arrived at the IOC's hotel at 6 a.m. and found only Hickey's wife, who refused to tell them where he was. Police, however, found Hickey's Olympic accreditation badge on the floor, along with his shoes, socks and bag. They asked for the hotel's help and found him in the adjacent room, registered under his son's name.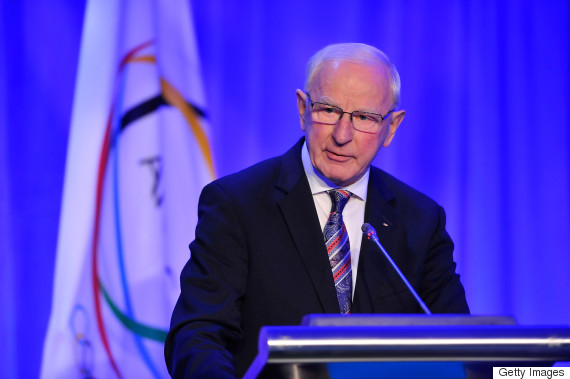 Patrick Hickey is accused of plotting with at least six others to illegally sell tickets for the Olympics. (Photo: Getty Images)
Images by ESPN Brazil show Hickey answering the door to police and stepping into the bathroom naked. Moments later, he walks out in a bathrobe.
Investigators say the 71-year-old Hickey initially was shaken and the hotel's doctor recommended his transfer to a nearby hospital for tests because of his age and medical history. He remains in the hospital under police custody.
Hickey is also president of the European Olympic Committee and has served on the IOC executive board since 2012.
IOC spokesman Mark Adams said the committee would "fully co-operate with the police investigation.''
"We don't know what the allegations or charges are yet,'' he said. "We have full confidence in the system here, and we believe everyone is innocent until proven guilty or any charges filed.''
The allegations centred on more than 800 tickets belonging to Olympic Council Ireland — the national Olympic committee — of which Hickey is president.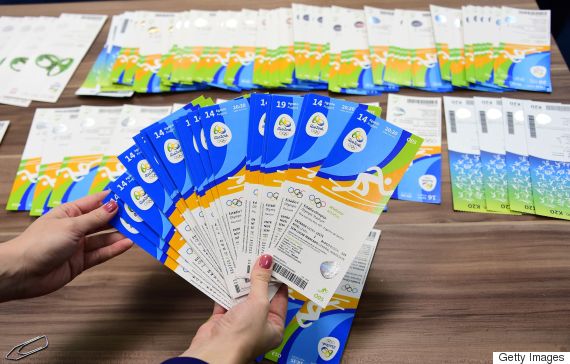 Tickets of the Rio 2016 Olympic Games seized are displayed during a press conference at the City Police's station in Benfica, north of Rio de Janeiro, Brazil, on August 8, 2016. (Photo: AFP/Getty Images)
"Today's arrest shows that the law must be followed,'' top police investigator Ricardo Barbosa said after a news conference. "Even more when we are talking about the biggest sporting event that should uphold ethics and an international spirit. We found out that the Irish Olympic Committee ended up facilitating the ticket scalping scheme.''
The council said it is "aware of the media stories regarding Pat Hickey and we are seeking total clarity on the situation before we comment further.''
An Irish executive was arrested last week in the same investigation. Kevin James Mallon is one of the heads of British hospitality provider THG, the main company suspected in the scheme. Mallon was arrested along with a local employee who was working as an interpreter.
"Today's arrest shows that the law must be followed.''
Authorities have also issued warrants for four more executives at THG, including Marcus Evans, who owns Marcus Evans Group, the parent company and owner of English soccer club Ipswich Town.
Police are also looking for two soccer agents and a financial adviser at Pro 10 Sports Management, which investigators allege was created to facilitate the transfer of tickets between the Irish Olympic committee and THG, an unauthorized ticket seller.
After the first arrests last week, the Olympic Council of Ireland said it would investigate why some of its tickets were in the possession of the suspects. The OCI name was visible on tickets displayed by police, but the Irish said they had no knowledge of the people in custody.
"The OCI strictly adheres to the IOC regulations around ticket allocation, sale and re-sale. We are treating this matter with the utmost seriousness,'' the council said at the time.
__
AP Sports Writers Stephen Wilson and Rob Harris contributed to this report.
Also on HuffPost
Rio Olympics 2016 Opening Ceremony