When your parents are as good looking as Jude Law and Sadie Frost, you're bound to inherit some stunning genes. Just take a look at Iris Law.
The 15-year-old daughter of the former couple just landed her first Teen Vogue shoot, and her gorgeous photos prove she's the spitting image of her famous mom.
Here's the teen on the left and her 51-year-old mom on the right.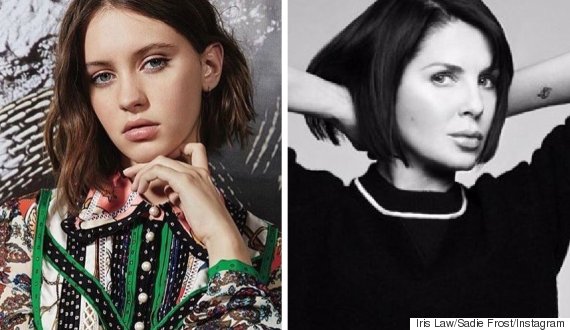 In the September issue of Teen Vogue, Iris is described as a model, photographer and painter. She also reveals that her mother, who is an actress-turned-fashion designer, is her biggest creative inspiration.
"I like looking at pictures of my mom when she was around my age and seeing her makeup and little dresses," Iris told the fashion mag. "I was always really interested in what she was wearing growing up and did quite creative things with how I dressed myself."
Just days before Iris' Teen Vogue spread was released, Frost took to Instagram to post a throwback from her own modelling days. If we ever needed proof that this mother-daughter duo looked alike, this is it.
And for even more of an eerie coincidence, here's Iris' maternal grandmother. Clearly, the genes run strong in this family.
Iris is the second child of Frost and Jude Law. The former couple, who were married from 1997 to 2003, also has two sons: Rafferty, 19, and Rudy, 13.
Unlike their sister, Rafferty, who is also a model, is his father's mini-me, whereas Rudy is the perfect mix of both parents.
Also on HuffPost