An Alberta mom's heroic action to save her kids last month has left her paralyzed from the chest down.
Jessica Dicks was relaxing at a campground north of Edmonton on July 3 when she heard a crack.
A strong gust of wind snapped a 10-metre tree in half, causing it to fall right toward where her three young children were playing in a tent.
The 27-year-old mom ran for the tent and shoved it out of the way just in time as the tree crashed into her.
Her brother Doug quickly pulled it off her and called paramedics. She was eventually flown to the University of Alberta Hospital.
She awoke a few weeks later from a medical coma to news of her paralysis among other injuries. Doctors are unsure if she will ever regain feeling in her lower body.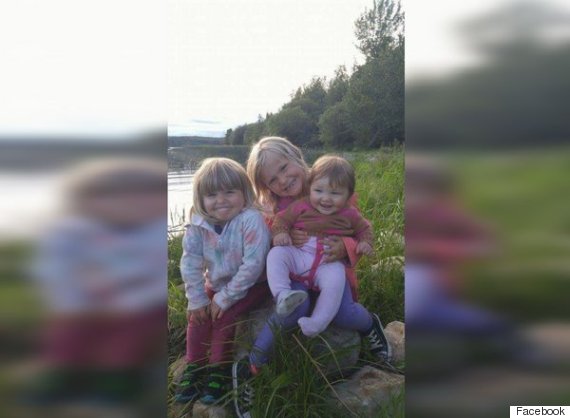 Jessica Dicks' three daughters Alie, Dailynn and Charlie, camping not far from where she was injured. (Photo: Facebook)
Her uncle says although the news of Dicks' injuries was heartbreaking, her bravery towards her children didn't surprise him at all.
"She lives for her kids," Monty Major told The Huffington Post Alberta. "She does everything with them."
Jessica wants her story shared so other parents can know to watch out for similar risks before the unthinkable happens, he said, "So it doesn't happen to anyone else."
"She lives for her kids."
Her three daughters are ages six, four and 10-months-old. Major said the oldest daughter is the only one who understands something's wrong.
"She knows mommy's hurt. They've come to see her in the hospital."
Dicks and her partner Jason had hoped to have another child, Majors said, but now they don't know what the future holds.
The couple worked together as roofers. Jason has been by her side at the hospital since the accident, so there has been almost no money coming in for the family.
"It's going to be a difficult road ahead for them," Major said.
A crowdfunding page and a dedicated email address have been set up for anyone wishing to help Dicks' out with her recovery. A Facebook page has also been created to document her recovery.
Also on HuffPost:
8 Amazing Videos of Everyday Folks Turned Unsung Heroes