NORTH BATTLEFORD, Sask. — Hundreds of people rallied peacefully this morning outside a Saskatchewan courthouse where a farmer accused of fatally shooting a First Nations man pleaded not guilty.
Gerald Stanley is charged with second-degree murder in the death of 22-year-old Colten Boushie.
Supporters of Boushie held up signs and chanted "Justice for Colten'' as lawyers left after Stanley's appearance in a packed North Battleford provincial courtroom.
A bail hearing for Stanley is to be held this afternoon.
Upwards of 200 people now here for #ColtenBoushie rally out front of courthouse. Half hour from Stanley appearance. pic.twitter.com/TAQQfryQ9P

— Devin Heroux (@Devin_Heroux) August 18, 2016
Outside court, William Boushie said his brother's killing ``took the light from my eyes.''
"He went to have a good time at the lake. He promised me he was going to come home. Instead he comes home in a casket. Racism plays a part in this,'' he said.
"I hope I can find forgiveness in my heart in the long run but, right now, I'm grieving. I'm hurt ... I'll never get him back.''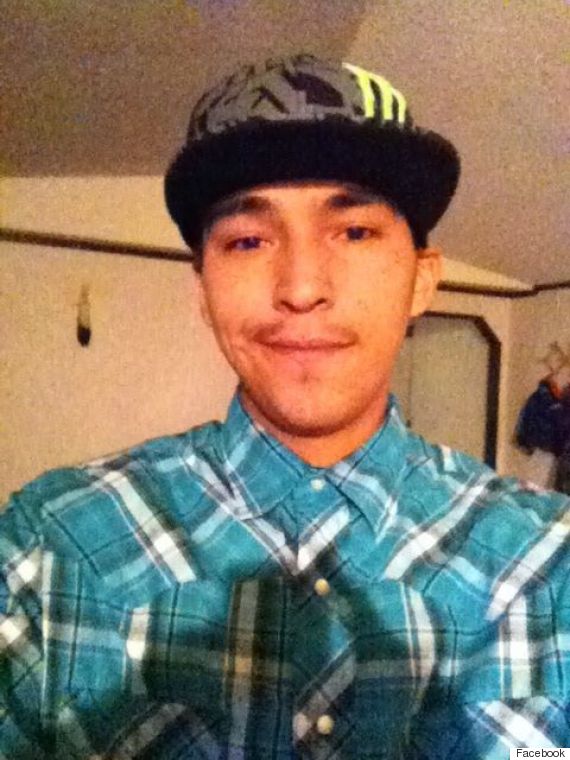 Colten Boushie, 22, was killed on Aug. 9. (Photo: Facebook)
Colten Boushie was killed on Aug. 9 after the vehicle he was in drove onto a farm in the rural municipality of Glenside, west of Saskatoon.
A cousin, who was also in the car along with several others, said they were heading home to the Red Pheasant reserve after an afternoon of swimming when they got a flat tire and were looking for help.
A Facebook group behind the rally said it was about showing respect and support for Boushie's family.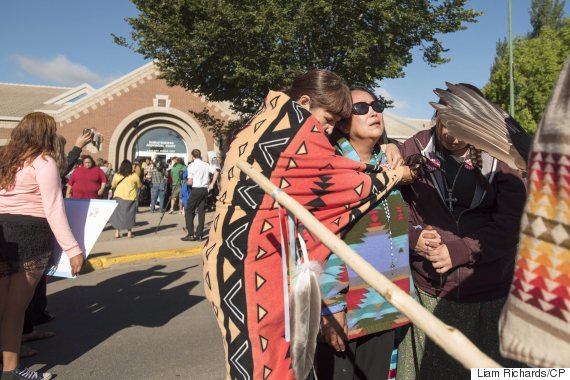 Debbie Baptiste, second right, mother of Colten Boushie, is comforted at the Saskatchewan Provincial Court in North Battleford, Sask. on Thursday. (Photo: Liam RIchards/CP)
Others came out to quietly support Stanley. One man, who didn't want to be identified, said he doesn't know Stanley, but went to the courthouse to back him.
"There are so many stories — there's his side, their side — there's two sides to a story. And then there is the truth,'' said the man, as he leaned against a pickup truck in a parking lot across the street from the courthouse.
"Nobody has heard his side. Not once through this whole incident have you ever heard, from the press, from you people, innocent until proven guilty. Not once, and that's Canadian law.''
Robert Innes, a University of Saskatchewan indigenous studies professor, said the rally gave people a chance to express their concerns about the racial discourse that is unfolding after the shooting.
"It helps to highlight the issue of racism on one hand, but also support for the family on the other,'' said Innes.
Participants at rally for Colten Boushie outside of Saskatoon Prov. Court now holding hands in large circle. #yxe pic.twitter.com/loN22wcUUk

— Morgan Modjeski (@MorganM_SP) August 18, 2016
Racial tensions have flared since Boushie was killed.
First Nations leaders have said the first RCMP news release about the shooting was biased. It said that people in the car had been taken into custody as part of a theft investigation. They were released without charges.
Chief Bobby Cameron of the Federation of Sovereign Indigenous Nations said the RCMP statement "provided just enough prejudicial information'' for people to draw the conclusion that the shooting was somehow justified.
RCMP Supt. Rob Cameron said police handled the investigation fairly and competently. He also said he welcomed the opportunity to discuss the FSIN's concerns.
Saskatchewan Premier Brad Wall took to Facebook on the weekend to condemn what he called ``racist and hate-filled'' comments after the shooting.
Some of the comments on social media sites were anti-First Nation, while others supported vigilante justice against the suspect in the case.
One widely-circulated screen grab from a Saskatchewan farmers group on Facebook said: "His only mistake was leaving three witnesses.'' That group has since been closed.
The National Farmers Union put out a statement Wednesday expressing sadness over Boushie's death and the comments that have followed.
"As farmers, we condemn the rampant racist remarks that have circulated since the death of Colten Boushie, including comments made on the 'Saskatchewan Farmers' Facebook group. We also commit ourselves to building relationships of solidarity, mutual respect, and friendship with our indigenous neighbours, and to honouring our obligations as treaty people,'' said the union.
Innes said the racial divide isn't going to be solved any time soon.
"When people are celebrating the death of an indigenous man and calling for the killing of more indigenous men, we have to acknowledge that there is racism in this province.''
Also on HuffPost:
11 Facts About Canada's First Nations