One German coach's tragic death in Rio has been devastating for his teammates and family, but four lives have been saved thanks to his organs.
After days of fighting for his life in hospital, the German Olympic Team announced that canoe slalom coach Stefan Henze died due to injuries sustained in a car crash.
Henze, along with German sports scientist Cristian Katini, had taken a taxi to the Athletes Village on Saturday. En route, their car hit a concrete barrier. Katini survived with minor injuries, but Henze was rushed into emergency surgery.
He died of brain complications days later, surrounded by family who had flown to Rio de Janeiro to be with Henze one last time.
Henze's story didn't end there. With permission from the German coach's family, his organs were donated to critically ill patients.
So far, Henze's heart, liver, and both kidneys have saved four lives, German newspaper Die Welt confirms.
Tributes to the beloved coach have also poured in from all over the world.
Everyone at FCA is devastated to hear the news of Germany canoe coach Stefan Henze's tragic passing. Rest in peace. pic.twitter.com/AeQzJBqgeB

— FC Augsburg English (@FCA_World) August 15, 2016
We are deeply saddened by the tragic passing of our canoe coach Stefan Henze. Our thoughts with his family+friends pic.twitter.com/11gNS9rjIE

— GermanForeignOffice (@GermanyDiplo) August 16, 2016
As a mark of respect the German flag at half mast in Lagoa for Stefan Henze who died yesterday in Rio #ICFsprint pic.twitter.com/RreEq8vrIi

— Planet Canoe (@PlanetCanoe) August 16, 2016
The International Olympic Committee (IOC) called Henze "a true Olympian" in a statement.
"Our sympathy is with the family of Stefan Henze, his friends and all of the German Olympic team," wrote IOC president Thomas Bach.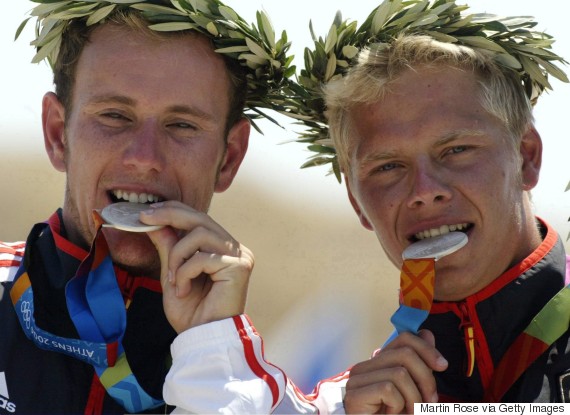 Stefan Henze (right) with fellow German canoe teammate Marcus Becker during the Athens Summer Games.
Henze was a former Olympian who won silver in the canoe slalom doubles at the 2004 Athens Games.
Also on HuffPost
Mesmerizing Photos From Rio Olympics 2016