Way to kick someone when they're down.
Canadian sportscaster Scott Oake is the latest Olympic commentator to commit a social faux pas, after bringing a track-and-field athlete to tears with a reference to her divorce.
Canada's Nikkita Holder crashed into a hurdle halfway through the women's 100-metre hurdles semi-finals, tumbling down in the standings and ending her Olympic dream.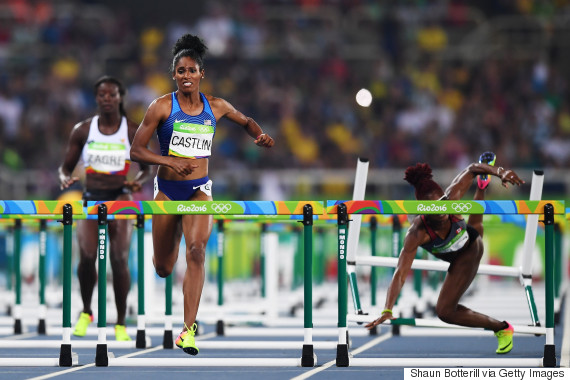 Nikkita Holder of Canada (right) falls down during the 100-metre hurdling semi-finals. (Photo: Shaun Botterill/Getty Images)
She pushed herself to cross the finish line but failed to place in the race.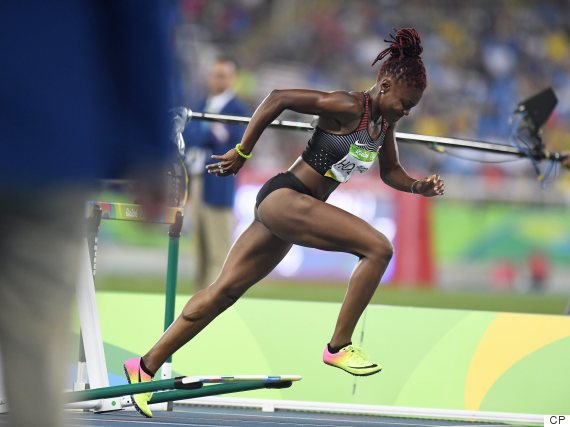 As if that wasn't bad enough, a CBC post-race interview started with a question that could not have been more inappropriately timed.
"Your marriage broke down, you became a single parent. How did your Olympic goal help get you through all that?" Oake asked.
He was referencing her short-lived marriage to fellow Canadian track-and-fielder and childhood friend Justyn Warner, who she married shortly after they competed in the 2012 London Olympics. Together, they have a two-year-old son, Kaedence, who Holder now raises with the help of her parents. Holder told the Winnipeg Free Press her child helps her get through her tough moments.
"I'll go to practice or I'll go to meets, and if I don't win, or I don't get the time that I want, I come home and regardless of what I've done, he's there saying 'Mommy I missed you,' gives me a big hug and a kiss. That's all that I need," she said.
Holder answered Oake's question with grace and even laughed off her loss, but social media was less forgiving after Holder began to shed a few tears. Outrage soon erupted, with many calling out the veteran commentator for causing the single mother to weep.
@CBCOlympics The Canadian people DEMAND an on air apology to Nikkita Holder from @ScottOake for his comments! He literally made her cry!

— Stephen Morris (@StephenBMorris) August 18, 2016
Props to Nikkita Holder for not smashing the camera in the lens and spitting in the microphone. One graceful being. Absolutely kickass.

— tavia (@tavbakowski) August 18, 2016
That moment where @ScottOake brought up Nikkita Holder's personal life & made her cry on national tv. Way to be an asshat, dude. #shame

— Ren Navarro (@35mmMonkey) August 18, 2016
Others attributed it to ongoing commentator sexism at Rio.
Struggling to imagine a male athlete being asked about their marriage right after a race, the way @scottoake did to @Brownnstone #rio2016

— josh rubin (@starbeer) August 18, 2016
Let's see if @ScottOake asks @DamianWarner about HIS personal life like he did with Nikkita Holder. I'm still boiling mad about that!

— Patti Millar (@mamapatti55) August 18, 2016
A Facebook group calling for Oake to apologize appeared after the interview.
Support from Holder's family showed up online too. Her mother, Sandra Colaire, posted a loving tribute to her daughter's athletic career on Instagram.
"The strongest woman I know," Colaire wrote in her post. "Massive love for you."
And Kaedence was cheering for Holder the whole time.
As of press time, neither the CBC nor Oake have commented on Holder's interview.
Update: both Holder and Oake have tweeted that they have resolved the incident.
Had a chance to speak with @ScottOake and the air has been cleared.

— Nikkita Holder (@Brownnstone) August 19, 2016
I spoke to Nikita Holder today. We worked things through. Given the moment I should have been more sensitive.

— Scott Oake (@ScottOake) August 18, 2016
Also on HuffPost
Women Who Ruled The Rio 2016 Olympics