In the universe of possible sandwiches combinations, one packed with bologna can be a hard sell.
That is unless it's hugged with a wall of Mexican chips, and named in tribute to one Donald Trump.
And sold in Canada.
Windsor Sandwich Shop owner Lawrence Lavender's "Trump sandwich" uses two pieces of white bread, is "full of bologna" and comes with a ramekin of Russian dressing. It also comes with a little pickle — not big — little.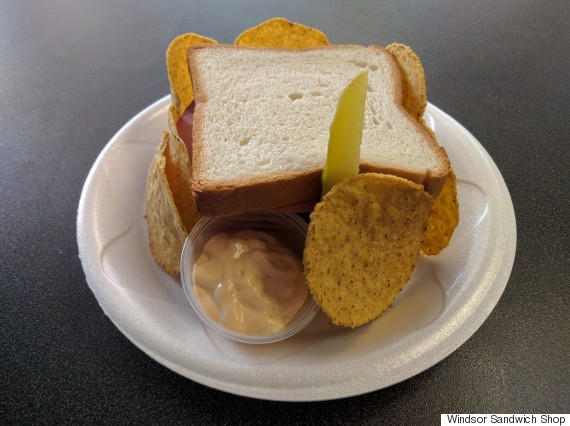 A Windsor, Ont. restaurant added a Trump sandwich to its menu Sunday. (Photo: Windsor Sandwich Shop)
Lavender told The Huffington Post Canada he got the idea after seeing a photo of another bar's version of the sandwich circulate online. His take builds on the original sandwich with the addition of a tortilla chip wall around it.
Its popularity shocked him. The Windsor, Ont. man had expected the sandwich to get some pickup, but not at the level to actually sell out of bologna.
"Literally have just enough bologna for one sandwich," he said on the phone. "This has been a crazy day."
'Ridiculous' attention
Less than 24 hours after CBC and CTV News published stories about the Trump sandwich, a segment of the GOP candidate's supporters peppered Lavender's site with attacks and less-than-positive reviews.
"The negative stuff I am taking from people in Texas and other red states is getting to be ridiculous," he said in an email.
But there are others who have been more receptive to the obvious playful joke poking fun at a bombastic presidential candidate who wants to build a "great wall" between the U.S. and Mexico to stem illegal immigration.
"Next time I cross the border have to drop by for a sandwich," wrote Heather Johnston. "I love the Trump sandwich idea it is hilarious. All the elements needed for a real sandwich representation. Thanks for the laugh."
Also on HuffPost
A Children's Book About Donald Trump's Hair That's Perfect For Bedtime