One of the biggest causes of food waste is also the most avoidable — "ugly" fruits and vegetables.
This isn't unsold food that retailers toss, or that you throw out after forgetting what was in the back of your fridge. This imperfect food doesn't even make it to the grocery store.
Farmers in the U.S. discard between 20 and 40 per cent of produce because it doesn't meet strict cosmetic standards despite being otherwise perfectly tasty and healthy, according to the non-profit Natural Resources Defense Council. The organization reported, for example, that a large tomato packing house during mid-season can fill a dump truck with 22,000 pounds of discarded tomatoes every 40 minutes.
But that is finally starting to change as the ugly food movement catches fire around the world.
Last year Loblaw launched a line of aesthetically-challenged fruits and veggies dubbed Naturally Imperfect, beginning by selling ugly apples and potatoes at up to 30 per cent off in Ontario and Quebec. Boosted by surging produce prices due to the tumbling Canadian dollar, the pilot project proved successful enough that this past spring the grocery store chain expanded the line. They added peppers, onions and mushrooms for their Ontario and Quebec customers and started stocking the line nationwide in chains including Real Canadian Superstore, Your Independent Grocer, No Frills and Atlantic Superstore.
"It really went well above and beyond what our expectation was," Dan Branson, Loblaw's senior director of produce, told The Canadian Press. "I think it really spoke to the fact that Canadians are out there really looking for some options around driving value into their weekly shop and having greater accessibility to that healthy eating product of value."
This movement found early champions in France, where supermarket chain Intermarché launched an Inglorious Fruit campaign that was so popular it helped spark national legislation banning supermarkets from tossing out unsold produce. In Australia, the Harris Farm Markets and Woolworths chains launched Imperfect Picks and Odd Bunch lines, respectively.
In Portugal, the Fruta Feia ("ugly fruit") co-op is trying to do the same at a grassroots level to help financially struggling consumers and farmers while rescuing four tonnes of food waste a week. Other ugly food efforts, be they start-ups or non-profits, have taken off in the UK, Germany, Austria, Switzerland, Finland and the U.S.
As part of The Huffington Post's international Reclaim campaign to reduce food waste, in June the U.S. edition started supporting a petition to convince Walmart, America's largest grocer, to also sell imperfect produce just like we're seeing in Canada, Europe and Australia.
The petition, by Jordan Figueiredo of UglyFruitandVeg.org, whose earlier effort convinced Whole Foods to partner up with a company called Imperfect Produce, has topped 140,000 signatures "asking Walmart, one of America's largest retailers, to do something simple, effective and good for the retailers' and customers' bottom line. One out of six Americans is food insecure, and more than four out of five is produce-deficient. With statistics like this, it is simply irresponsible to encourage waste of good, healthy and perfectly edible food."
But while Figueiredo, who also presented Walmart with the petition on July 20, has called these efforts important first steps, hetold HuffPost they are nowhere close to addressing the crisis.
"Walmart's recent statements about ending food waste show they're listening to consumers and food policy experts, but unwilling to take serious steps to act on the request in our petition."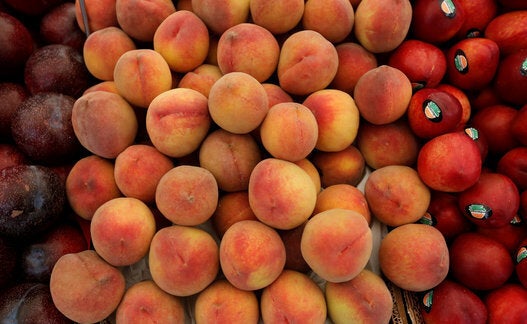 Reducing Food Waste Through Technology (REGULAR FORMAT)