A Calgary marketing company has apologized after a series of tweets shaming two female Olympic runners.
Fashion Calgary posted a tweet Thursday captioned, "Am I still watching women's semi-finals ???" with photos of Kenyan athlete Margaret Wambui and South African athlete Caster Semenya, competitors in the 800-metre race.
When Twitter users called out Fashion Calgary, the account doubled down."These two athletes are offensive to women fair game," read one response. Both tweets have since been deleted.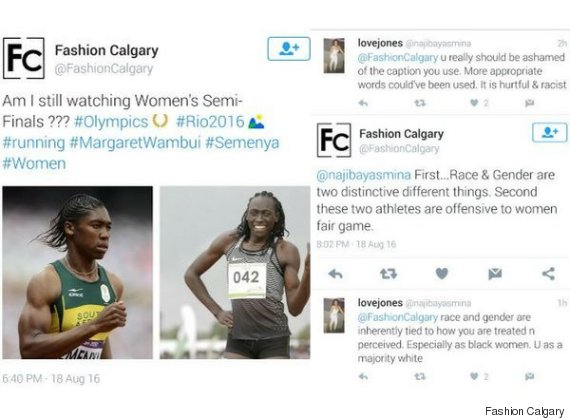 The controversial tweets sent from @FashionCalgary's account. (Screengrab: Twitter)
It wasn't hard for some users to explain what was so problematic with the company's comments.
@FashionCalgary shame on you. As if women's bodies have not been subjected to enough scrutiny! #apologynotenough

— Akhila Wolfe (@akhila_wolfe) August 19, 2016
. @FashionCalgary "discus" Are you making Olympic puns WHILE getting called out for being bigots? Or can't you spell pic.twitter.com/26M7hHHvvo

— LARD LAD (@DereckBurns) August 19, 2016
Company representative Rafal Wegiel emailed a statement to The Huffington Post Alberta about the controversy.
"Fashion Calgary would like to apologize everyone who felt hurt and offended by the posts sharing thoughts about Caster Semenya and her participation in Olympic Games Rio 2016. The issue of human rights is one of the most fundamental human issues and also one of the most sensitive and controversial," it read.
Fashion Calgary also tweeted a response, but people were quick to point out its non-apologetic tone.
I've fix your apology:"I would like to apologize for writing such an offensive tweet. I will educate myself before tweeting" @FashionCalgary

— Rhonda Kronyk (@pro_editor) August 19, 2016
Tired of the "Sorry I offended you/others" apology. Try "I'm sorry. I was offensive". Own your actions. #fashioncalgary #nonapology

— Miranda Diakiw (@m_diakiw) August 19, 2016
Both athletes mentioned in Fashion Calgary's tweet reportedly have hyperandrogenism, a medical condition that raises androgen levels including testosterone.
Critics were also puzzled by the company's focus on appearance rather than recognizing the two women for their athleticism and qualification for their sport at the Olympic level.
How about we focus on Semenaya's ability against immeasurable odds to still be able to compete at the Olympic level.

— Marni Panas (@marnipanas) August 19, 2016
Also on HuffPost:
Women Who Ruled The Rio 2016 Olympics