The most shocking moment of the Rio Games wasn't an outlandish lie about robbery at gunpoint unraveling or a Canadian man daring to usurp Usain Bolt. It came from one relay team defying all the odds.
The men's 4x100-metre relay had all the usual suspects: sprinters from Team Jamaica were confidently striding towards Olympic gold, while Canada and the U.S. raced against each other for a second-place finish.
That is, until four men from Team Japan made Olympic history, overtaking both teams for an unforgettable silver win.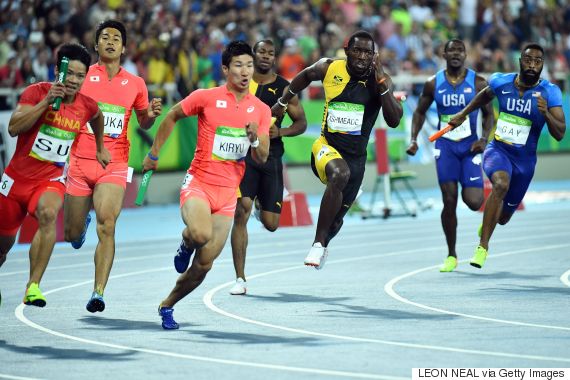 (From left) China's Su Xinyue, Japan's Yoshihide Kiryu, and Jamaica's Nickel Ashmeade compete in the men's 4x100-metre relay final. (Photo: Getty Images)
The Japanese relay team seemed to come out of nowhere. When they entered the stadium, they channeled an energy that was more comedic than imposing and greeted cameras with a sword slash pose.
Oh my god, I missed the relay team entrances the first go-round. No wonder Japan got silver. pic.twitter.com/VxyeFsx2l9

— Violence (@PhilKenSaban) August 20, 2016
But then they went on to destroy everyone's expectations.
Never imagined Japan could defeat US and Canada, and get the Medal of 400meter relay! pic.twitter.com/DCA2w2WrWY

— 有本 香 Kaori Arimoto (@arimoto_kaori) August 20, 2016
I expected Jamaica to win the relay 🇯🇲🇯🇲 but respect to Japan.... I didn't know they could move like that!!!

— Brandon Romans (@iamprinceromans) August 20, 2016
Watching Japan grab the silver in the men's 400 relay is fantastic, wicked happy for those guys and the country

— Paul Nadeau (@PaulJNadeau) August 20, 2016
Usain Bolt
100m "Easyyy"
200m "Easy"
400m relay "Ea...! J...Japan!?!? Wtf!" pic.twitter.com/OAAe7FnV4r

— Keigo Saito (@k_go1105) August 20, 2016
U gotta wake up and appreciate the fact that Japan came in second in a 4 by 1 relay last night, most shocking moment of the Olympics

— DaBadGuy (@frekman17) August 20, 2016
So who are they?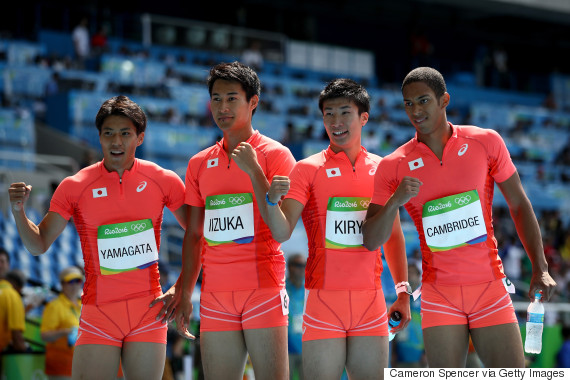 Ryota Yamagata, Shota Iizuka, Yoshihide Kiryu and Aska Cambridge of Japan celebrate after round one of the men's 4 x 100-metre relay. (Photo: Cameron Spencer/Getty Images)
The four Japanese sprinters are Ryōta Yamagata, Shōta Iizuka, Aska Cambridge, and Yoshihide Kiryu.
Yamagata, 24, and Iizuka, 25, held various university-level titles.
As the youngest member, 20-year-old Kiryu held various championship titles as a teen. He is the fastest member on his team, with a personal best of 10.01 seconds.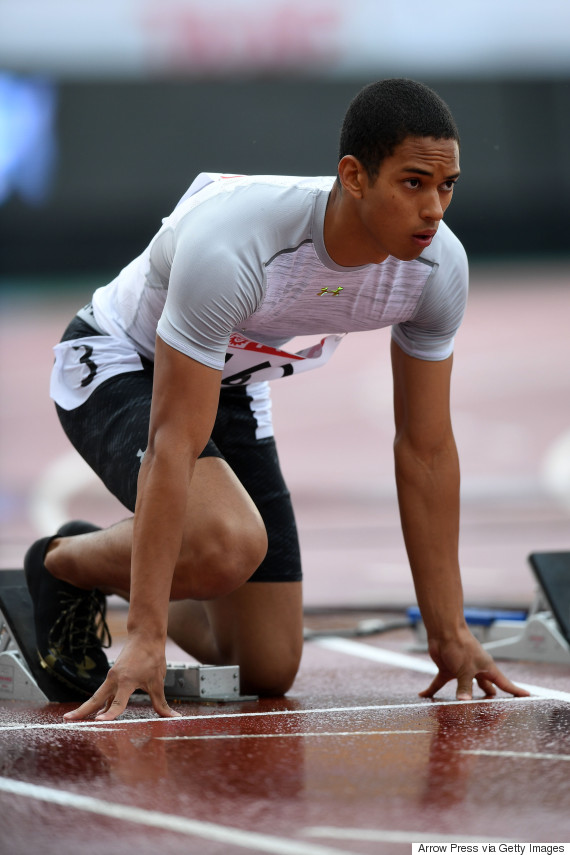 Cambridge Aska Antonio of Japan competes in the 100th Japan National Athletic Championships. (Photo: Arrow Press/Getty Images)
Cambridge, 21, has a personal best of 10.1 seconds.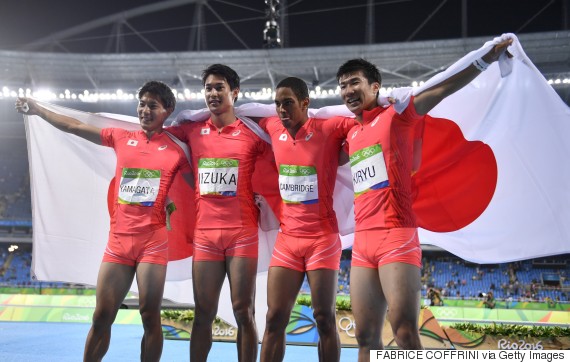 Team Japan poses after placing second in the men's 4x100-metre relay final. (Photo: Getty Images)
None of the men have personal bests in the 100-metre race for under 10 seconds. Koji Ito, who is the fastest man in Japan with a time of exactly 10 seconds, has long been retired.
Rather than speed, their seamless baton-passing has been touted as a key factor in their silver win.
富士吉田での代表合宿を終えました。
準高地の練習は疲れが抜けにくい…4年前はそんなことなかったんだけど。笑けど素晴らしい環境で練習をさせて貰いました。本番も頑張ります。あと、お陰様で公式マークつきました。 pic.twitter.com/K6na2GBcUa

— 山縣 亮太 (@V7Jqq) July 28, 2016
It's no surprise their teamwork has paid off, considering they practiced for six months before Rio.
"We've been practicing solid for about six months, so that's why we did such a good job today," Iizuka told the Japan Times.
Some on social media credited the silver win to Cambridge's Japanese-Jamaican heritage; Jamaica's explosive runners are consistently the fastest in the Games.
Japan's relay team snuck in a Jamaican? pic.twitter.com/g0fmSuKb01

— 19 (@farfromray) August 20, 2016
After the race, Cambridge credited every part of his identity for the silver win. Cambridge, whose full name is Asuka Antonio 'Aska' Cambridge, was born in Jamaica, but moved to Japan at the age of two.
"I may have Jamaican blood but I was brought up in Japan, and trained in Japan," Cambridge told the Associated Press. "I am called Japanese Bolt, but I need to be quicker to be called that."
Cambridge isn't the only Japanese-Jamaican representing Japan in Rio. Sprinter Julian Jrummi Walsh also competed in the men's 400-metre and the 4x400-metre relay. He placed 38th and 13th respectively. Musashi Suzuki, who is on the men's soccer team is also Japanese-Jamaican.
Competitors congratulated the Japanese relay team.
Bolt told the Associated Press he wasn't surprised to see them on the podium.
"They've shown over the years they can be reckoned with," Bolt said. "The baton change is always smooth for them."
Canada's Andre De Grasse admitted he had no idea who they were, but commended them on a job well done.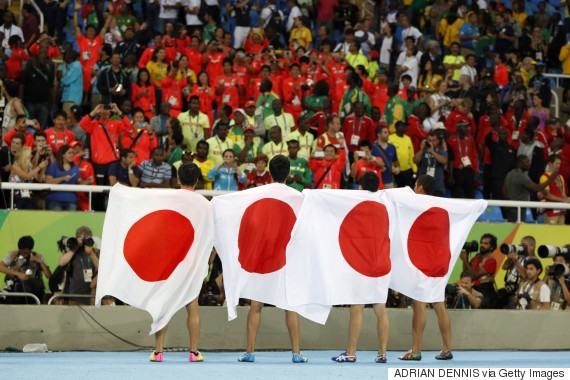 Japan's relay team celebrates after the men's 100-metre relay race. (Photo: Getty Images)
"I was definitely surprised. Those guys came out to run ... they're peaking at the right time because now they have Tokyo coming up in 2020," De Grasse told the Japan Times. "So they're definitely going to be a threat and they're going to have the home-crowd support for them. We'll definitely have to watch out for them."
With four years until Japan hosts the summer games, De Grasse and other sprinters will have plenty of time to catch up to the Japanese team, which will surely not be underestimated again.
Also on HuffPost
Mesmerizing Photos From Rio Olympics 2016