Who will carry Canada's flag into the stadium during the closing ceremony of the Rio Olympics on Sunday?
The Canadian Olympic Committee hasn't named Canada's flagbearer yet but over the last two weeks two Olympians have stood out: teenage swimmer Penny Oleksiak and breakthrough sprinter Andre De Grasse.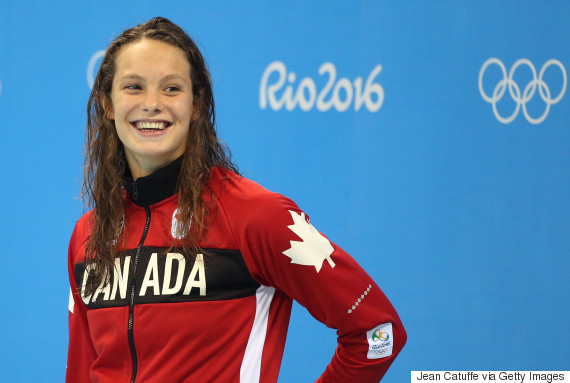 Penny Oleksiak after swimming in the women's 100-m freestyle finals. (Photo: Lucas Oleniuk/Toronto Star via Getty Images)
Just 16, Penny Oleksiak emerged as an early favourite. "Give her the flag now" was a popular sentiment when she captured Canada's first gold of the Games.
Andre De Grasse celebrates placing third after the men's 100-metre final. (Photo: Paul Gilham/Getty Images)
She should watch out for sprinter Andre De Grasse, who's being heralded as this generation's most promising sprinter. He's kept up with the likes of Usain Bolt, and has become a Canadian Olympic icon.
Here's how two of Team Canada's brightest stack up:
Track record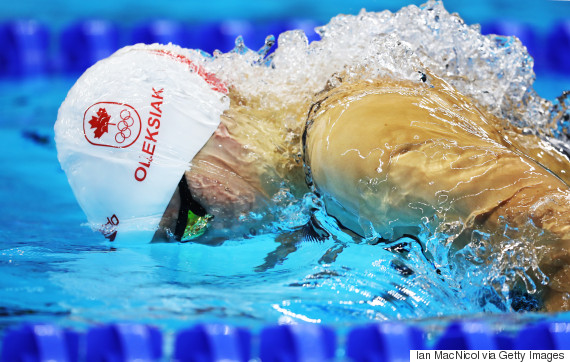 Penny Oleksiak of Canada on her way to winning silver in the women's 100m butterfly final. (Photo: Getty Images)
Before Rio, the donut-loving Drake fan from Toronto was a wild card. Oleksiak had never raced in any major world event before, making her an unknown opponent in the pool. She stunned the world when she tied for first place in the 100-metre freestyle.
She would end the swimming competition with four podium finishes. She holds a gold from the women's 100-metre freestyle, silver from the 100-metre butterfly, and two bronze medals from the women's 100-metre and 200-metre relay.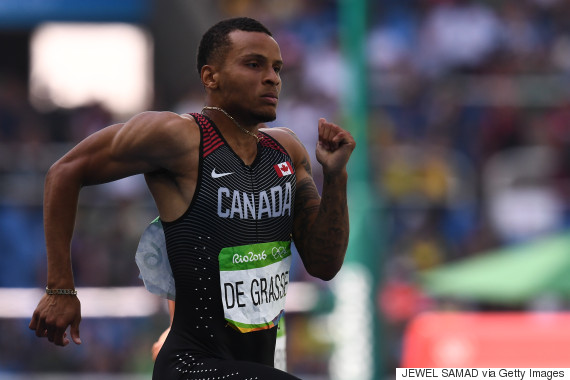 Andre De Grasse competes in the men's 200-metre first round. (Photo: Getty)
De Grasse's Olympic career started in high school. In basketball shorts and Converse shoes, the LA Times reports the track star started racing without the slightest idea how sprinting worked.
Fast-forward to 2015 and De Grasse is one of the sport's brightest lights. He nabbed two gold medals at the Toronto Pam Am Games, then took two bronze medals at the World Championships in Beijing.
De Grasse ended up on the podium for all three of his races in Rio. He has a silver from the men's 200-metre sprint, and dashed his way to bronze medals in the 100-metre sprint and the men's 4x100-metre relay.
Records broken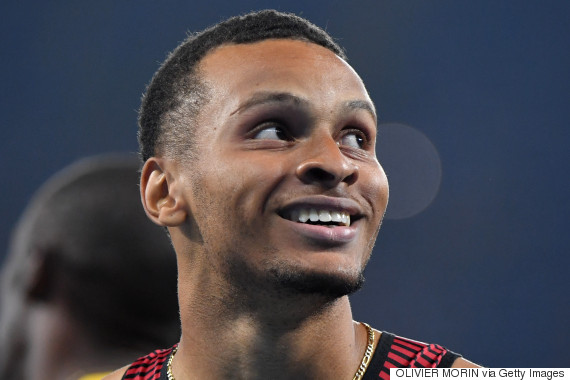 Andre De Grasse reacts after competing in the men's 200-metre semifinals. (Photo: Getty)
Canada's fastest runner made a name for himself as an unstoppable force on the track. He is the first Canadian to win three sprint medals in a single Olympics.
He's set a Canadian record for fastest time in the men's 200-metre sprint. Moving to the finals made De Grasse the first Canadian to do so since the 1988 Seoul Olympics, the CBC reports.
When it comes to self-improvement, De Grasse has beaten his personal best for the 100-metre race, crossing the finish line at 9.92 seconds.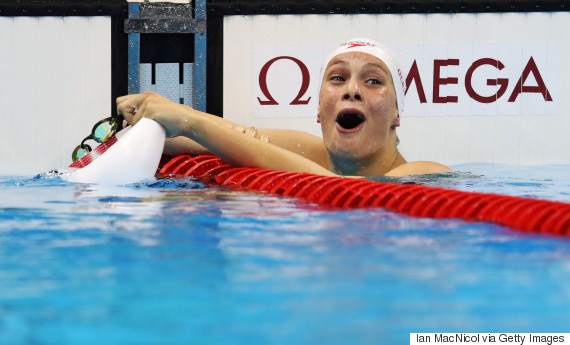 Penny Oleksiak of Canada reacts after she wins silver in the women's 100-metre butterfly final. (Photo: Getty)
Oleksiak has had her fair share of historic moments. She's one of two Olympic medallists who were born in the 2000's, and the first Canadian gold medallist of these Games. As part of the women's freestyle 4x100-metre relay, she won Canada's first medal in the event in 40 years.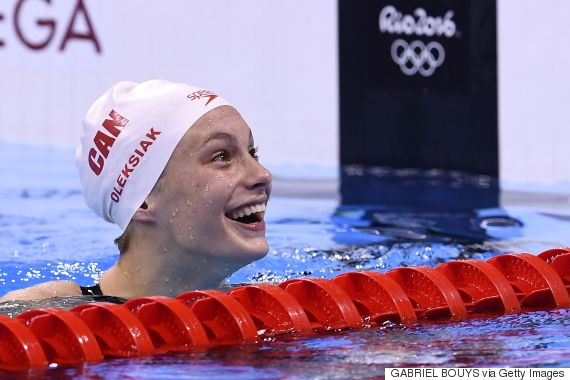 Penny Oleksiak grins after finishing second in the women's 100-metre butterfly final. (Photo: Getty)
Along with fellow gold medallist Simone Manuel of the United States, Oleksiak broke an Olympic record. They finished at an astounding 52.7 seconds in the women's 100-metre freestyle.
Star factor

Oleksiak has her favourite rapper Drake on her side.
The 6God himself pulled through for the 16-year-old in an Instagram post, promising the teen he would see her at a show.
On the other hand, De Grasse has Usain Bolt. The two raced against each other. Social media could not get enough of their giggling fits, but it wasn't all fun and games.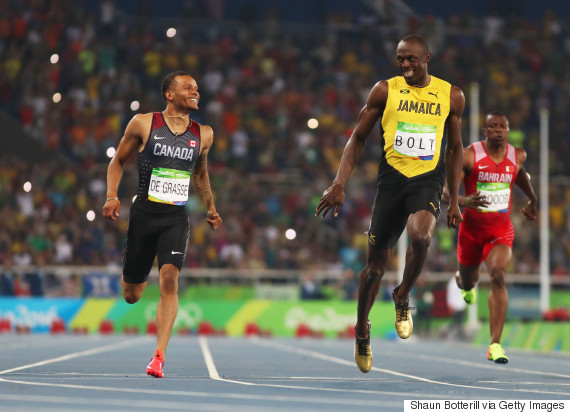 Andre de Grasse of Canada (left) and Usain Bolt of Jamaica (right) smile as they compete in the men's 200-metre semifinals. (Photo: Shaun Botterill/Getty Images)
The Globe and Mail revealed De Grasse and his coach had planned on tiring Bolt out in the semi-finals, so De Grasse could have a shot at beating him in the final. It almost worked.
And for his Olympic efforts, De Grasse will also be coming home to a special honour.
Andre wins 3 medals so today as Mayor I proclaim the 3rd day August 19th as Andre @De6rasse Day in the @cityofmarkham #Rio2016 #teamcanada

— Frank Scarpitti (@frankscarpitti) August 20, 2016
Between one of Canada's fastest swimmer and its fastest runner, it's a toss-up.
Canada's Olympic Committee could also choose another athlete who may have had an equally noteworthy Games. High jumper Derek Drouin and wrestler Erica Wiebe both won gold medals. Speed walker Evan Dunfee took his loss of a bronze medal in the 50km with grace and good sportsmanship.
Ultimately, whoever's chosen will be a beloved athlete who has put their mark on these Games and made Canada proud.
Who do you think should be Canada's flag bearer at Sunday's closing ceremony? Tell us in the comments below.
Also on HuffPost
Canadian Medallists at the 2016 Rio Olympic Games