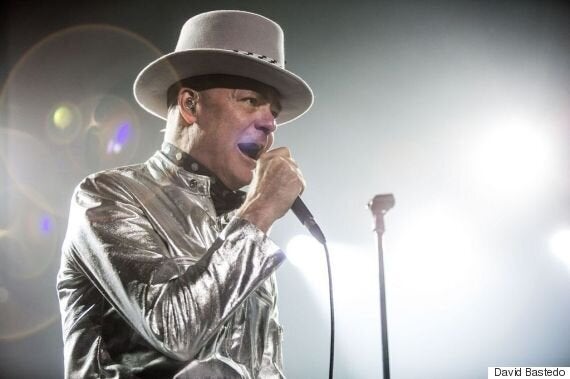 Gord Downie performs during the Tragically Hip's show in Kingston, Ont. on Saturday. (Photo: David Bastedo)
KINGSTON, Ont. — Like a shooting star streaking across the Canadian sky, Gord Downie gave the country one exuberant burst of energy before bowing out.
With a delirious sold-out crowd at the Rogers K-Rock Centre in Kingston, Ont., hanging on his every word — and countless more fans watching on TV at home or at public screenings — the Tragically Hip frontman delivered what many fear was his final performance.
While the band was careful not to definitively say that their now-concluded "Man Machine Poem'' tour would be their last, the recent revelation that Downie is battling terminal brain cancer gave the hometown Kingston concert an aura that was both celebratory and sombre.
'Thank you, people, for keeping me pushing'
Downie, who exuded manic energy throughout the nearly three-hour-long, 30-song concert, poured his heart into the unforgettable live show while paying tribute to fans who encouraged him on.
"Thank you, people, for keeping me pushing and keeping me pushing,'' he told the audience, dressed in one of the sparkling metallic leather suits now forever linked to the tour.
The crowd responded with a chant of "Gordie!''
It was one of countless moments throughout the sweltering evening when Downie seemed to feed off the energy and gratitude of his emotional fans, who often fought back tears.
Some came dressed in Hip-themed hockey jerseys, while others mimicked Downie's new look with their own variations on his shiny suits, feathered hats and prints of the "Jaws'' t-shirt he wears on stage.
Before the Hip took the stage, the crowd ushered in their performance with an impromptu rendition of O Canada.
Moments after cameras witnessed Downie hugging and kissing his bandmates backstage, the group launched into "Fifty Mission Cap,'' followed by "Courage (for Hugh MacLennan),'' "Wheat Kings'' and "At the Hundredth Meridian,'' all off the album "Fully Completely.''
The Hip then covered all the bases, playing songs from their latest album, "Man Machine Poem,'' and fan favourites from "Music ? Work,'' "Road Apples,'' "Phantom Power,'' "Up To Here,'' "Day For Night'' and "Trouble at the Henhouse.''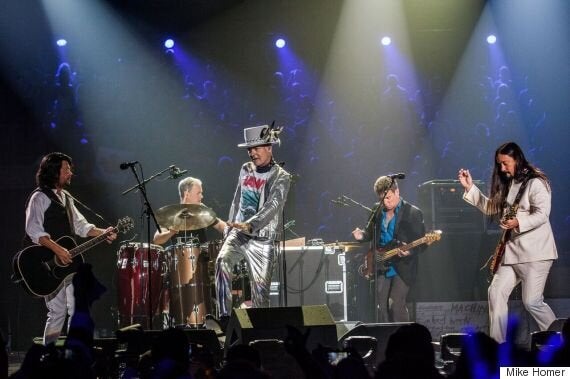 The Tragically Hip performs at the Rogers K-Rock Centre in Kingston, Ont. on Saturday. (Photo: Mike Homer)
Fans ate up every musical morsel, singing along to each track and throwing their hands in the air to emphasize all the right moments.
At other times, the energy would ease off a bit and some in the crowd would go silent, staring blankly at the stage — perhaps absorbing the likelihood they were witnessing the grand finale of the Hip's storied musical journey.
Usually a man of few words, Downie used the national platform of the televised concert to campaign for Canada's North. He twice praised Prime Minister Justin Trudeau, who was in attendance.
"Thank you to the prime minister for coming to our show, it really means a lot to all of us,'' said Downie, who was pictured by Trudeau's photographer before the concert embracing the prime minister.
'We got the guy to do it, to start, to help'
"We're in good hands, folks, real good hands. He cares about the people way up North, that we were trained our entire lives to ignore, trained our entire lives to hear not a word of what's going on up there. And what's going on up there ain't good.''
He added: "It's maybe worse than it's ever been, so it's not on the improve. (But) we're going to get it fixed and we got the guy to do it, to start, to help.''
Downie took other breaks to show his lighter side. He extinguished a debate that has raged between Hip fans this tour by revealing that the scarf adorning his neck for most of the evening was actually two colourful socks linked together.
"A singer needs to keep his or her voice always warm,'' he said, briefly undoing the sock to reveal its heel before tying it back onto his neck.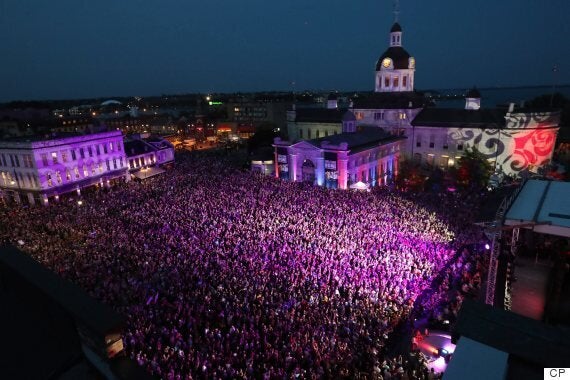 People who couldn't get a ticket gather in Springer Market square to listen to the Tragically Hip in downtown Kingston. (Photo: CP)
Downie also recalled the band's humble beginnings on the streets near the arena. He joked about how they struggled early on, but also how they appreciated the support of their female fans, in particular.
Saying goodbye for the first time, Downie left the stage with brief acknowledgment of the artificiality of inevitable encore performances. Still, he played along and waited for the crowd to cheer him back for three more songs.
He made the crowd work a little harder for the second encore, and by the third one, the audience's cheers for more reached a new peak as people banged the arena seats and chanted his name.
Downie closed the show out with their biggest hit, "Ahead By A Century.''
The band — rounded out by guitarists Rob Baker and Paul Langlois, bassist Gord Sinclair and drummer Johnny Fay — put down their instruments, stood arm-in-arm as the crowd screamed their goodbyes, and then walked off stage for good.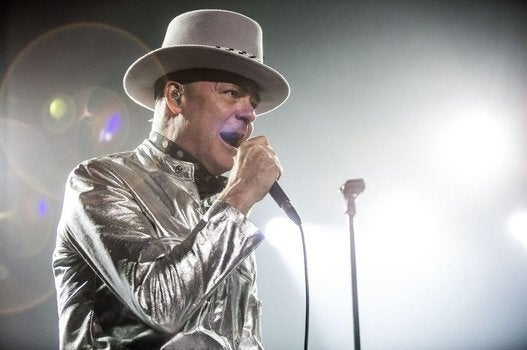 Tragically Hip "Man Machine Poem" Tour