Ahead of the Rio Olympics' closing ceremony, race walker Evan Dunfee has proven that the Olympic sportsmanship is alive and well with a single red maple leaf mitten.
The Canadian briefly won bronze during the race walking event. He finished fourth, but was bumped to the podium when the race walker who finished third, Japan's Hirooki Arai, was disqualified for jostling Dunfee.
Hours after he won bronze, Dunfee's third-place finish was revoked after Arai successfully appealed his disqualification.
But there were no hard feelings between Dunfee and Arai.
"I don't believe that this was malicious or done with intent," Dunfee said in a statement.
And to prove it, Dunfee had a friendly exchange with his competitor at the closing ceremony.
He gave Arai one of his maple leaf mittens to pose with for a photo together, and Arai in turn gave him a Japanese flag.
The two did not get to keep their newfound souvenirs, which they needed for the closing ceremony.
The mittens, were curiously worn by Canadian Olympians in the final ceremony, are part of a Red Mitten tradition that began at the Vancouver 2010 Winter Games. Since then, the iconic mittens have been spotted on Canadians and Canada enthusiasts everywhere, including Oprah Winfrey.
Dunfee may not have won any medals at Rio, but he just won our hearts with a moving display of Olympic spirit towards his competitor.
For proving nothing stops athletes from human decency, Dunfee's got gold in our books.
But If Dunfee wants to reclaim his place on the podium, he will have to step on Arai's home turf in four years. Tokyo will host the 2020 Summer Games.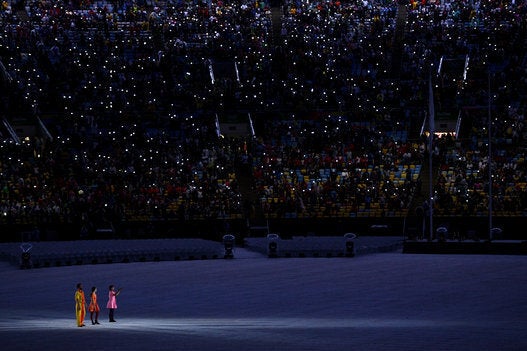 Rio Olympics 2016 Closing Ceremony