After 16 emotional, intense and absolutely thrilling days of sport, the 2016 Rio Olympics have come to an end.
But before the flame was extinguished, one man made his triumphant return to the Olympic stage.
He's bbaaaaaaaccccccckkkkkk...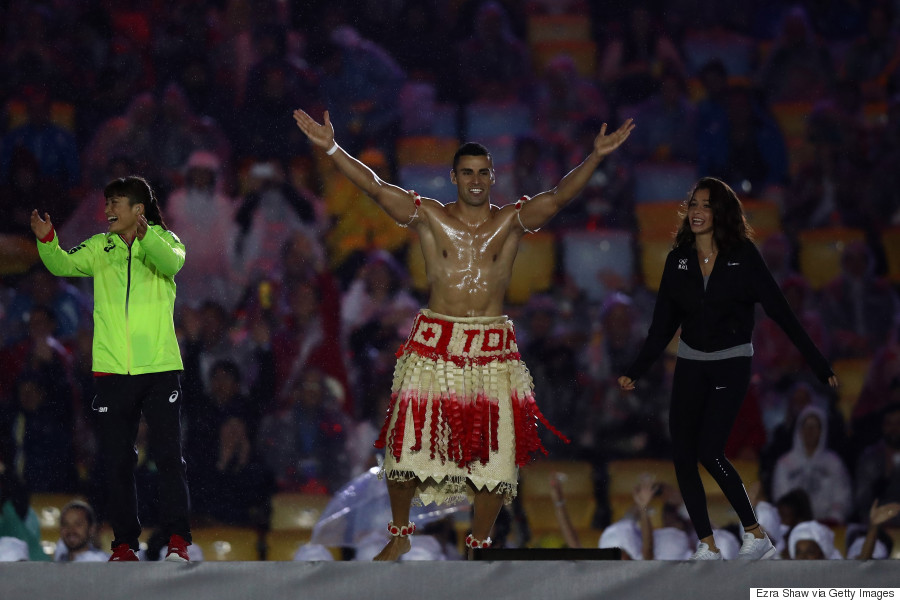 Yes, Olympic fans, it's Tonga's flag bearer, Pita Nikolas Taufatofua! AGAIN!
If you don't remember (shame on you), Taufatofua is the Olympian who put hearts in our eyes and a fan girl tweet on our Twitter accounts during the opening ceremonies when he showed up to the parade of nations oiled-up and half-naked.
BREAKING: Tonga has now has a shortage of oil. Please donate. #OpeningCeremony pic.twitter.com/8wsTkcl0cZ

— Graeme O'Neil (@GraemeONeil) August 6, 2016
The flag-bearer, who became quite the star after the opening ceremonies, went on to appear on such American television programs as the "Today" show, who literally oiled him up on live television.
Tonga oiled flag bearer,Pita taufatofua- Literally i had to go through @TODAYshow tweets to get that #olymics2016 pic.twitter.com/LX4FHLwLDc

— viky thakur (@vikingviky) August 10, 2016
Awkward.
On Sunday, Pita, who was still flaunting his country's traditional ta'ovala, let loose with thousands of other athletes to celebrate all that was of the Rio games. And once again, the Internet's Olympic husband was showed some, in the words of Taylor Swift, mad love:
THE RETURN OF THE TONGA MAN.

— Francine Guilen (@franfran) August 22, 2016
I need my Olympics to come full circle, so @CBCOlympics, show me the man from Tonga! #Rio2016 #ClosingCeremony

— morag (@heymomo) August 21, 2016
He's back!

And more oiled than ever.

It wouldn't be the same without Tonga's flag bearerhttps://t.co/3uvB66DQNN pic.twitter.com/jI9WMj8Why

— BBC Sport (@BBCSport) August 22, 2016
Me trying to find flights to #Tonga. #OpeningCeremony pic.twitter.com/zQhMT4fVeu

— Jesse (@ncfac) August 6, 2016
But guys, let's get real for a second. Taufatofua isn't just professionally good looking. He's also a professional athlete. An Olympian for that matter.
Believe it or not, he was at the Olympics to compete!
So how did Taufatofua do? He lost his very first match. But, like a true Olympian, he's not giving up any time soon.
"What I pride myself in is not my skill in my craft, there are others who will always be better.... What I pride myself in is that I do not quit, I do not stop!" he wrote on Facebook.
What a class act. Thanks for the Olympic memories, Pita.
(That's him with a shirt on, btw)
For more moments from the 2016 Rio Olympics, check out the slideshow below!
Rio Olympics 2016 Closing Ceremony
Follow Huffington Post Canada Style on Pinterest, Facebook and Twitter!