For one night, Kingston, Ont. was the centre of the Canadian universe.
Thousands of fans crammed into the K-Rock Centre for the last concert on the "Man Machine Poem" tour by the Tragically Hip.
The night was one huge thank you to lead singer Gord Downie, whose voice and lyrics brought an identity to countless Canadians through the decades. Downie, 52, revealed earlier this year that he has terminal brain cancer.
Inside, thousands witnessed an electric performance.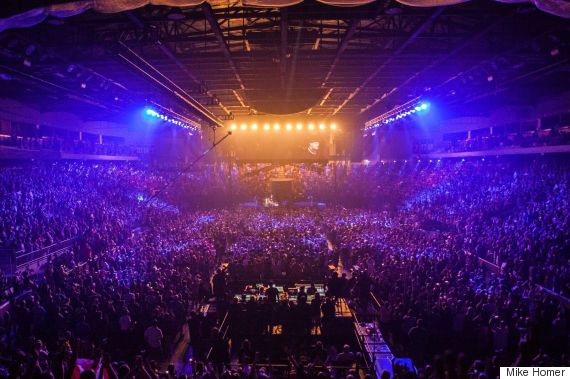 The crowd inside the K-Rock Centre for the Tragically Hip's final concert. (Photo: Mike Homer)
Thousands more were listening and watching outside in Kingston's Market Square
Market Square is packed tight! #ygk #Hipygk #HipInKingston pic.twitter.com/LpLFBafYYD

— Steph Crosier (@StephattheWhig) August 21, 2016
Thanks to CBC's livestream of the show, across the country, people got together in parks...
.@SoraurenPark and the rest of #CAN celebrating the historic final @thehipdotcom show tonight. #HipInKingston pic.twitter.com/4uCPP3rvvV

— John Tory (@JohnTory) August 21, 2016
@HuffPostCanada #Montreal is livestreaming #thehipinkingston at #MonklandFest. #TragicallyHip #TheHip #GordDownie pic.twitter.com/nGjS9VWyYQ

— MVP Montreal (@MVPMontreal) August 21, 2016
And in bars.
They gathered in Bobcaygeon
, where we hope the constellations revealed themselves one star at a time.
Here's Bobcaygeon tonight. (@StanBehalPhoto) pic.twitter.com/BFwiwgJaZ7

— Ian Shantz (@IanShantz) August 21, 2016
From coast...
Huge crowd at Halifax Grand Parade for The Tragically Hip - A National Celebration #CBCTheHip Colin King photo pic.twitter.com/SKDVquVzjD

— Greg Guy (@GregGuyCBC) August 21, 2016
To coast
The tragically hip live viewing @commodorevcr @VancouverWeekly #TragicallyHip #Vancouver pic.twitter.com/KZysH1rfMR

— Ryan L. Johnson (@rynsteinphoto) August 21, 2016
And up north.
#rainbow in #Yellowknife during #TragicallyHip show. Coincidence?? pic.twitter.com/Du5EwEUtk4

— Sarah C-L (@heritagenerd) August 21, 2016
Canadians outside the country didn't want to miss out either
@HuffPostCanada it's 2:33 in Tipperary, Ireland. Wouldn't miss this, even if my only companion is wine. pic.twitter.com/tEt2XyHP42

— Janine Kennedy (@cookwithcraic) August 21, 2016
3:35AM watching Hip in Malta. Subtitles for some reason. Tech is great. pic.twitter.com/GyfzQivCVV

— Shawn Micallef (@shawnmicallef) August 21, 2016
We parked the car and now are listening to The Hip overlooking a beach in Maui #tragically… https://t.co/swrZkzUW1j pic.twitter.com/YfZkAmypY8

— yumke (@yumke) August 21, 2016
Also on HuffPost
Tragically Hip "Man Machine Poem" Tour