A day after singer Gord Downie used the dramatic occasion of Saturday night's nationally televised Tragically Hip concert to commend the prime minister's commitment to righting the historical wrongs of Canada's relationship with Aboriginal communities in the North, Indigenous Affairs Minister Carolyn Bennett acknowledged both the honour and burden of the moment.
"I felt that obviously it's hugely heartening that one of the most recognized and revered Canadians believes in the prime minister and believes that we're serious about this project," she told reporters in Sudbury, Ont., where the Liberal cabinet has gathered for two days of meetings. "But it's also daunting, to say that we need to produce on this."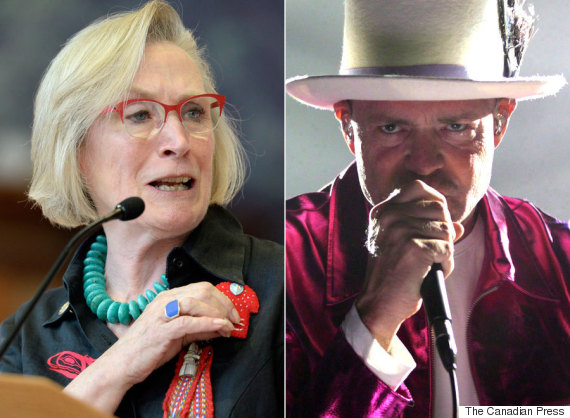 Indigenous Affairs Minister Carolyn Bennett and The Tragically Hip's Gord Downie. (Photo: The Canadian Press)
Justin Trudeau's government has prominently committed to reconciliation, consultation and improving the welfare of Canadian's Indigenous population.
On Saturday night, Downie singled out the prime minister while also describing years of neglect.
"He cares about the people way up North," the Tragically Hip frontman said from the stage between songs. "That we were trained our entire lives to ignore. Trained our entire lives to hear not a word of what's going on up there. But what's going on up there ain't good. It's maybe worse than it's ever been."
On Sunday, Bennett said Downie was correct to say the country has ignored the situation.
"I think what he's saying is right. It's what the Truth and Reconciliation Commission said about this country. I don't think I learned in school of the majesty of the land, the dignity of the people. I think it is about people [not] understanding that Baker Lake is the centre of Canada," she said, referring to the Nunavut hamlet.
"Because 90 per cent of us live within 100 miles of the American border, people don't actually understand the land or the people."
Asked about meaningful progress so far and in the short term, Bennett pointed to commitments on housing and the Nutrition North program and her government's willingness to include Indigenous leaders in discussions about climate change, but she also conceded the obvious extent of the work to come.
"I think people know that this isn't going to happen overnight," she said, "but you've got to start with the first steps, and those steps need to be sincere and authentic."
Whatever the challenge, Bennett said it was an "exciting time."
"As we look forward to the next anniversary of Confederation, the next 150 years, this is a colossally exciting project for Canada," she said, "that we will go forward with the unfinished work of Confederation."
Also on HuffPost
Tragically Hip "Man Machine Poem" Tour