Robaba Mohammadi was born without the use of her hands and feet, but that doesn't stop her from making art.
The 16-year-old has partial paralysis in her limbs, leaving her with only the use of a few toes. She creates detailed sketches with her mouth, using her lips and tongue to control the pencil. (Watch video here.)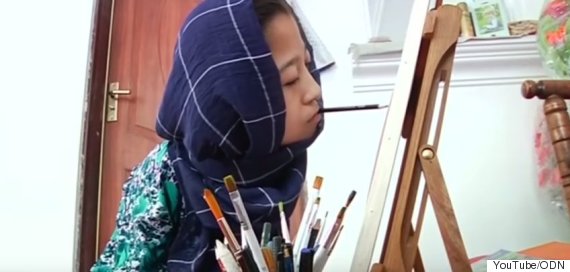 Robaba Mohammadi wants to become an internationally renowned artist. (Photo: YouTube/ODN)
Her sketches started as an outlet for her frustrations at being unable to go to school with her siblings, reported The Washington Post.
Mohammadi stole a notebook belonging to one of her sisters, and stashed it away with two pens.
"My sister was saying, 'Where is my notebook?'" she told the newspaper.
"They didn't think I could steal it because I can't use my hands or feet."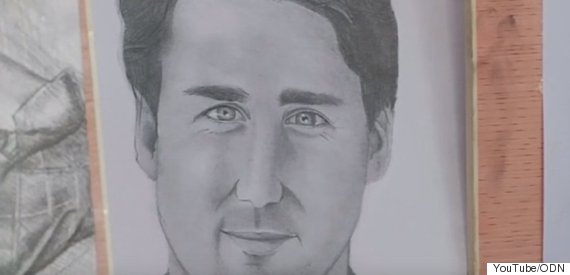 Robaba Mohammadi's sketch of Prime Minister Justin Trudeau. (Photo: YouTube/ODN)
Mohammadi has sketched several politicians, including Canadian Prime Minister Justin Trudeau and cabinet minister Maryam Monsef, who is originally from Afghanistan.
The teen calls Monsef her idol, according to Global News.
Mohammadi's dream is to hold an art exhibition at the Aga Khan Museum in Toronto.
"I'm requesting my people to help me in order to reach my dream which is having my art exhibition in Canada," she told Reuters.
In Afghanistan, people with disabilities are often perceived as weak. Because of the discrimination they face, combined with decades of conflict, many don't get to achieve their goals.
The teen hopes her art can show a different Afghanistan — one that moves away from the war-torn country plagued by suicide bombings, and tells a better story.
The Post reports that she recently completed her first commissioned piece for an Afghan parliamentarian — a sketch of an Afghan police officer heralded for defusing hundreds of improvised explosive devices left by Taliban fighters.
"If they listen to my story, it's a story of hope," she told the outlet.
CLARIFICATION - Sept. 22, 2016: MP Maryam Monsef issued a statement saying that she recently learned from her mother that she was in fact born in Iran, and not Afghanistan.
Monsef's mother said she felt it didn't matter to tell her daughters because under Iranian law, they were born to Afghan parents and not considered Iranian citizens.
Also on HuffPost