A recent robbery took a lot longer than the thieves were expecting.
Two armed men held up a Boost Mobile store in Paterson, N.J., last Wednesday, but instead of quickly escaping with phones and cash, they got locked in instead, according to NBC 4 New York.
'I gotta live'
Store manager Tommy Torrez had to think quickly when the two burst in with a gun. He told them to take what they wanted and while they were busy, he ran out through a back door into another business.
"I gotta go, I gotta live," he told CBS 2.
Torrez then ran through the travel agency next door and brought down the front gate, according to the outlet.
In surveillance video of the incident, someone outside the mobile phone store is seen pulling down the gate there too.
The robbers soon realized they were trapped, and tried all sorts of tactics to escape.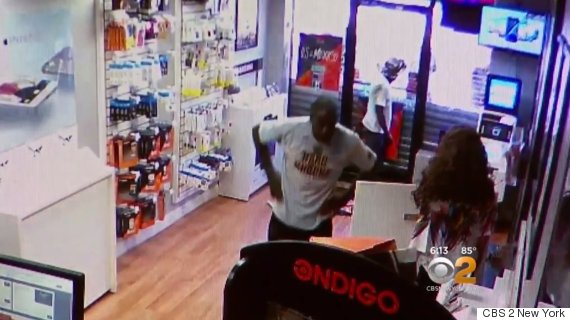 Two men who held up a cellphone store in New Jersey are seen trying to get out after someone outside pulls down the front gate. (Photo: CBS 2 New York/Screenshot)
One of the thieves is seen on the security camera lifting the ceiling tiles. The two also tried using a fire extinguisher to get out through the basement, Torrez told The Record and Patterson Press.
The surveillance footage even shows one pleading with the people gathered outside Boost Mobile.
'I can't let you outta there!'
"Let me out," he could be heard saying.
"Yo, c'mon."
Cellphone video obtained by NBC 4 showed the crowd laughing and staring at the men.
"I can't let you outta there!" one woman yelled back.
Robbers eventually managed to escape
But while this may have seemed like a happy ending for Torrez and police, the men eventually found a way out.
The store manager told News 12 the thieves used tools to tear down a barred window and escape.
He also told The Record and Patterson Press he called police many times, saying the robbers were armed, but cops said they only received three or four calls and that no one mentioned a gun until 19 minutes after the first one.
"As soon as there was a mention of a weapon, the response was immediate," said Paterson Police Director Jerry Speziale.
But he said cops will still investigate how they responded.
Torrez said the suspects escaped with C$148.
You can see more on the story in the video above.
Also on HuffPost