Every kid's favourite novel Wonder is being brought to life, with Jacob Tremblay as the beloved Auggie.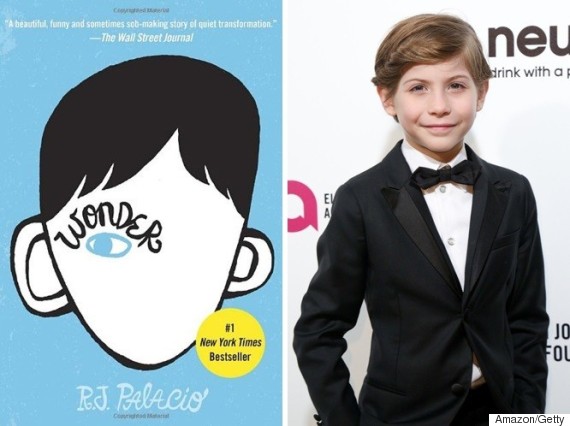 If you're unfamiliar with this bestselling book by R.J. Palacio, it follows a fifth-grade boy named August Pullman — born with a facial deformity — as he tries to fit in at his new school.
Describing the story to People, director Stephen Chbosky said: "The movie 'Wonder' is about family, friendship, love and most of all, it's about choosing kindness at every stage of life."
Although "Wonder" won't be released until April 2017, the film's first photo was recently released showing Julia Roberts and Tremblay playing mother-son duo Isabel and Auggie. Due to Tremblay's character's extraordinary face, it only makes sense that we hardly recognized the Vancouver-born star.
First look: @JacobTremblay and #JuliaRoberts in @WonderTheMovie >>> https://t.co/Q6jghbzNSY #etalk #WonderMovie pic.twitter.com/jUC4pOe55r

— etalk (@etalkCTV) August 13, 2016
Earlier this month, the nine-year-old actor tweeted his excitement over his latest role and reiterated the film's important message.
I am very honored to help bring Auggie to life! Let's #choosekind everyone! 👫 @WonderTheMovie https://t.co/hlJ2N00dis

— Jacob Tremblay (@JacobTremblay) August 10, 2016
Speaking about the film's cast, director Chbosky revealed he wasn't drawn to Tremblay and Roberts just because of their acting.
"One of the special things about the movie 'Wonder' is that we cast the actors as much for their humanity as their talent," he told People. "Both Julia and Jacob are so normal yet so exceptional, not only at what they do, but who they are."
Chbosky is certainly right. While Roberts was dubbed America's Sweetheart early on in her career, Tremblay quickly won over the public last year. The young actor first caught everyone's attention with his stunning performance in "Room." Since then, he has never failed to charm us at every red carpet event.
Tremblay has also been involved in big events like We Day, which strives to empower today's youth.
Clearly, the cast of "Wonder" couldn't be more perfect. We can't wait to see this movie, and neither can Tremblay's fans.
ahhhhh i didnt know there is gonna be a wonder movie and it's starring precious jacob tremblay!!!! 😄😄😄

— lily (@clintcsha) August 11, 2016
Just found out that there's gonna be a Wonder movie and Jacob Tremblay is gonna play Auggie?!?! OMG WHY DID I NOT KNOW

— elly (@ellywithbass) August 23, 2016
julia roberts and jacob tremblay are going to be in a movie together called wonder i am so excited pic.twitter.com/zLxV6UZjvu

— nicole ! (@jhutchersin) August 11, 2016
ALSO ON HUFFPOST: