SAGUENAY, Que. — As the federal Liberal caucus arrived in the picturesque region of Saguenay–Lac-Saint-Jean for two days of meetings, the local Grit MP warned party members that they shouldn't expect an especially warm reception.
This area is known as sovereigntist territory — three provincial seats are held by the Parti Québécois. Federally, the region's ridings are split among a Conservative, a New Democrat, and, since last October, a Liberal.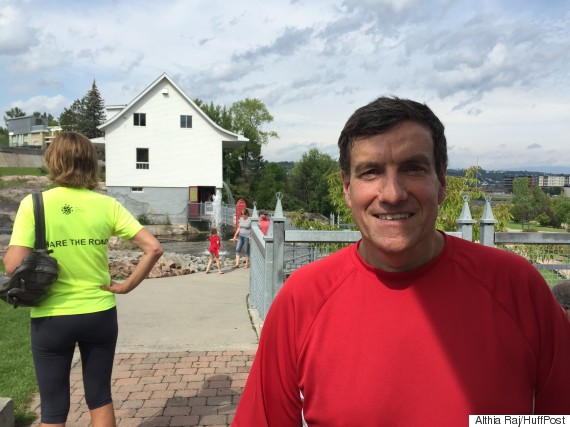 MP Denis Lemieux (Photo: Althia Raj/HuffPost Canada)
Chicoutimi–Le Fjord Grit MP Denis Lemieux surprised many when he won the seat in last October's election. Political rivals suggest he was swept into office in the last two weeks of the campaign by the Trudeau wave.
The last time a Liberal was elected here was in 2000 — but André Harvey was a three-time Progressive Conservative MP who crossed the floor and joined the Grits. Before that, it was 1980 when, under Trudeau senior, Marcel Dionne represented the riding in Ottawa.
The Prime Minister's Office wouldn't say whether it chose to hold the summer caucus meeting in the towns of Saguenay and Jonquière in an effort to establish deeper Liberal roots.
"We have elected 40 MPs in Quebec in the last election. [It's] important to be on the ground here."— Andrée-Lyne Hallé, spokeswoman for PM
Justin Trudeau's spokeswoman, Andrée-Lyne Hallé, noted that this was the first national caucus meeting held outside Ottawa since the election. As with Trudeau's cabinet retreats — held in Sudbury, Ont., last weekend, in Kananaskis, Alta., last April and in Saint Andrews, N.B., in January — the Liberals are trying to ensure a presence everywhere in the country so MPs and ministers can meet citizens face to face, Hallé said.
"We are happy to be in Quebec this time, to be in Saguenay to see this beautiful region and meet people," she said. "We have elected 40 MPs in Quebec in the last election. [It's] important to be on the ground here."
Trudeau is scheduled to arrive Thursday morning — and can expect to be greeted by protesters.
One local newspaper, Le Journal de Québec édition Saguenay–Lac-Saint-Jean, warned on its front page: "Protesters wait for Justin Trudeau." Dairy producers and Canada Post employees plan to demonstrate outside the Delta hotel where the prime minister and his 181 MPs are scheduled to meet.
Lemieux said he expects "totally pacifist demonstrations."
"I think it's good that we be kept aware of what's going on and what people think, but those demonstrations will just put in evidence things that we already know very well and things that Mr. Trudeau already knows very well," he said.
Ministers' expenses questioned
Stories on Trudeau and the Liberals dominated local news coverage Wednesday — and they were far from favourable. Unlike the smiling picture of Environment Minister Catherine McKenna taking a selfie with her cabinet colleagues splashed in the Sudbury Star last week, here two columns and an editorial cartoon slam Trudeau for defending the burkini. There is a photo of McKenna looking guilty and ashamed with the caption: "Trudeau accepts another error from a minister," a reference to the thousands of dollars her department spent to hire a photographer to take pictures of her at the UN climate change conference in Paris.
Another column focused on Trudeau's clothing, and in a backhanded way noted that the prime minister always seems to know how to dress to perfection — from his pink pride shirt, to his Tragically Hip outfit, to the shirtless shot on vacation. Trudeau acts like a superstar that's "cool to the supreme degree" rather than a political leader, wrote respected columnist Mario Dumont.
Another daily, Le Quotidien, loudly stated: "No Important Announcement." The headline story highlighting the fact Trudeau's visit won't result in any major regional announcements.
Neighbouring Conservative MP Denis Lebel said that should worry local residents. "It's an opportunity missed for the region."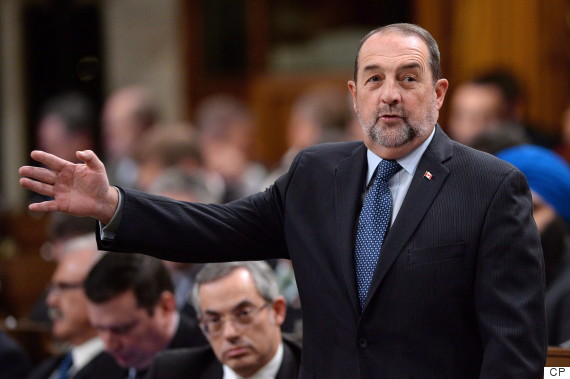 Denis Lebel during Question Period in the House of Commons, Feb. 17, 2015. (Photo: Sean Kilpatrick/The Canadian Press)
In 2002, former Liberal prime minister Jean Chrétien held a caucus meeting here and announced funding for an important four-lane divided highway, Lebel noted.
"This is going to be a big show of images. We already know our region is magnificent. It doesn't take selfies to show that to us."
The Prime Minister's Office has planned for a large public event. Thursday evening, after MPs return from a boat tour on the Fjord, Trudeau will give a speech by the Chicoutimi port, mingle with residents and, presumably, pose for selfies.
Trudeau's reputation as selfie king led to a social media campaign by the National Assembly's official Opposition leader. Sylvain Gaudreault posted selfies on Facebook to encourage the prime minister to pay attention to local issues, such as diafiltered milk, a milk product that is labelled and taxed in two different ways when imported into Canada. Quebec producers feel Ottawa isn't doing enough to close a loophole that allows American producers to flood the domestic market with foreign product, he said.
Lemieux 'works hard': Lebel
In April, Lemieux, the local Liberal MP, dumped a 25 litre bag of powdered milk on his head to declare his solidarity with dairy farmers.
While one maintenance worker that HuffPost spoke with described the local MP as a "clown" with "zero credibility," Lebel, the Conservative from the neighbouring riding, said he thinks Lemieux might be re-elected because "he works hard."
"People in this region, they often vote for the man. He, of course, benefited from the Trudeau wave, but Mr. Lemieux is appreciated.
"Mr. Harvey won often because of his strength and how he worked. We are are a region that is still very sovereigntist, but [while] … we used to say that anyone who ran for the PQ would win, and anyone who ran for the Bloc in the region would win, that's no longer the case."
"The region of Saguenay–Lac-Saint-Jean lives with a lot of problems."— MP Denis Lemieux
Lemieux told HuffPost Wednesday that he hopes the visit will highlight his political objectives — the promotion of the region's economic development and of healthy living.
"In the next few days, we're going to hear a lot of things in the media on the negative side," he said.
"I want to have a positive dialogue about the future of the region. The region of Saguenay–Lac-Saint-Jean lives with a lot of problems," he said, noting its very high unemployment rate.
Before the caucus meetings begin Thursday, Lemieux took about dozen of his colleagues out on a long bike ride, stopping to show them two area manufacturing plants, Resolute Forest Products and Rio Tinto Alcan.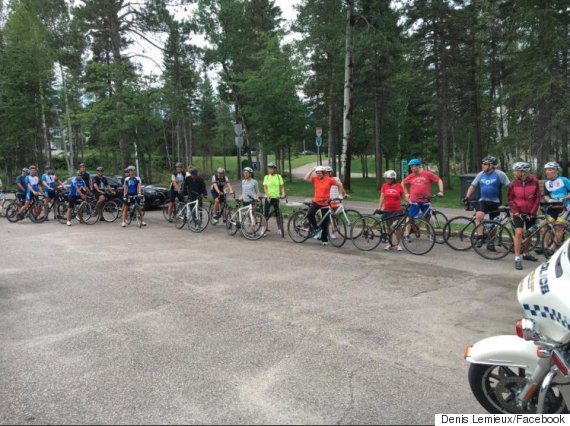 The MP went on a bike ride with members of the Liberal caucus Wednesday. (Photo: Denis Lemieux/Facebook)
"I wanted to show them the intelligence of people here. The beauty of the people here and also to show to the rest of Canada that the Saguenay may be living a difficult situation, but it is not because of our incapacity or because of our lack of intelligence."
The riding's former Bloc Québécois MP, Robert Bouchard, also has nice things to say about Lemieux. Bouchard, who represented the Chicoutimi seat from 2004 to 2011, is leading a charge to get UNESCO to recognize the Saguenay Fjord as a World Heritage Site, and he credits Lemieux with getting the ball rolling at the federal level.
He hesitates to say what he thinks the Liberals' future chances in the region could be. He admits being "very surprised" on election night that Lemieux won and that the Bloc had fared so badly.
"I wanted to show them the intelligence of people here."— MP Denis Lemieux
But he notes that, historically the riding has followed big national trends. "When there is a wave in Quebec, the region participates in that wave," he said in a telephone interview from his home in Chicoutimi.
In the 1970s and up until 1984, the riding supported the Liberals. Then, it was solidly Progressive Conservative under former prime minister Brian Mulroney. It went Bloc when that party's popularity soared, and it also sent an NDP MP to Ottawa in 2011 under the so-called orange wave.
The last year Bouchard was in Ottawa, he won a coveted award as the MP who best represented his constituents. According to write-up in Maclean's, which organizes the prizes, Bouchard was recognized for always pushing his riding and trying to ameliorate its economic condition.
"Leaders when they are in opposition say this. But when they get to power, it changes."
— Former MP Robert Bouchard
Bouchard is quoted in the 2010 piece explaining that Lebel and former local Tory MP and cabinet minister Jean-Pierre Blackburn come to the riding to "explain Ottawa's decisions," while "I take people's concerns and bring them to Ottawa."
That line might sound familiar. Trudeau used it on the campaign trail repeatedly, telling voters that Liberal MPs would be the voice of their ridings in Ottawa rather than Ottawa's voice in their ridings.
"Leaders when they are in opposition say this. But when they get to power, it changes," Bouchard said, laughing.
Perhaps, that's why Lemieux is warning about the protest and Thursday's reception. A voice that leads to no action may not be a voice that constituents want again.
Also on HuffPost
PM Trudeau Posing For Selfies