Music award shows are well known for being an event that encourages attendees to showcase their wild side when it comes to fashion.
Save the stuffiness for the Oscars, because like the Grammys, the MTV Video Music Awards (VMAs) serve as the perfect time and place to break out a bevy of Jeremy Scott and Moschino fashions (translation: pretty much anything goes here). Just Google "Miley Cyrus + VMAs" or "meat dress" and you'll get a taste of what's entirely acceptable at this fashion forward award show.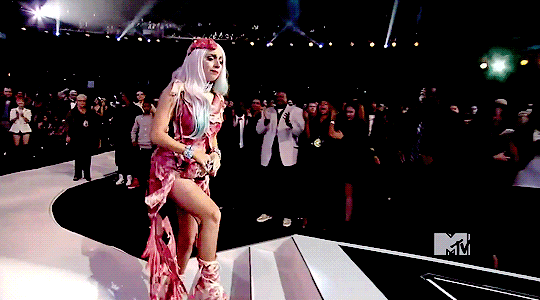 Questionable style aside, many celebrities also manage to strike the perfect balance between edgy, outrageous and classy. It does indeed happen!
This year, the MTV VMAs will take place on August 28th, and to get you in the mood, we've rounded up some of the most memorable looks in the award show's history:
Chrissy Teigen (2015)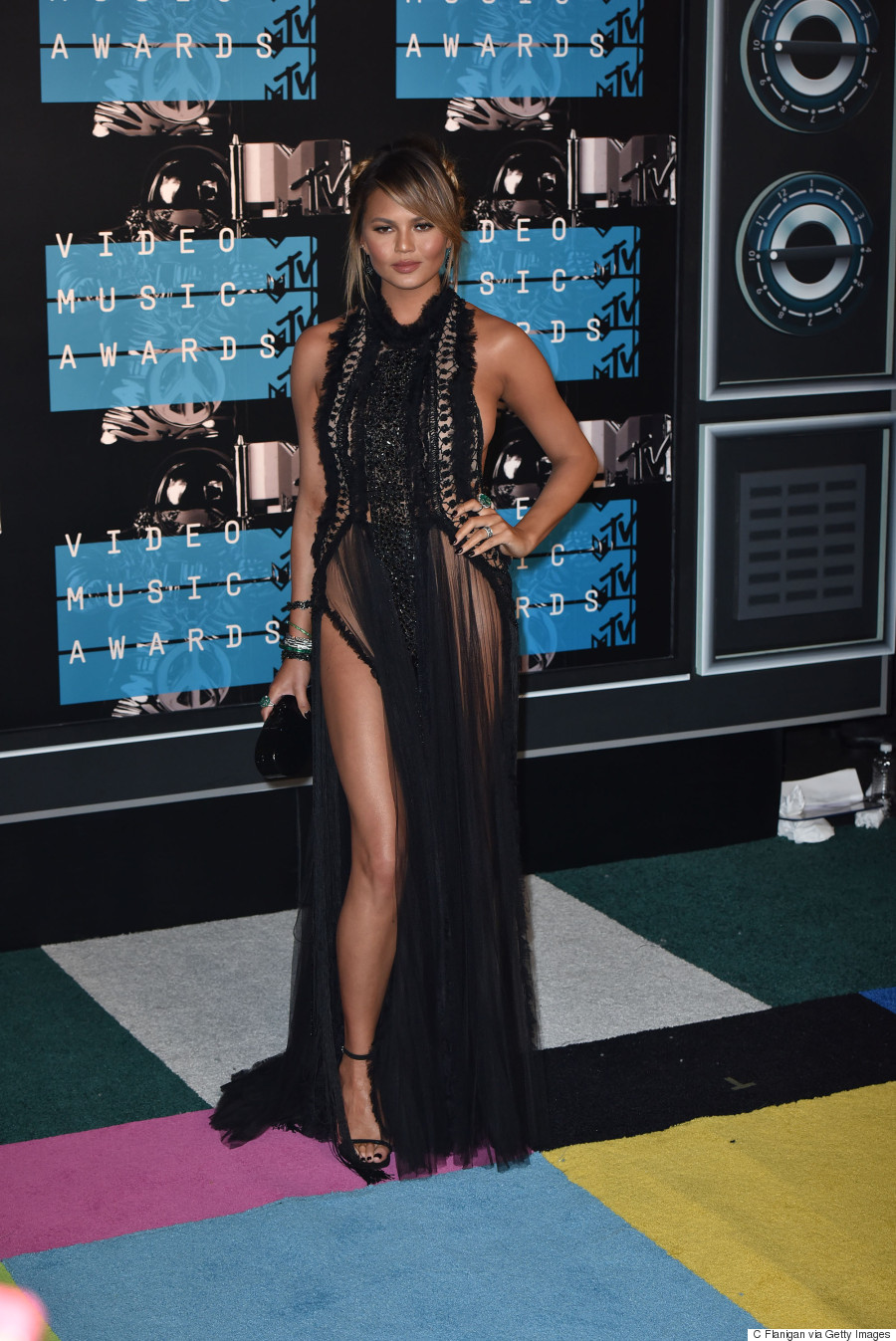 Let's start with last year's show. You'll find her writing a cooking book on most days, but that doesn't stop Chrissy Teigen from being the belle of the ball in this stunning Marchesa gown.

Lady Gaga (2010)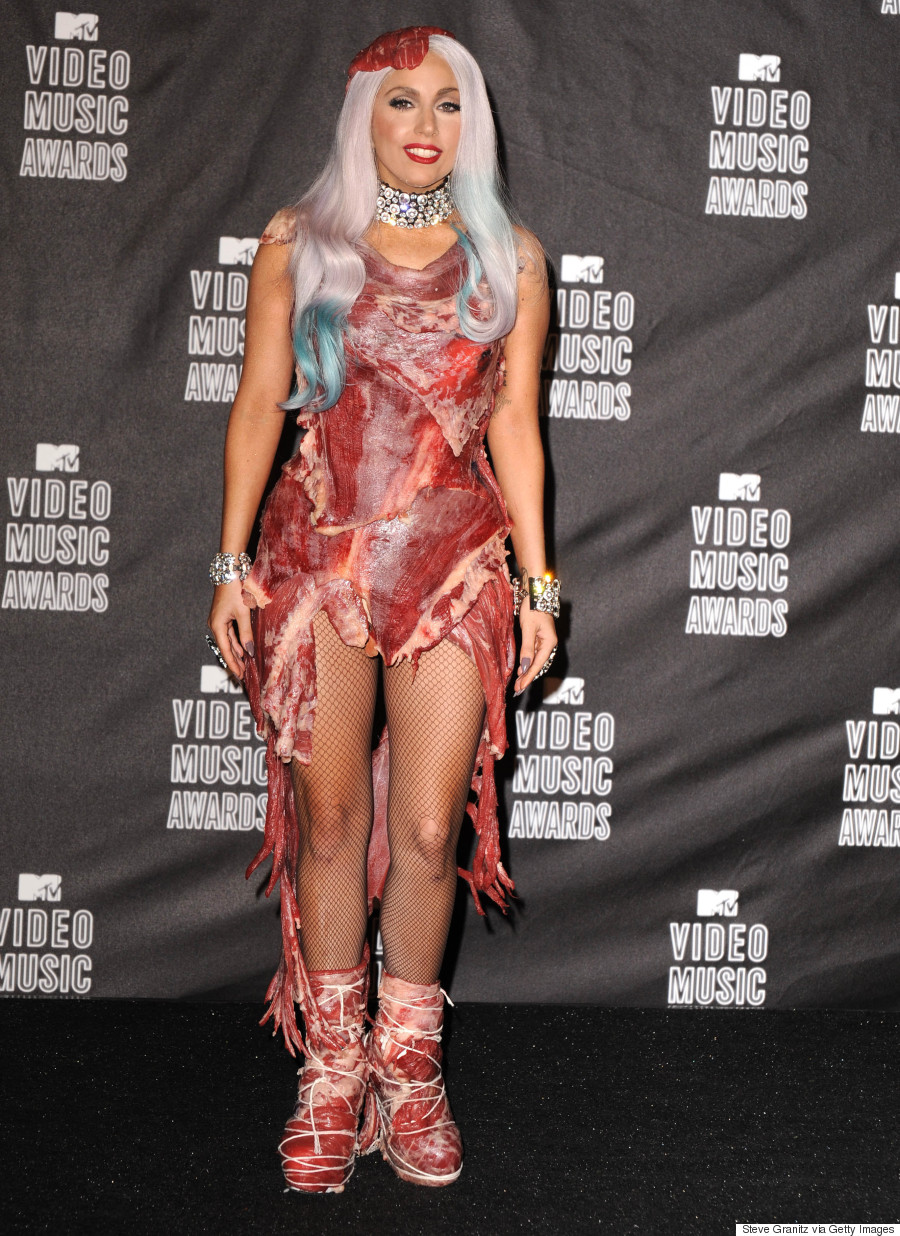 Lady Gaga's meat dress will literally be seared into our memory forever. Get it? Seared? Meat? Okay, we'll be quiet now.

Madonna (1984)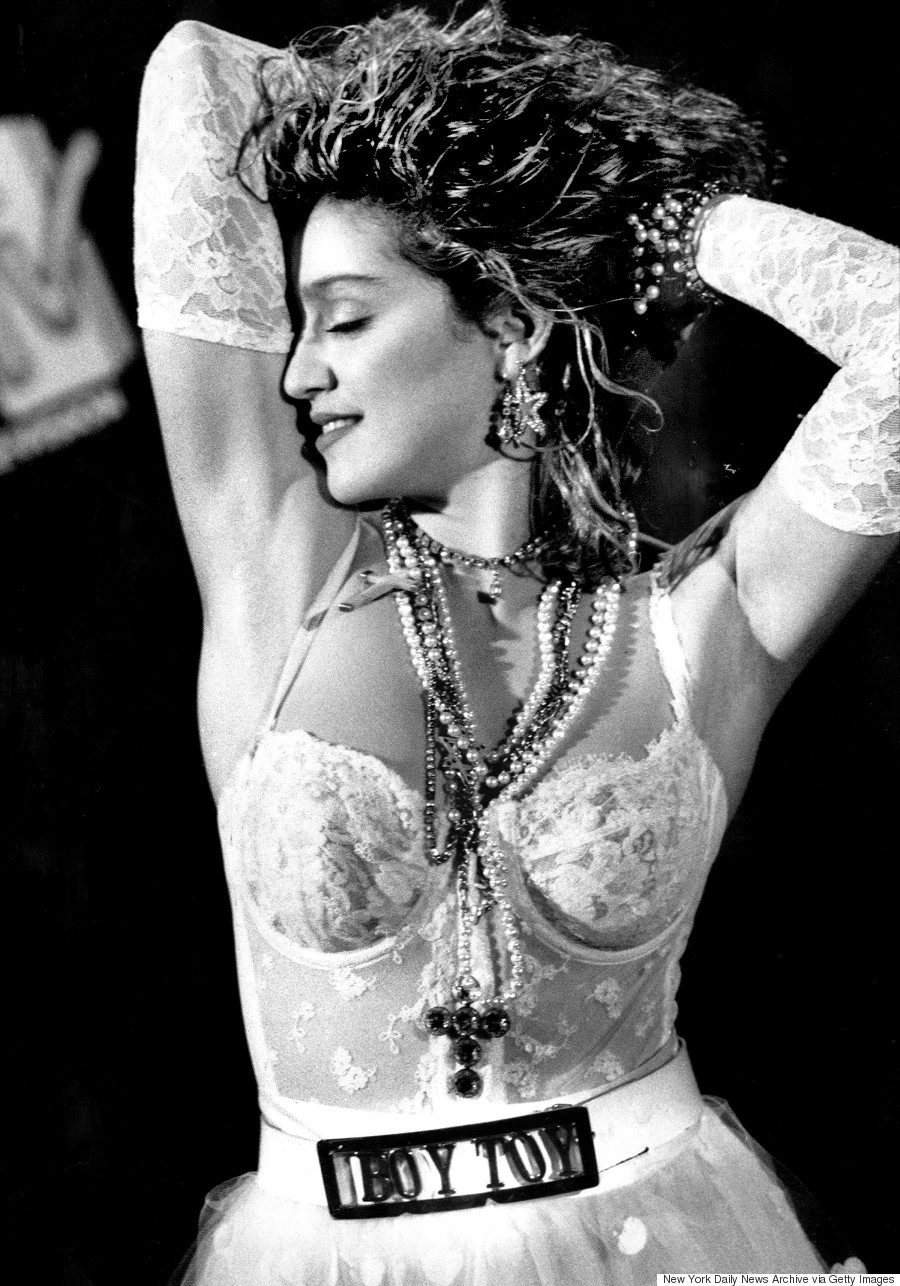 The "Boy Toy" belt Madonna wore to the first MTV VMAs in 1984 was the chicest thing to happen to that awards show.

Miley Cyrus (2015)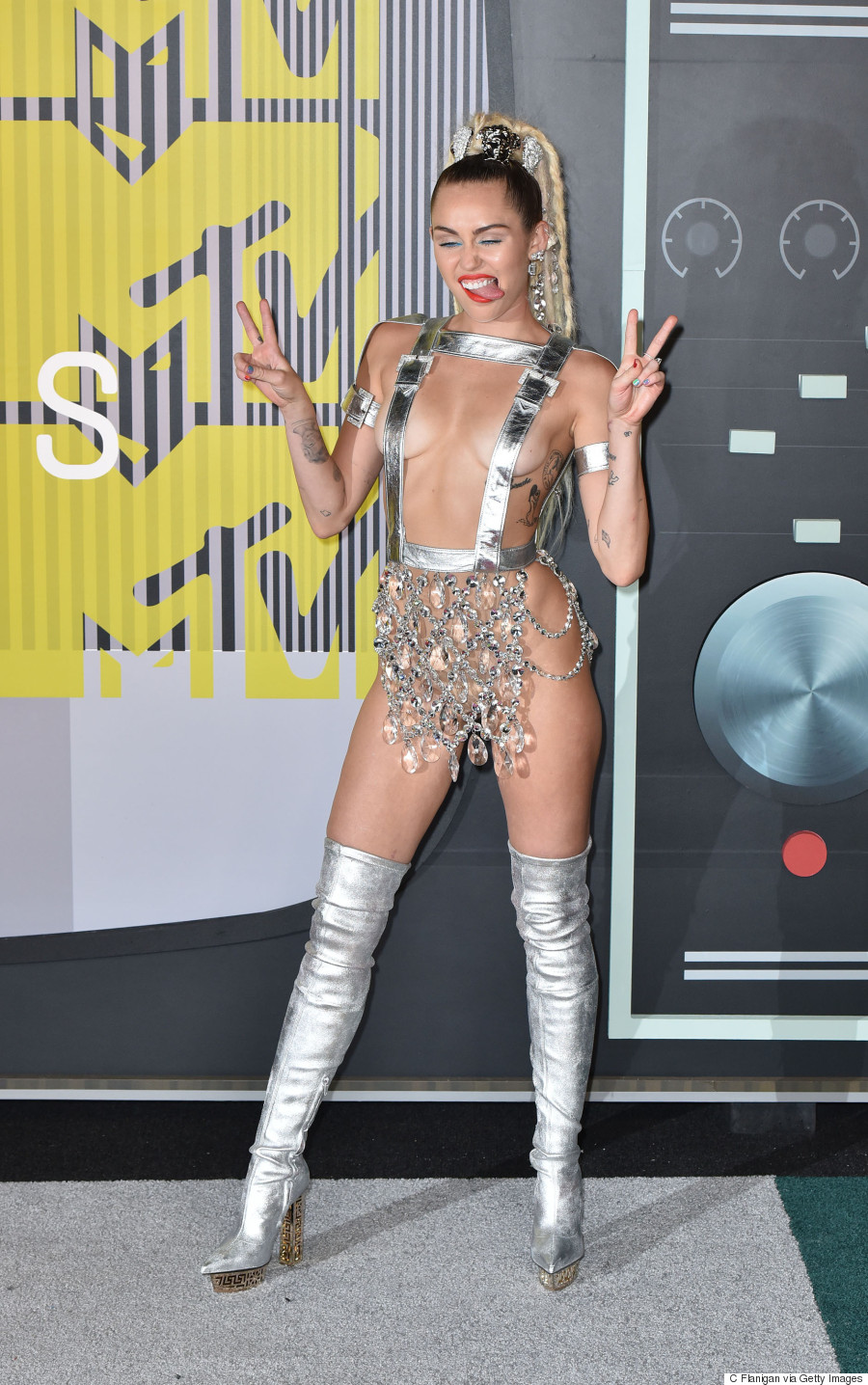 Miley Cyrus wore nothing but metallic suspenders last year and we were all like, "Yep looks about right."

Christina Aguilera (2002)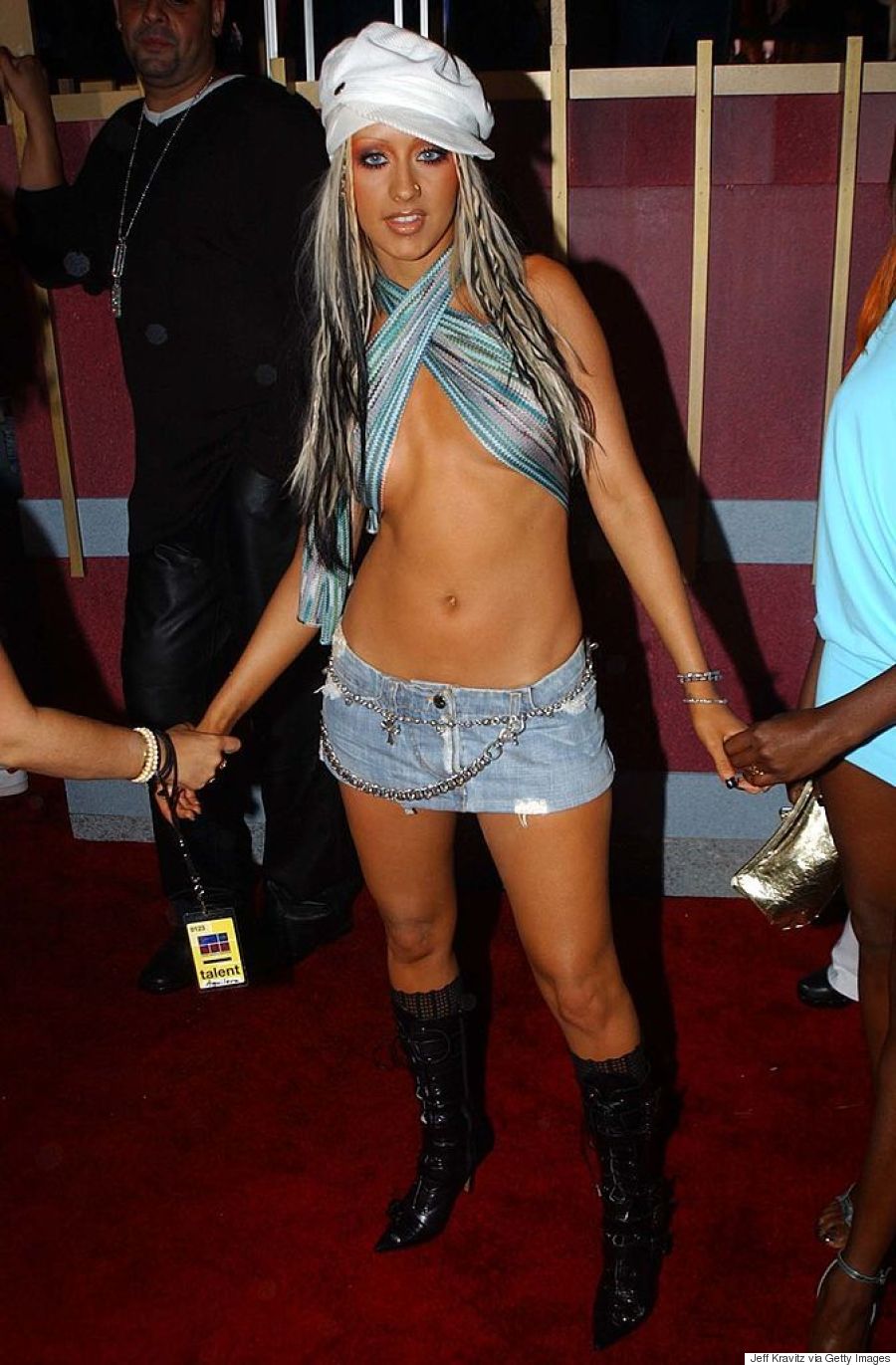 All that is bad manifested into one outfit at the 2002 VMAs. Thanks for that eyesore, Christina Aguilera.

Lil Kim (1999)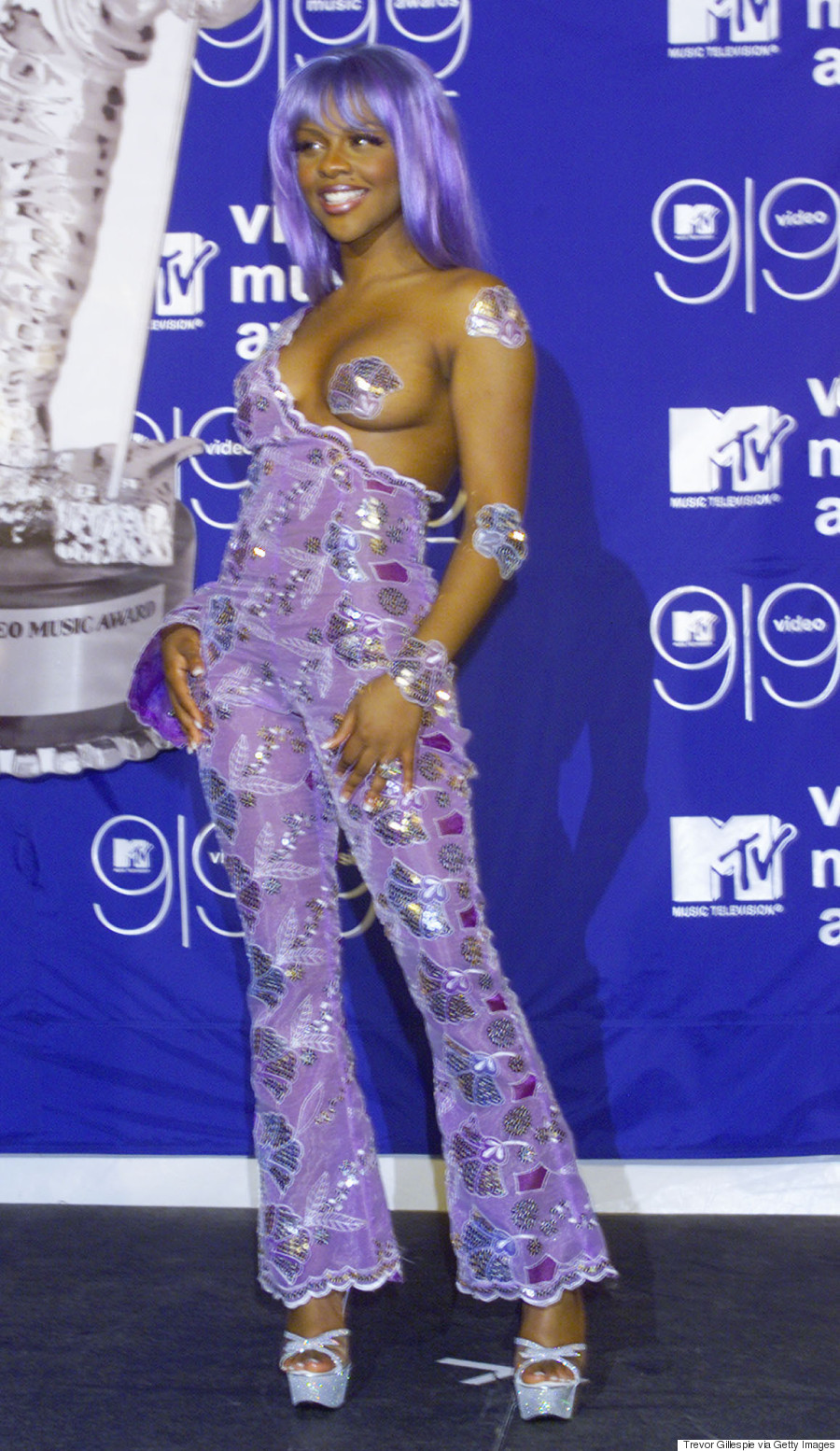 How to know you wore one of the most salacious outfits in the history of the VMAs? Miley Cyrus wears your outfit as a Halloween costume years later and everyone remembers exactly where it came from.

Selena Gomez (2013)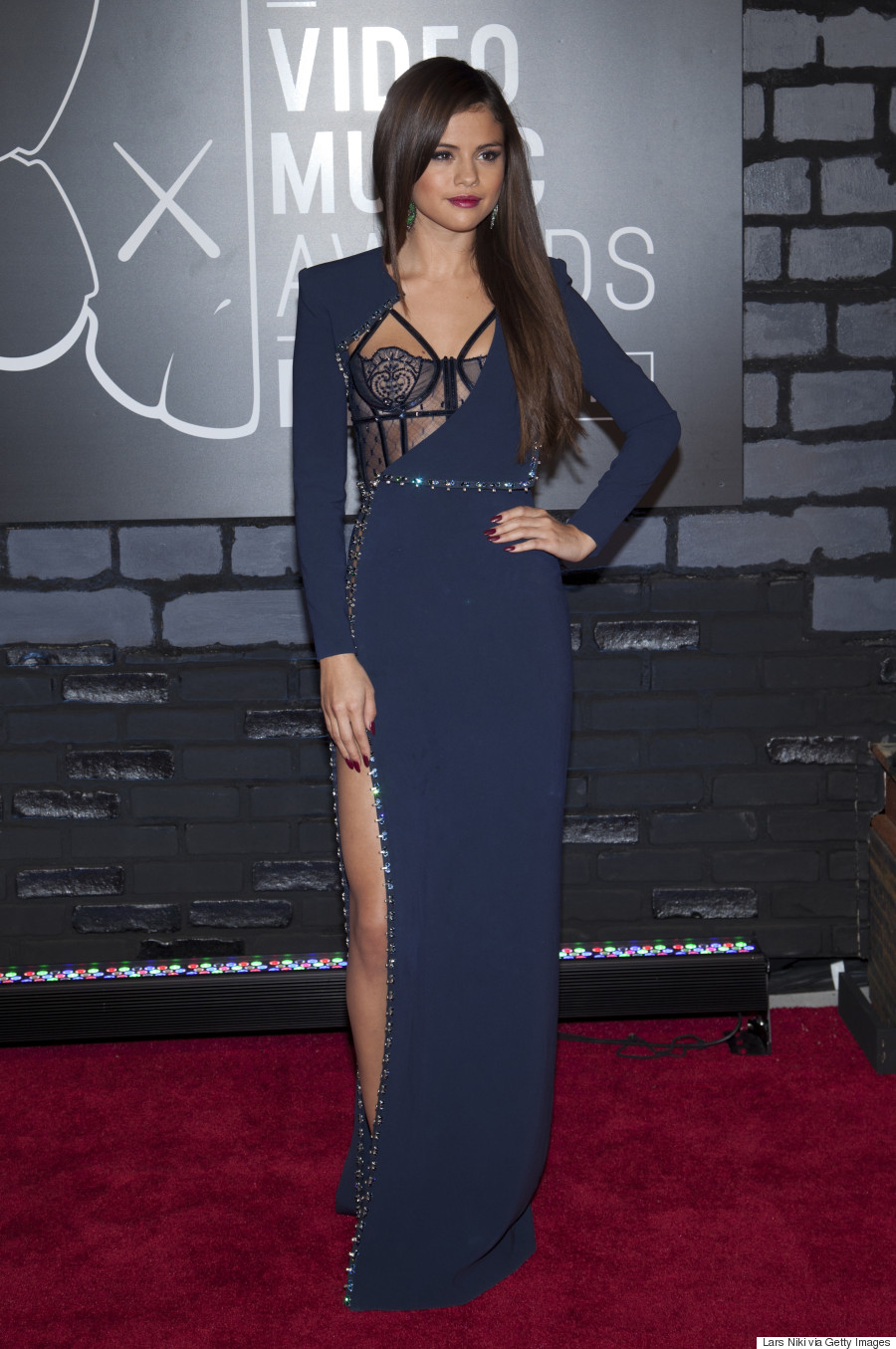 We can only take so many eyesores! It's time for an outfit we actually remember fondly. In 2013, Selena Gomez wore this Atelier Versace masterpiece.

Taylor Swift (2014)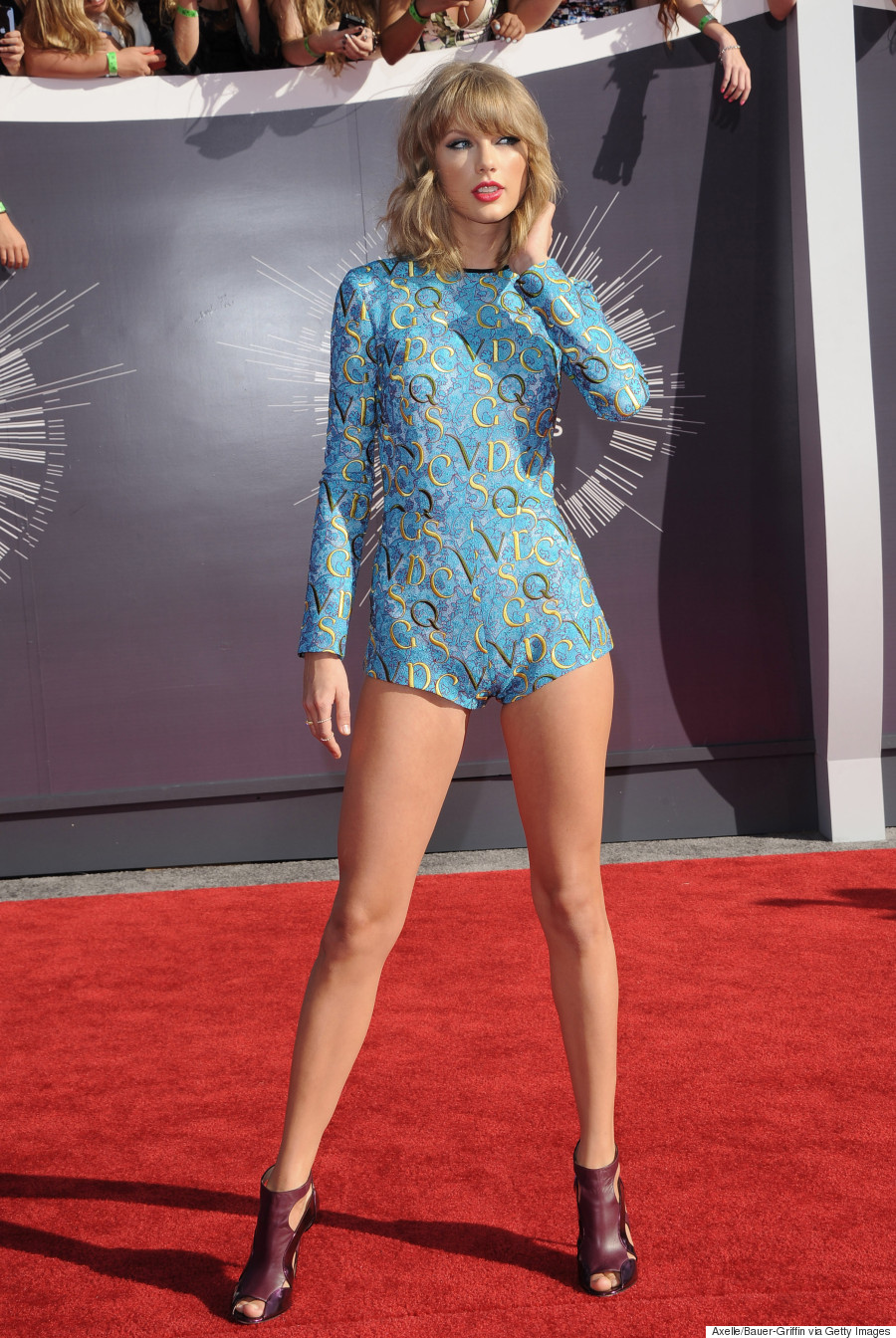 The "Bad Blood" singer opted to wear an adorable Mary Katrantzou romper to the 2014 award show rather than her usual elegant and safe gown.

Lenny Kravitz (2004)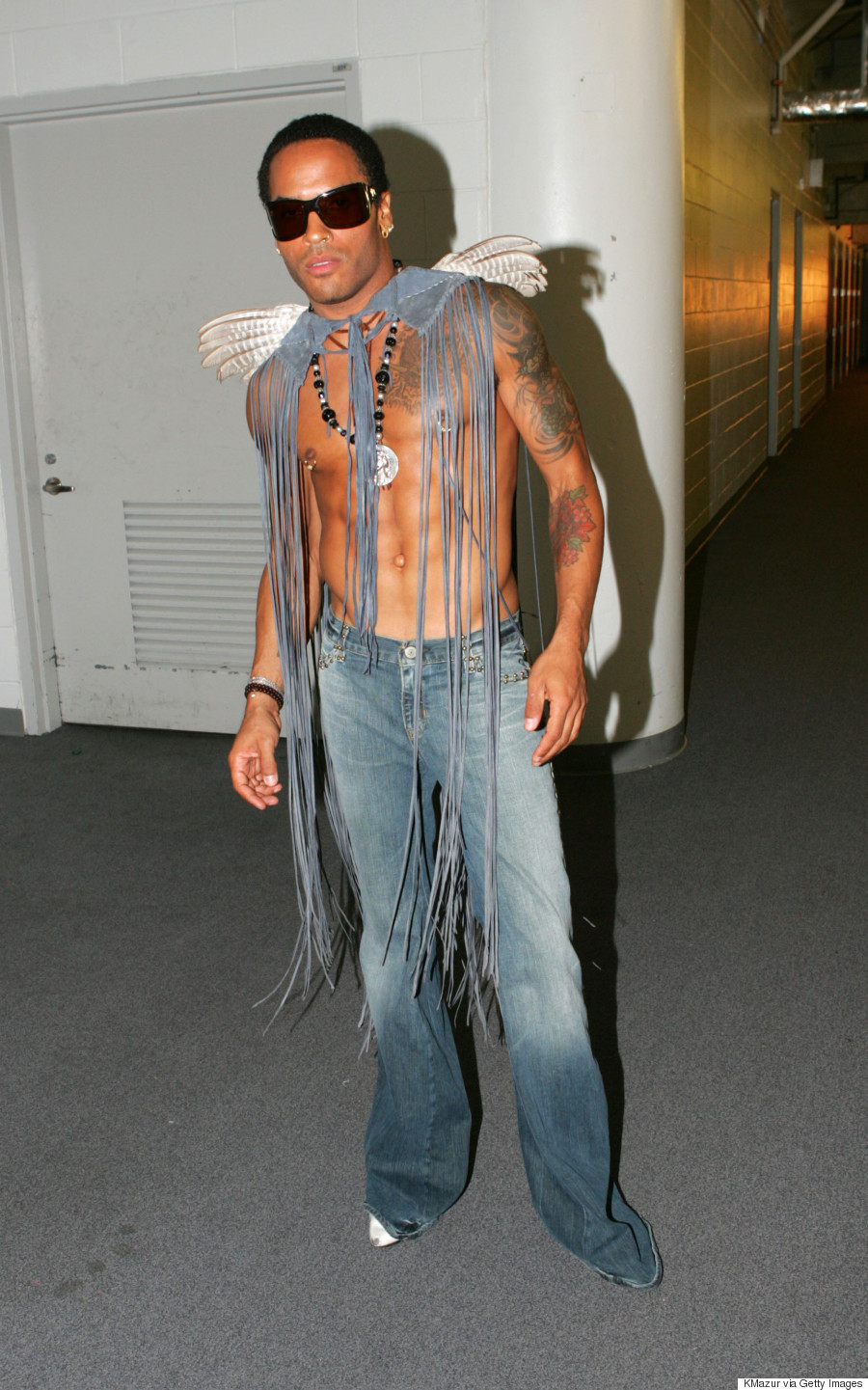 The only thing saving Lenny Kravitz from being savagely mocked was his rock solid abs. Scratch that, he was mocked anyways for this … fringe top?

David Lee Roth (1984)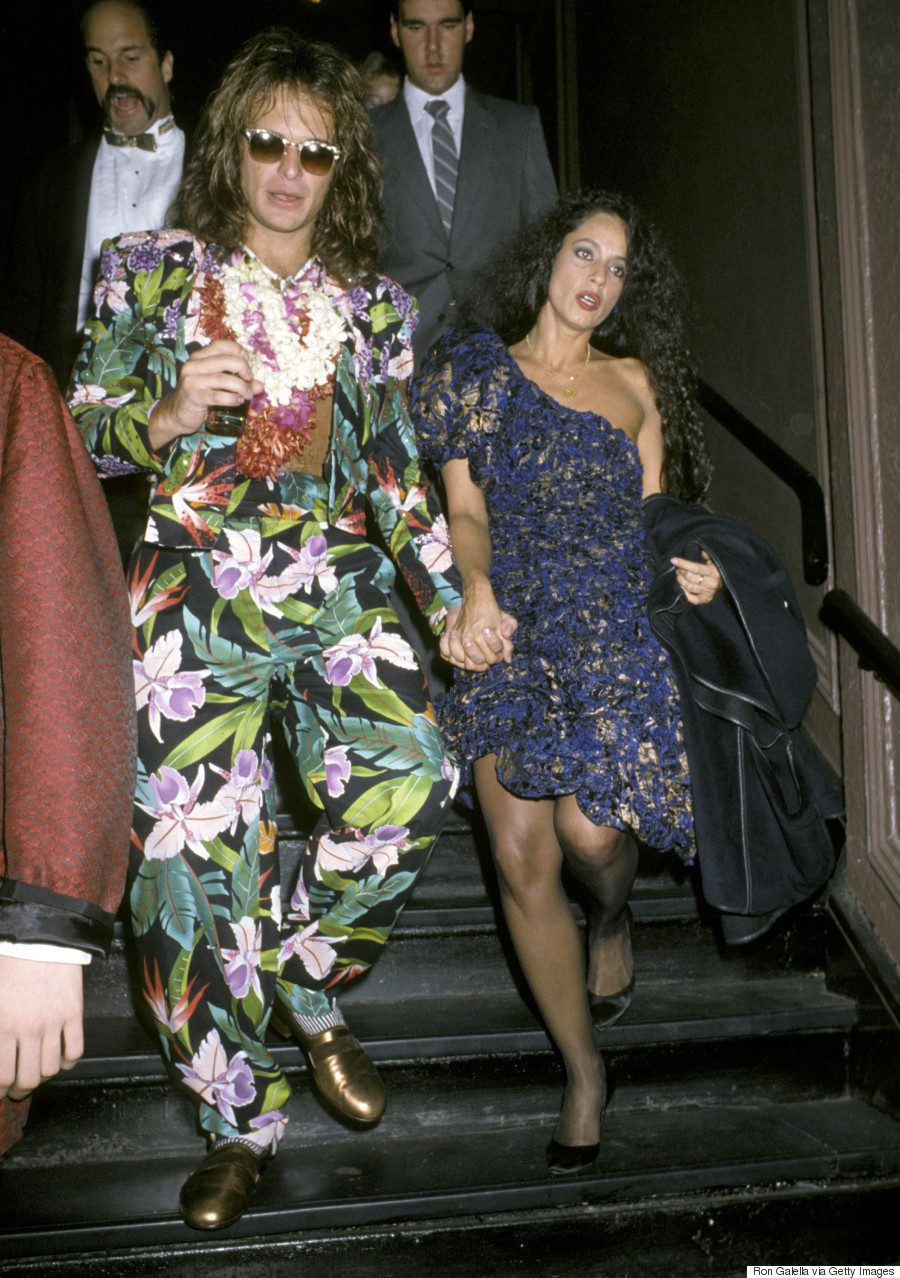 We're not sure, but we think this is just Ronald McDonald back from vacation in Hawaii.

Britney Spears (2001)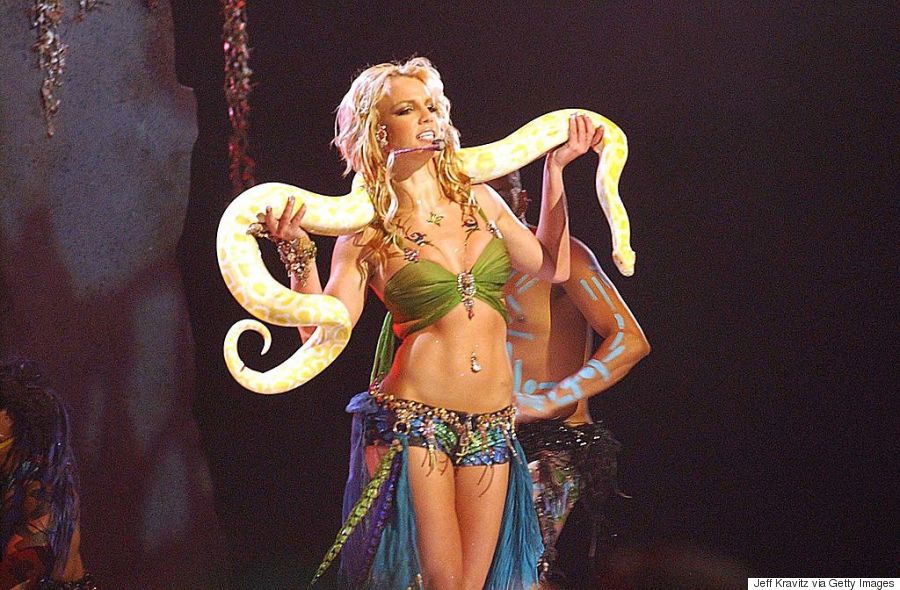 We're still in the process of working out so we can look as svelte in a replica of Britney's snake charming outfit from the 2001 VMAs. Almost there, guys!

Prince (1999)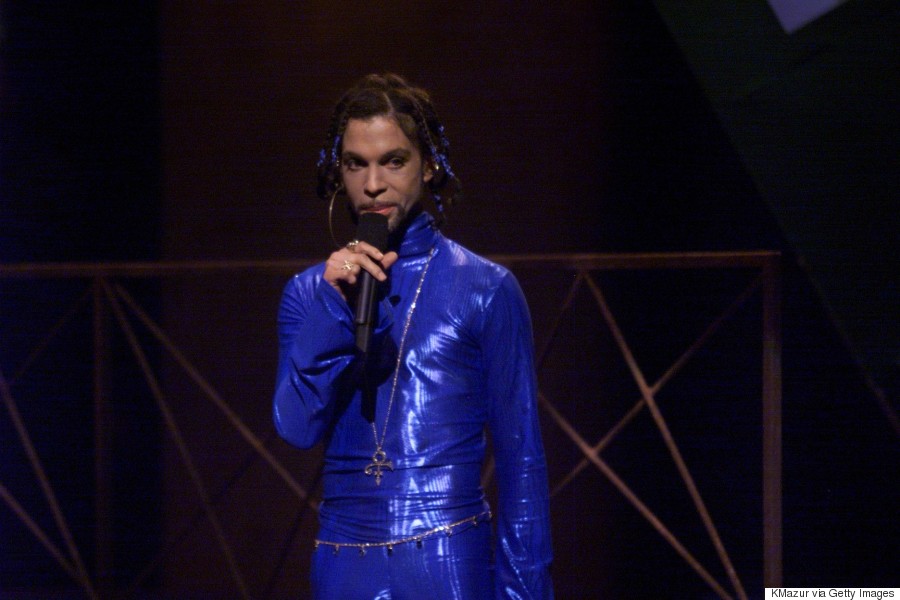 Anyone else wearing a skintight blue jumpsuit and we might raise an eyebrow, but Prince can do no wrong.

Kim Kardashian (2015)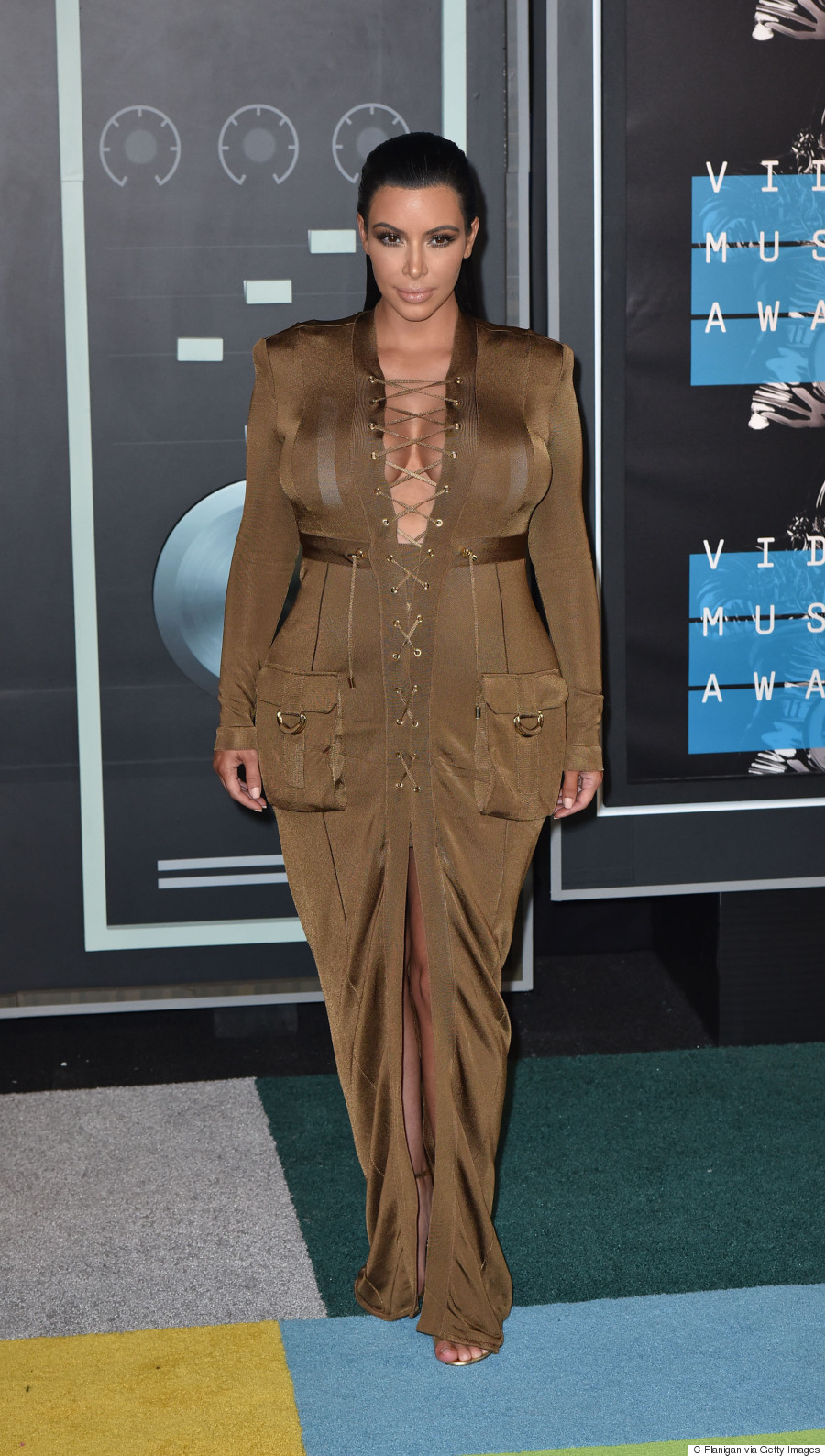 Trying really hard to be positive about this outfit worn by reality star, Kim Kardashian in 2015. It has handy pockets to store all her secrets about Taylor Swift?

Gwen Stefani (2005)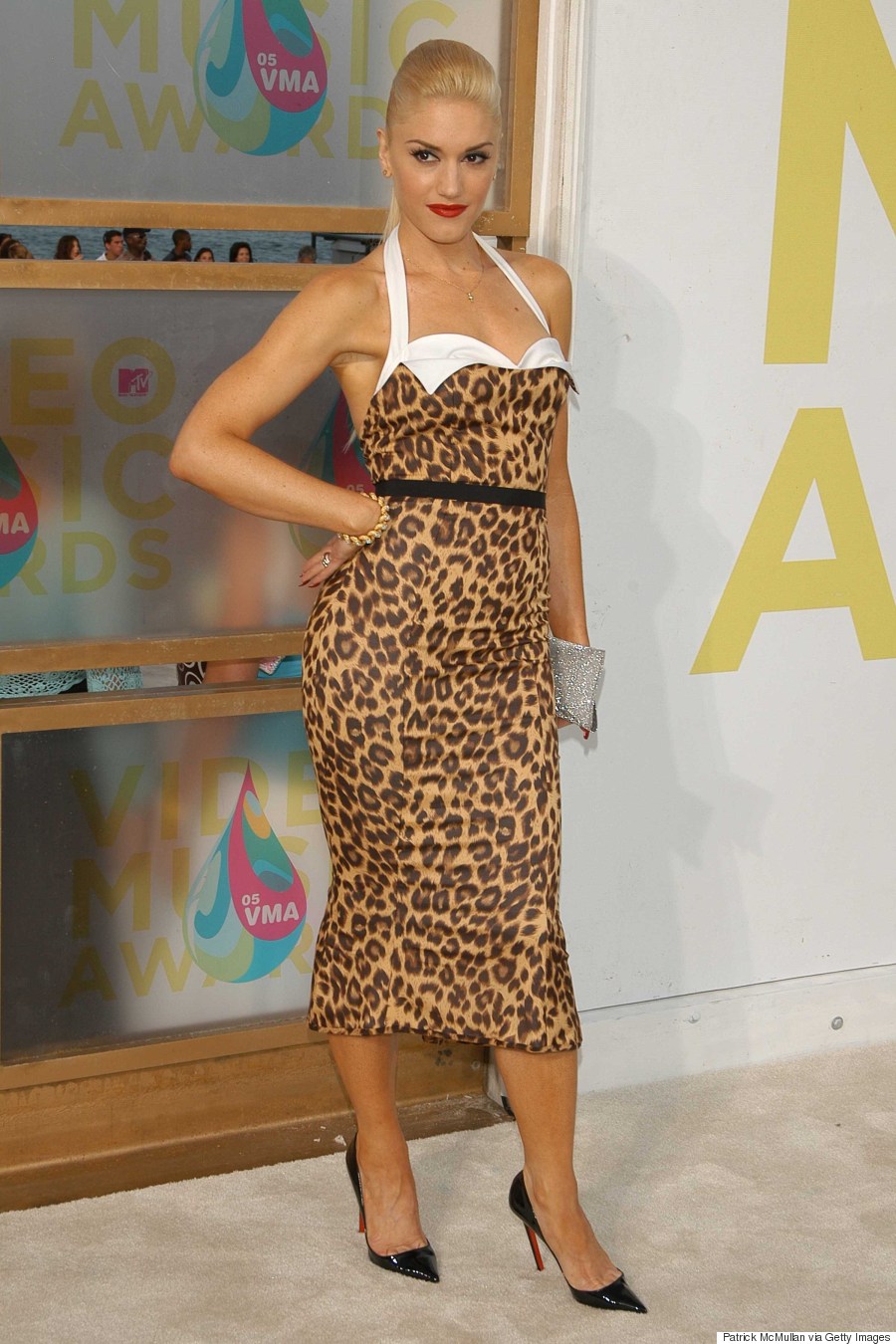 A classic silhouette in leopard print made this outfit a timeless VMAs look for Gwen Stefani in 2005.

Katy Perry + Riff Raff (2014)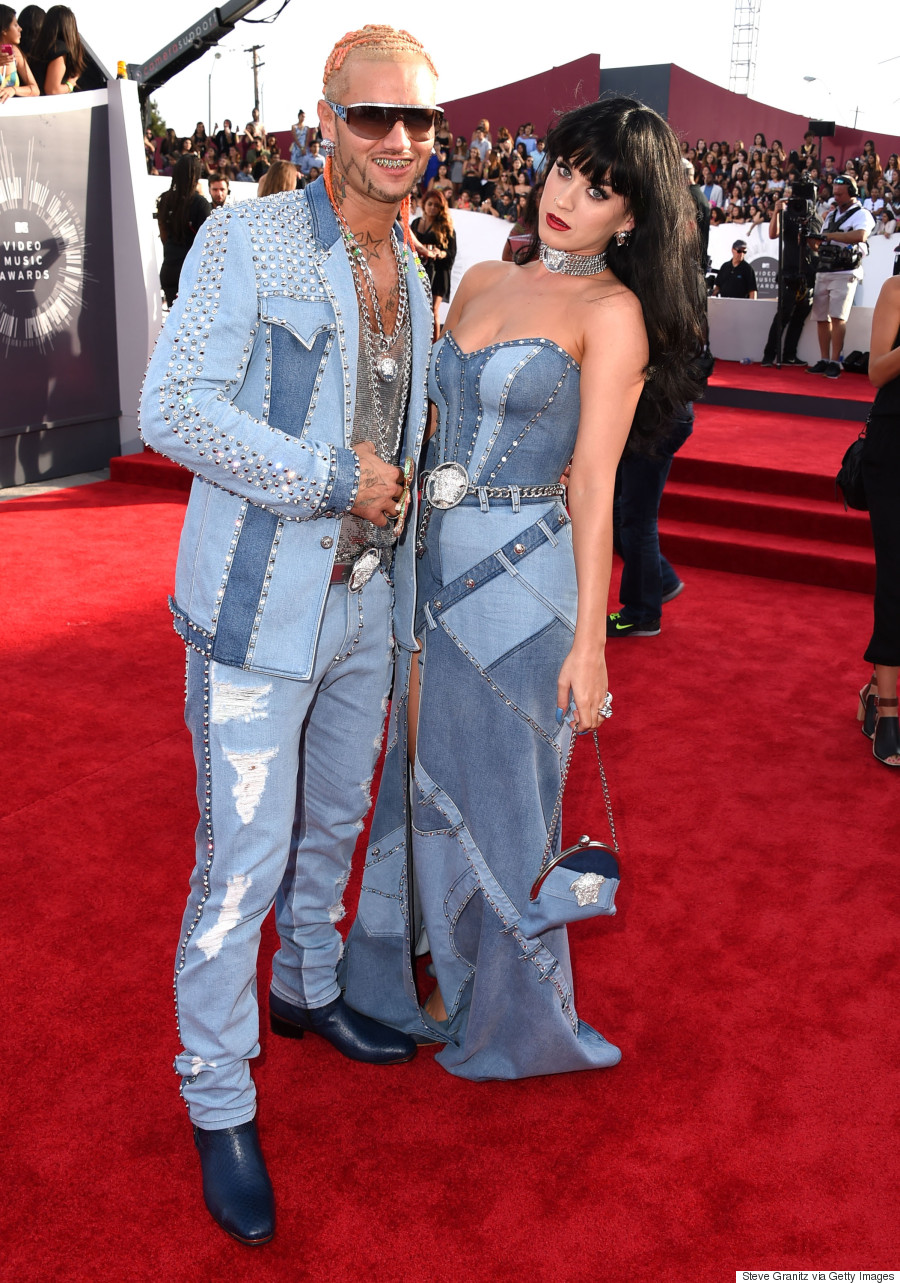 They say imitation is the sincerest form of flattery. We couldn't help but love Katy Perry and Riff Raff's all denim getups at the 2014 VMAS, channeling classic Brit and Justin via the 2001 American Music Awards. Also, who's Riff Raff?

Macy Gray (2001)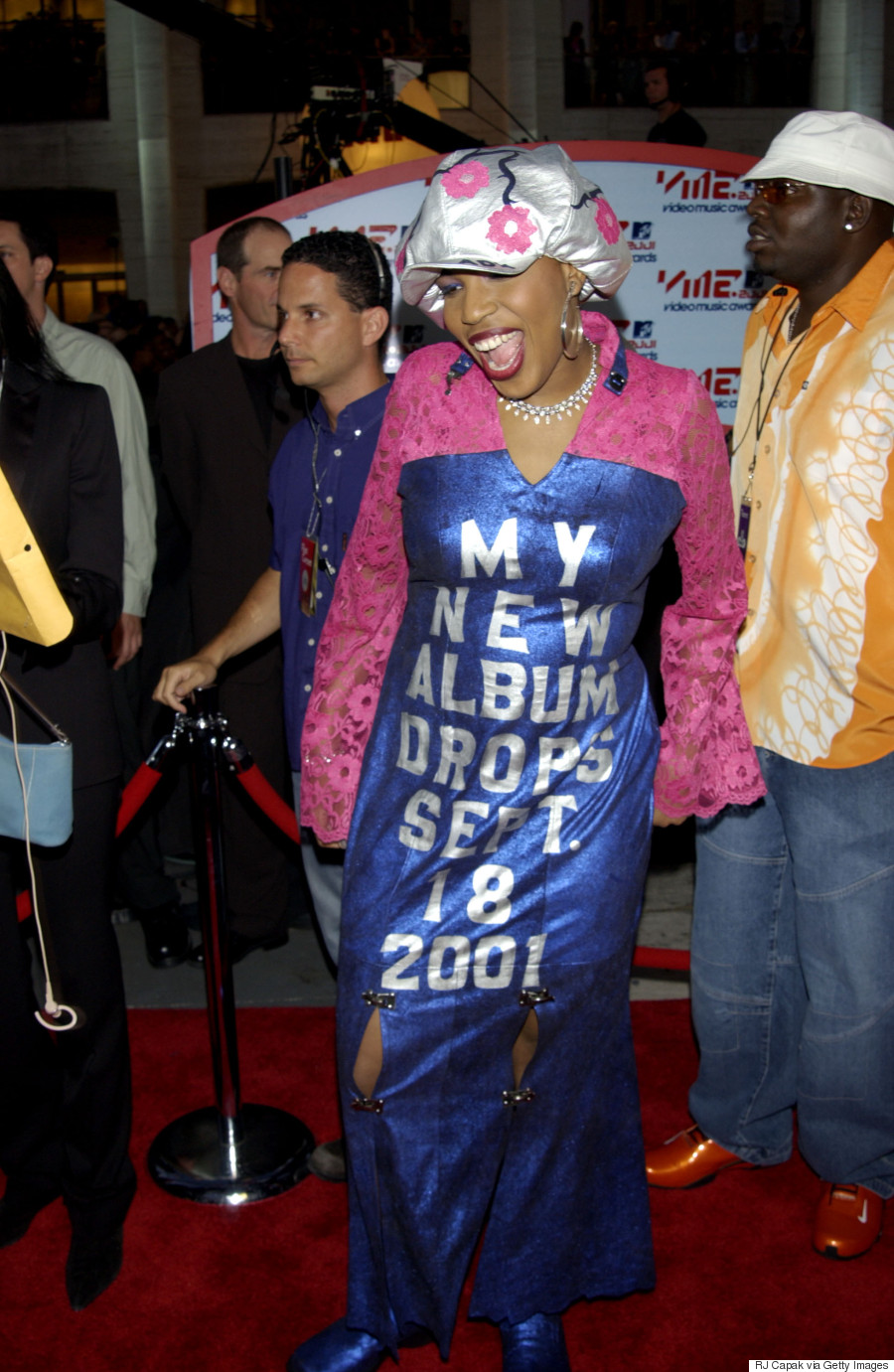 Back in 2001, a giant can of Red Bull showed up to the MTV VMAs. Wait, no, that was actually Macy Gray shamelessly self-promoting her new album. Hey, whatever works, right?

Rose McGowan (1998)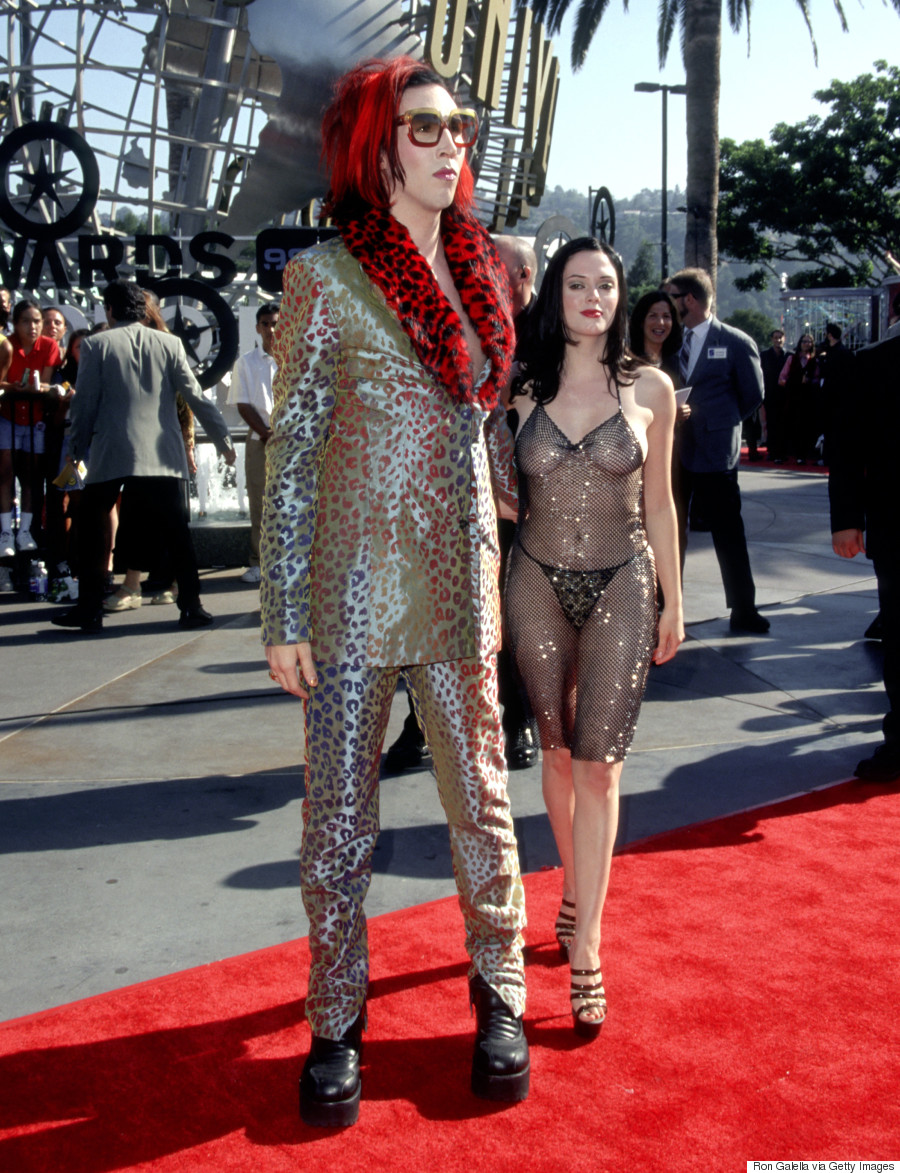 If Rihanna thought she was the first to wear a naked dress in public, she would be dead wrong. Rose McGowan's dress at the 1998 VMAs was the original naked dress. We still remember it fondly.

Jared Leto (2015)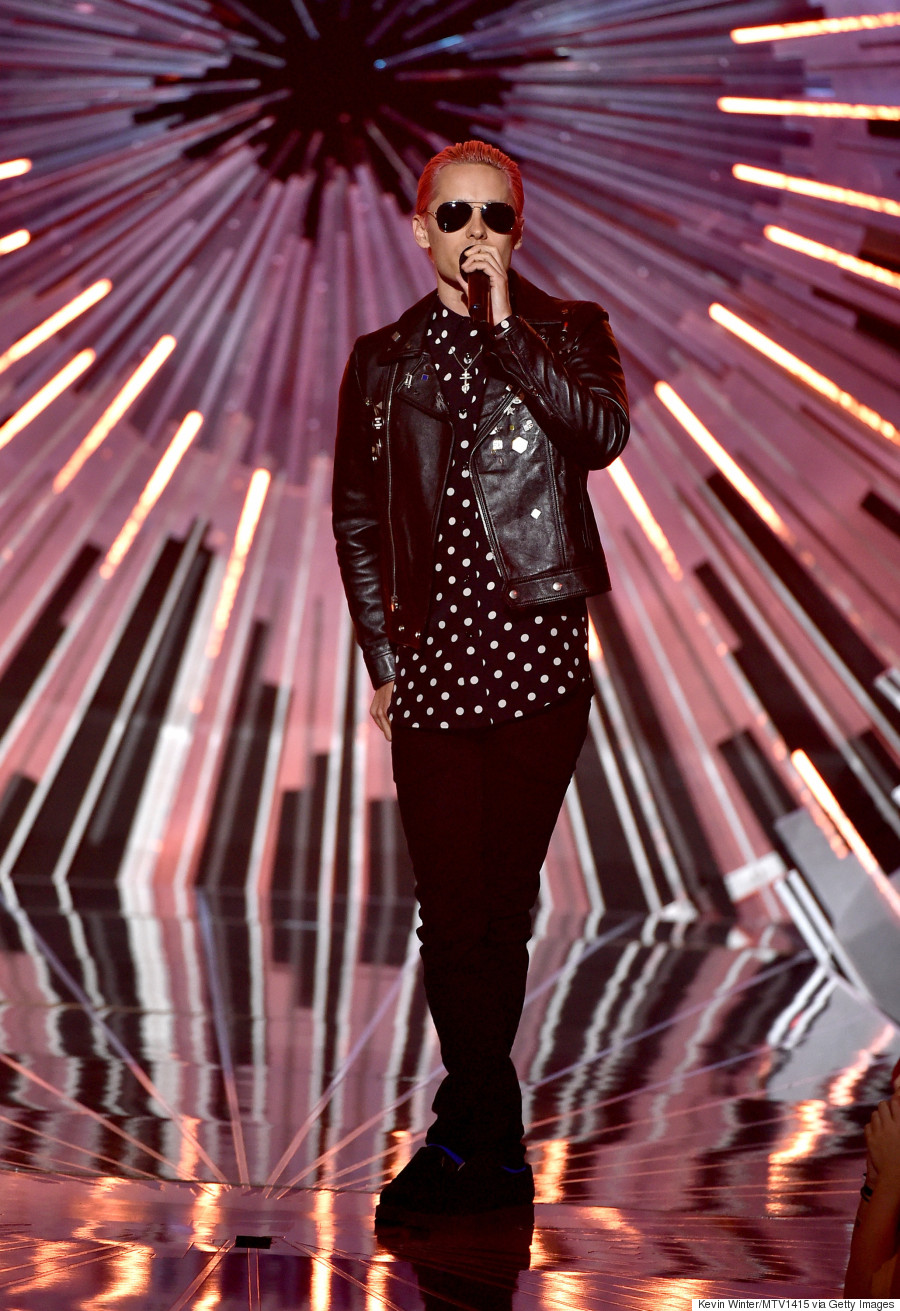 Jared Leto is literally the only man in the world who can pull off pink tresses and polka dots.

Beyoncé (2004)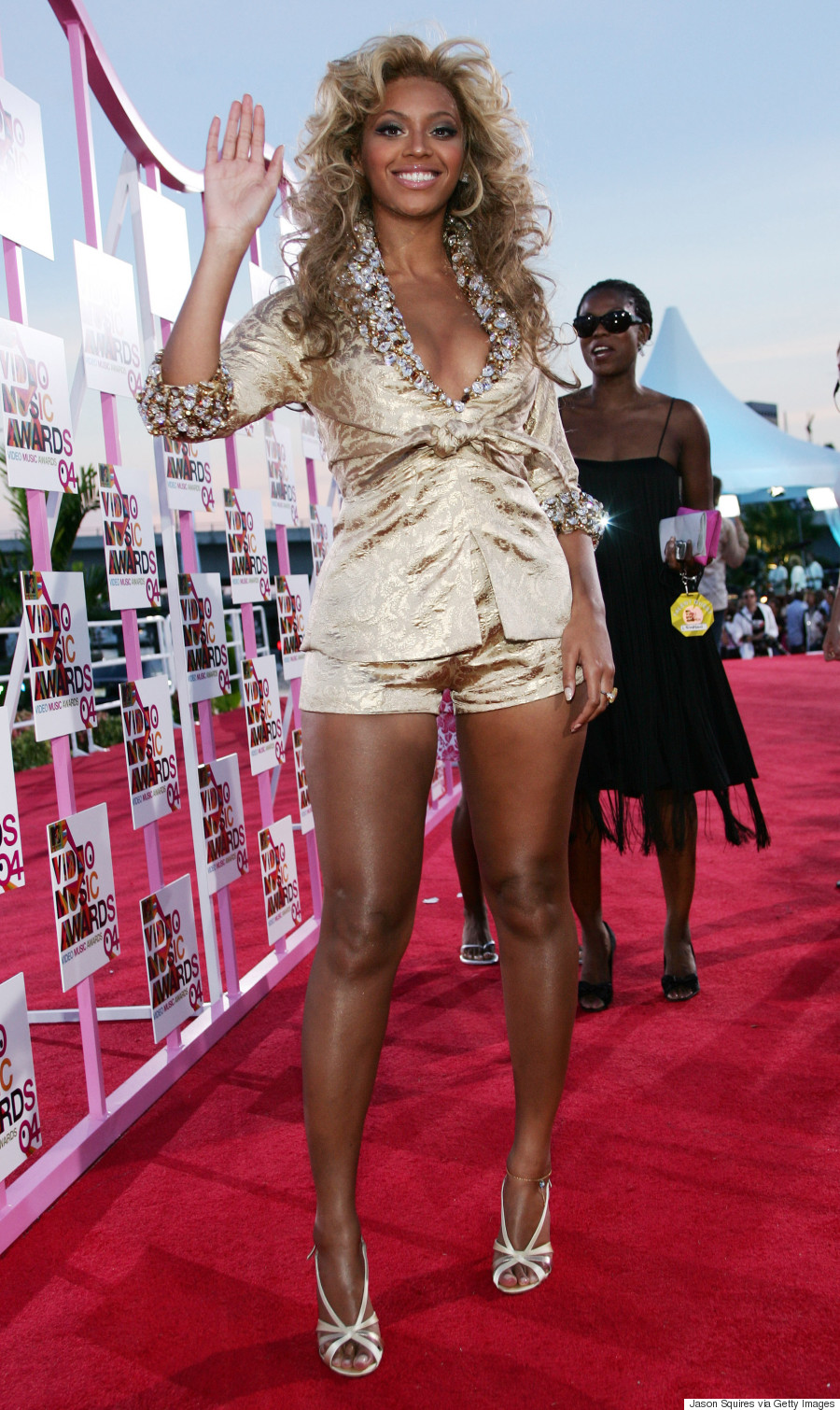 That time Beyoncé showed up to the 2004 VMAs looking like an inappropriate mother of the bride.

Howard Stern (1992)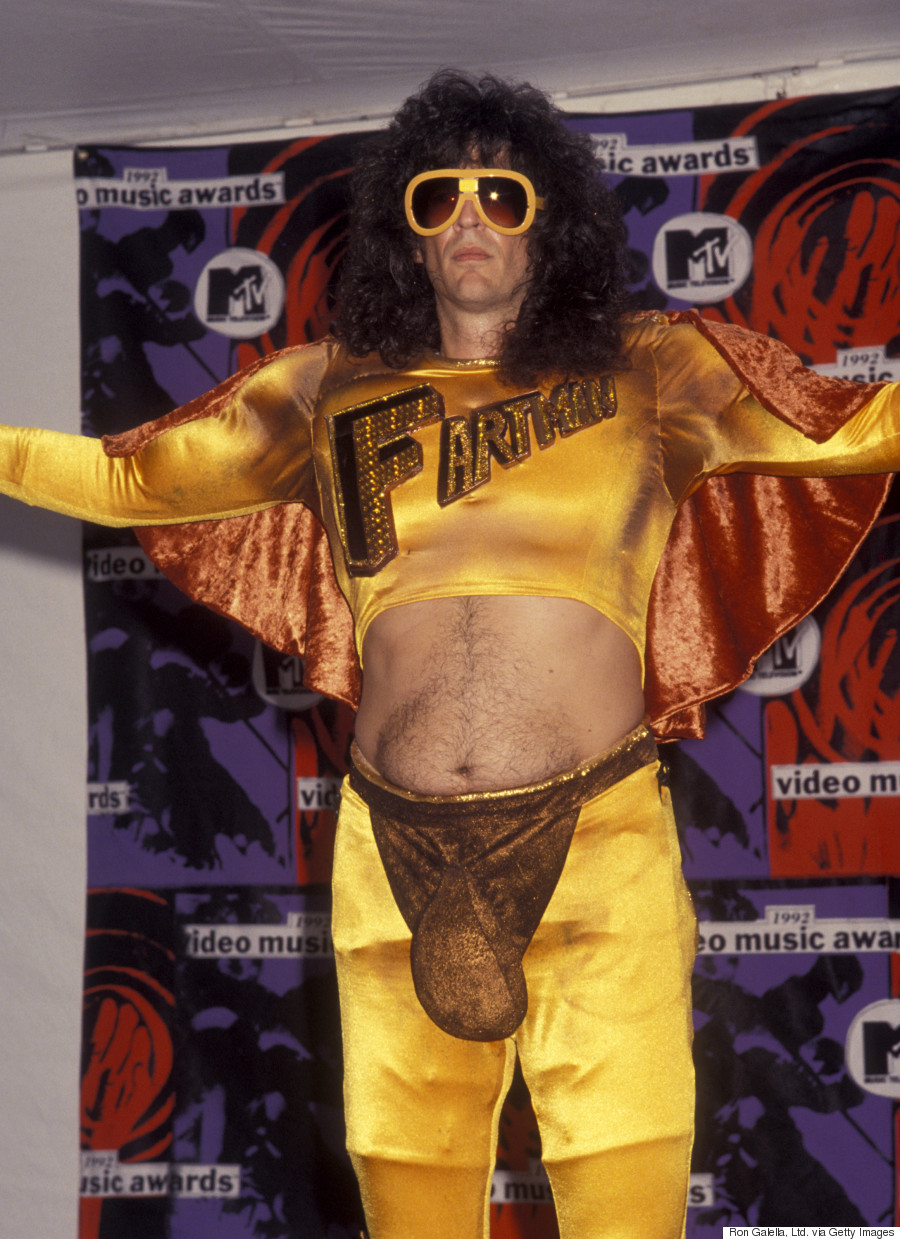 A memorable but highly disturbing moment from the 1992 VMAs involved Howard Stern's butt cheeks. We're still recovering from this one.

Dennis Rodman (1995)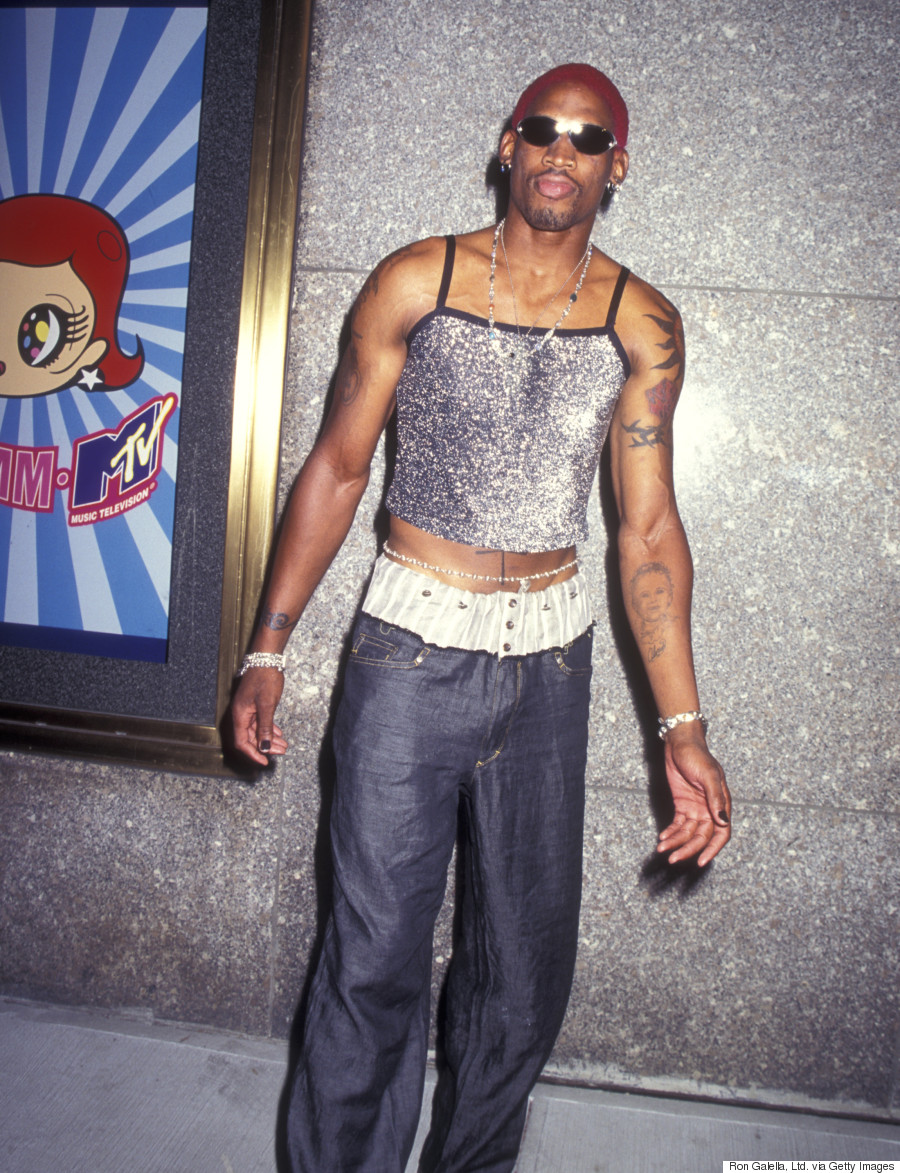 Sorry but did anyone else think Dennis Rodman kind of pulled this look off? Apparently sparkly tank tops aren't just for teenage girls.

Nicki Minaj (2011)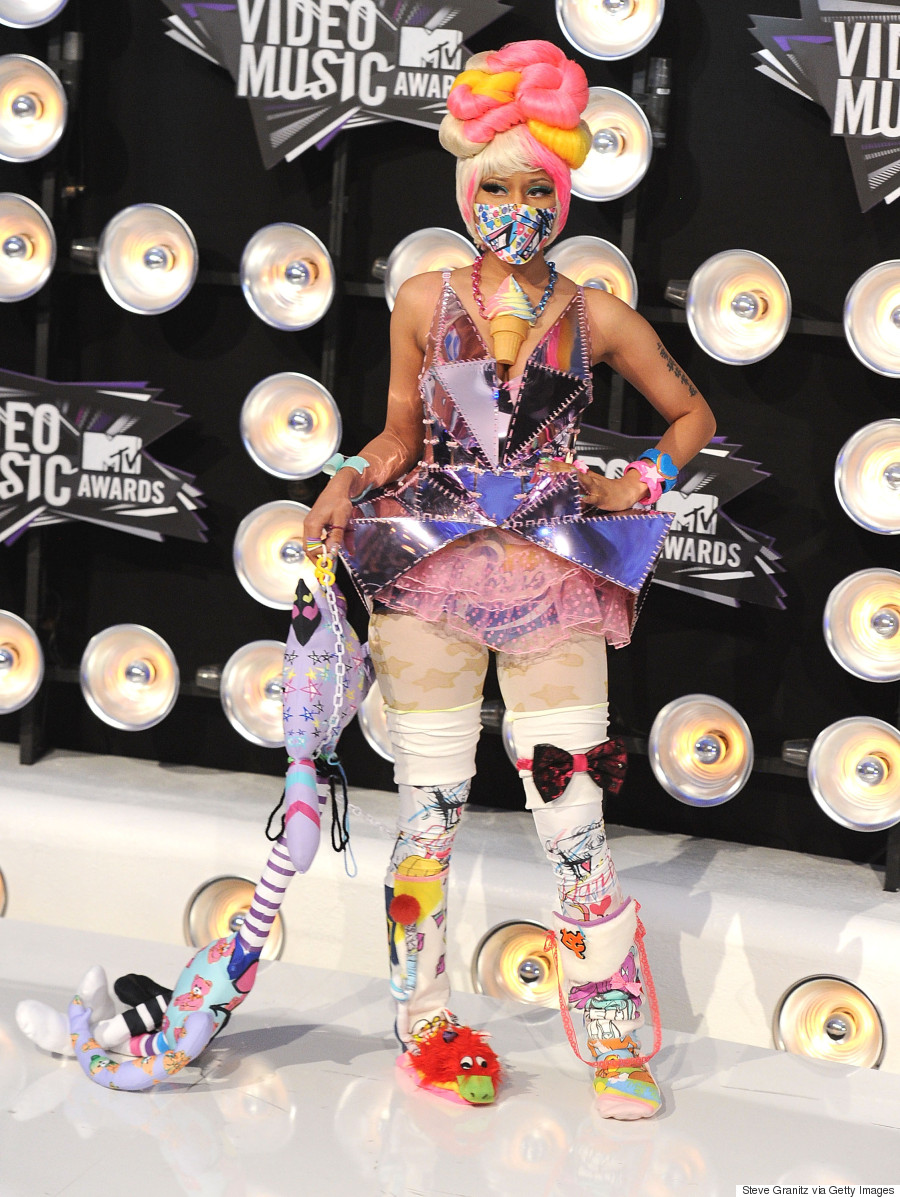 We're still trying to wrap our heads around this one. It looks like Nicki Minaj robbed a candy store and killed a muppet on her way to the 2011 VMAs.

Rihanna (2012)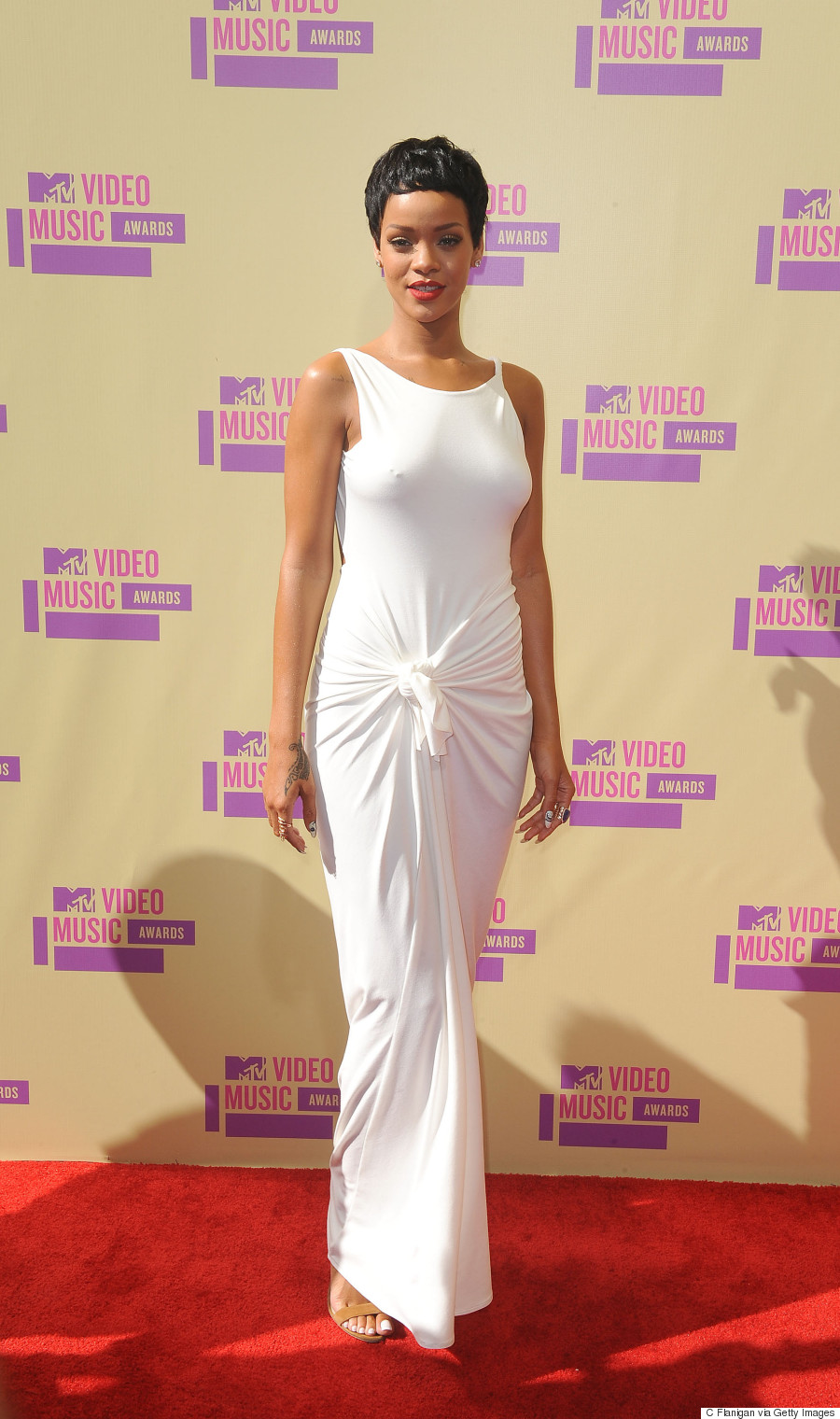 Admittedly, we were all more shocked that she cut her hair, but that doesn't take away from Rihanna's understated and elegant look at the 2012 VMAs. Her simple white Adam Selman gown is proof that classic looks can be memorable.

Miley Cyrus (2013)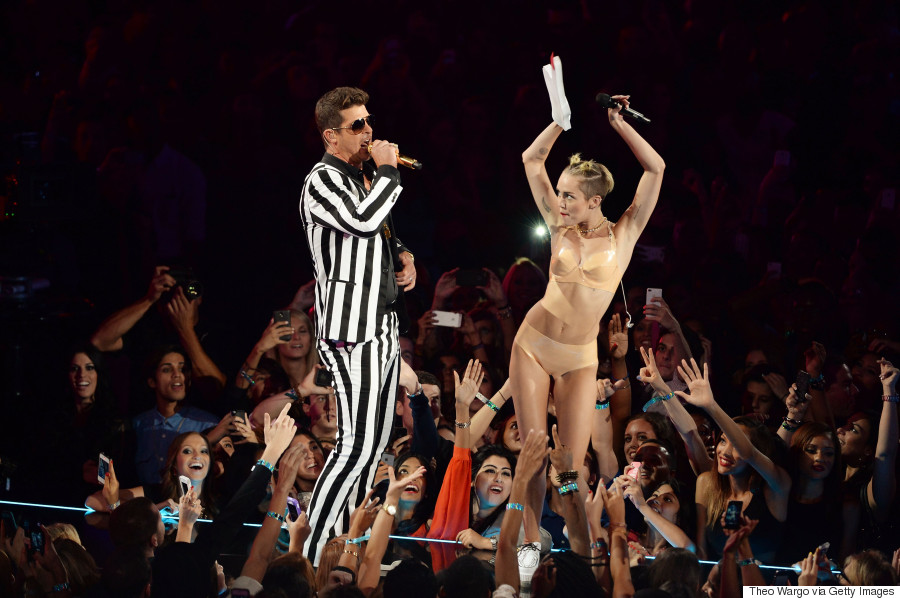 How could we forget the nude latex outfit Miley Cyrus wore that sparked twerkgate in 2013? The provocative two-piece will be remembered for years to come.

Robin Thicke (2013)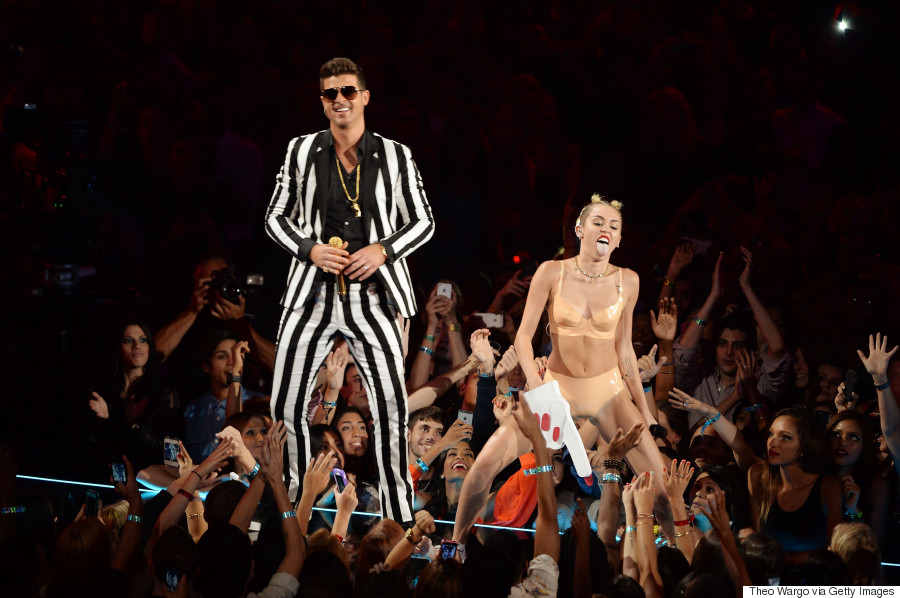 The suit that was twerked on will live on in our memory.
For more outrageous MTV VMAs outfits throughout the years, check out the slideshow below:
Most Outrageous MTV VMA Looks Ever (NSFW)
Follow Huffington Post Canada Style on Pinterest, Facebook and Twitter!