The city of Sarnia, Ont. spent $8,181.77 rescuing Americans during a disastrous river float down event on Sunday, according to a press release.
High winds pushed around 1,500 people participating in the Port Huron Float Down, an annual event on the St. Clair River, over the border from Michigan into Ontario Sunday, according to The Canadian Press.
Canadian authorities were forced to step in.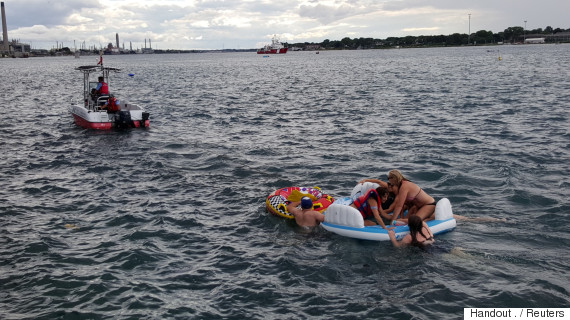 A Canadian Coast Guard ship tows flotation devices used by U.S. partiers to the Canadian side of the St. Clair River between Michigan and Ontario on Aug. 21. (Photo: Canadian Coast Guard/Handout via Reuters)
Organizations including the Canadian Coast Guard, Ontario Provincial Police, the RCMP and the City of Sarnia were involved, but only the temporary host city has so far revealed how much it cost to deal with the unexpected visitors and their trash.
Sarnia Police spent just over $3,400, according to the city.
The transit authority brought in 10 buses, drivers and supervisors on 19 trips to take the Americans back to their side of the border, at a cost of $2,000.
Hundreds of individuals being shipped back by bus with police escorts. #sps pic.twitter.com/wE62MmCu77

— Sarnia Police (@SarniaPolice) August 21, 2016
"These costs will directly impact the operating budgets for each of these departments," wrote Communications Coordinator Katarina Ovens.
Fire rescue personnel helped pull the floaters out and cleaned up leftover debris, at a cost of just over $1,400.
'Absolutely no responsibility'
And once the water was clear, the parks and recreation department spent $650 for staff to pick up garbage left behind on the beach.
Public works was involved too, spending more than $700 to close off streets to herd the U.S. citizens.
"There was no chance for anything floating, or people on inner tubes, to go anywhere but Canada."
Sarnia Mayor Mike Bradley told CBC News the incident could have led to tragedy if the weather had been a bit worse. He said he'll meet with his staff to figure out ways to make the event safer.
"You want people to have fun," he said. "But at the same time, you want some responsibility. In a number of the situations, there was absolutely no responsibility, and what they were really doing was putting that on the shoulders of the responders."
While the unsanctioned river party's website sternly advises participants not to end up in Canada, Peter Garapick of the Canadian Coast Guard told CBC News that the wind would have made avoiding doing so difficult.
"There was no chance for anything floating, or people on inner tubes, to go anywhere but Canada."
It has been crazy busy. Thank you Sarnia Transit. Also thank you Esso & Lanxess. Couldn't have done it without you. pic.twitter.com/a47hmm92QS

— Sarnia Police (@SarniaPolice) August 21, 2016
But while no Americans were seriously hurt this year, one participant drowned during 2014's float down, according to the Sarnia Observer.
Mayor doesn't want event cancelled
Bradley told The Toronto Star he doesn't want the longtime event shut down, just reined in a bit.
"You also can't legislate IQ levels — and if people want to go out on a very dangerous river in the middle of a storm pattern … and drink, and be on a little life raft or a flotation device … that's their choice," he said.
He also dismissed the idea of billing a U.S. municipality, as no one officially organizes the event.
"Keep in perspective that if the same situation had happened on the American side, having dealt with Homeland Security for many years, I would suggest … that the reception would have been not as friendly."
Crowdfunding campaign started to help city
But one Michigan man has already decided to step in and help. Joe Wiedenbeck, who lives in Marysville, where the float down is supposed to end, told the Sarnia Observer he doesn't think Canada should have to foot the bill.
While he didn't participate himself, he set up a crowdfunding campaign and urged those who did to chip in $5. All the proceeds will go to the City of Sarnia.
As of publication, 104 people had raised nearly $1,600.
"Canadians love us, for the most part, so we should just show them how to be a good neighbour," he told the Observer.
You can see more images from the incident in the video above.
Also on HuffPost
10 Destinations That Are at Their Absolute Best in Summer