They've been married for 62 years, but for the past eight months Wolfram and Anita Gottschalk haven't been able to live together.
The elderly Surrey, B.C. couple have been forced to stay in different care homes, according to their granddaughter. It's a separation that has resulted in an emotional nightmare for them and a logistical challenge for their family.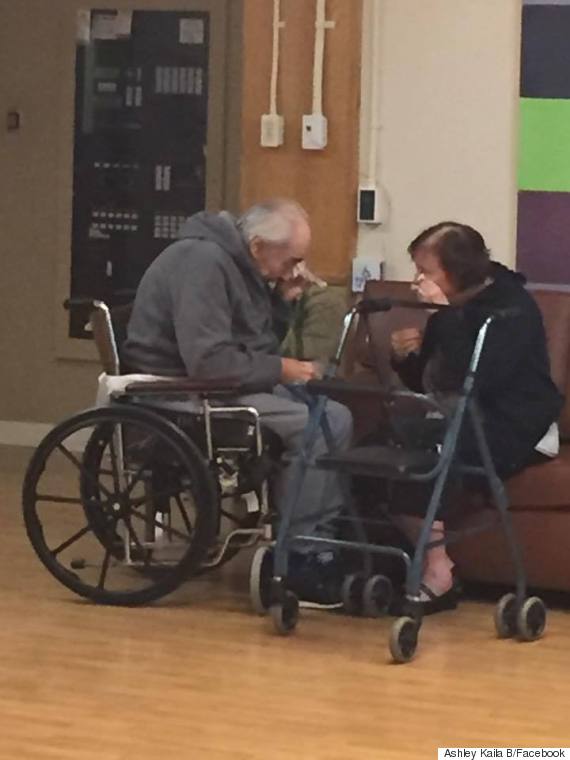 Wolfram and Anita Gottschalk have been forced to live in separate care homes for the past eight months. (Photo: Ashley Bartyik/Facebook)
"They cry every time they see each other, and it is heartbreaking," Ashley Bartyik wrote in a Facebook post Tuesday. Her words accompanied a crushing photo of the Gottschalks wiping away tears.
She described it as the "saddest photo" she's ever taken.
According to CBC News, the couple's ordeal began in January when Wolfram, who has dementia and was recently diagnosed with lymphoma, was moved to Yale Road Centre. His wife, meanwhile, lives at The Residence at Morgan Heights — a half-hour drive away.
"They cry every time they see each other, and it is heartbreaking."
"This has been a strain on our family, making the 30-minute commute to bring her to see him, every second day, so he does not forget her," Bartyik wrote.
"Now with the news of cancer, our fight to have them in the same facility is even more urgent."
Wait list challenges
CTV News reports Wolfram is on a wait list to be moved to his wife's residence, but there's no timeline as to when or if that will happen.
And since the two need different types of care, providing the assistance Wolfram needs at Anita's residence will also be challenging.
Case 'lacks compassion'
"He needs residential care while his wife needs assisted living care," Tasleem Juma of the Fraser Health Authority told Global News. "This means we need to make sure the facility can accommodate both their needs."
In a letter to B.C. Health Minister Terry Lake, NDP MLA Selina Robinson said the absence of a subsidized bed for Wolf at his wife's residence "lacks compassion and is unreasonable."
She added: "And waiting an additional five weeks continues to be unacceptable."