Two conjoined twin boys died in Syria Wednesday while waiting for lifesaving heart surgery.
Nawras and Moaz Hashash were born just over a month ago at a hospital in Douma, a town near Damascus, according to the BBC. At the time of their death, they were waiting to leave the country for surgery.
They were joined at the chest and their hearts shared the same sac.
But the hospital in the town, which had been overrun by government forces, couldn't give the boys adequate care. They were moved to a Damascus hospital on August 12.
However, the Syrian American Medical Society said in a Facebook post that the private facility couldn't perform the surgery they needed.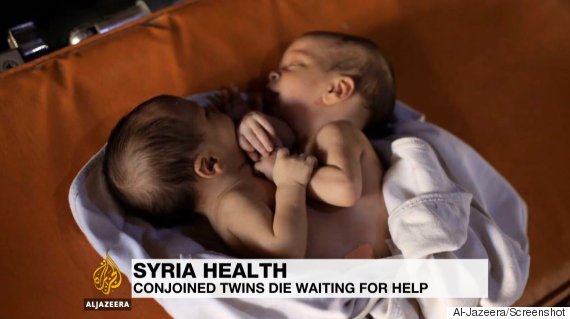 Al-Jazeera reports that the Syrian American Medical Society and the Syrian Arab Red Crescent worked for two weeks to get government permission to move the twins to the capital, where they would be evacuated to another country.
But the government did not respond to the requests to let them leave Syria, according to the outlet.
"As a group of physicians, as humans, we are depressed that even a simple task to assist kids who are having heart disease, and have no contribution whatsoever to what is going on inside Syria, we are depressed that the international community has failed them, failed us," Syrian American Medical Society President Ahmad Tarakji told Al-Jazeera.
A spokeswoman for the Syrian Red Crescent told the Wall Street Journal approval for them to leave was granted Monday, but the newborns' condition started to get worse.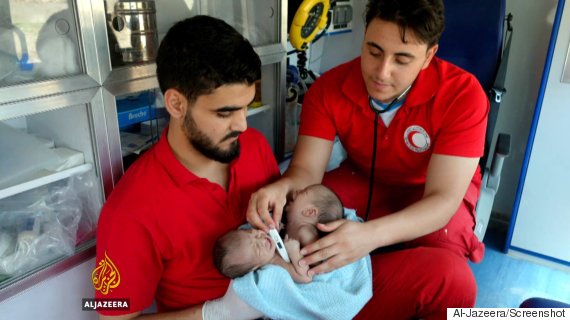 They died of heart failure while waiting for transport to a hospital in Rome, the Red Crescent said in a press released obtained by NPR.
"All formal leave approvals were signed in order to travel," it read.
Offers of help from around the world
The boys also received treatment offers from the U.S. and Saudi Arabia, NPR reported.
An advocacy manager at the Syrian American Medical Society blamed the country's foreign ministry, telling the Journal he thought the department wanted the twins treated in a country that had better relations with Syria.
He tweeted a photo mourning their deaths.
Nawras and Moaz passed away this early Morning. The whole world couldn't have the permission to evacuate them. pic.twitter.com/3hJvVa6zSj

— Mohamad Katoub (@aboali_majed) August 24, 2016
Tarakji repeated that this isn't the first time delays have led to tragic outcomes.
"Unfortunately, we have seen this over, and over and over in Syria over the last five years. We've seen kids who are dying waiting for evacuation," he told Al-Jazeera.
You can see more on the story in the video above.
Also on HuffPost
Subterranean Playground For Syrian Kids