TORONTO — The Canadian dollar fell 0.13 of a cent to was at 76.79 cents US on Monday — its lowest point in two weeks.
The currency trend came as the October crude contract fell 66 cents at US$46.98 per barrel — yanking the dollar's value down against the U.S. greenback, according to Reuters.
It also happened as the greenback gained support from expectations of an interest rate hike that could happen in September, the agency said.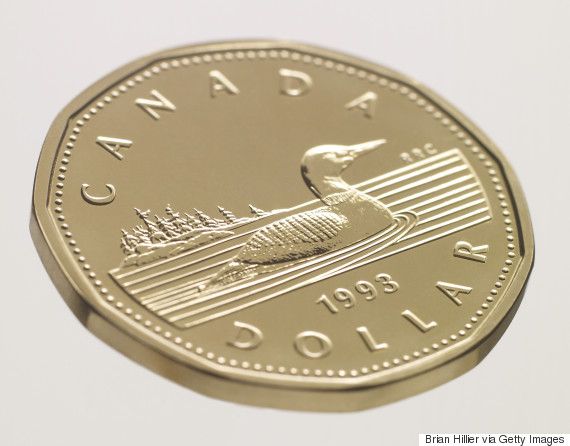 A Canadian loonie. (Photo: Brian Hillier/Getty Images)
On Friday, Fed chairwoman Janet Yellen hinted in a conference speech that the case for raising rates is growing due to an improved economic outlook in the U.S.
She wouldn't commit to whether the central bank will hike rates at their next meeting in September, or at the next gathering in December — but her comments signalled that both dates were still possibilities.
"Investors are becoming more comfortable with the fact that the U.S. economy is at least strong enough to handle another rate increase this year,'' said Craig Fehr, a Canadian markets strategist with Edward Jones in St. Louis.
"It's clear that the underlying economic trends are suggesting that a rate hike is warranted at this point.''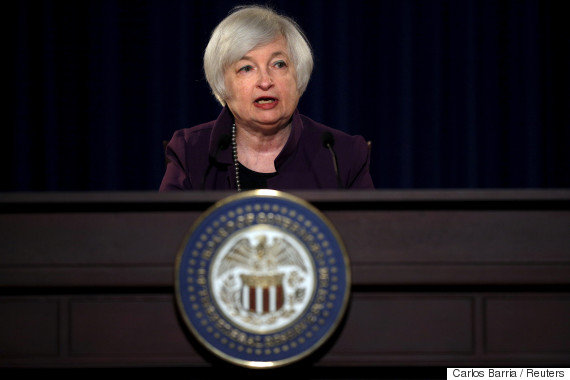 U.S. Federal Reserve Chair Janet Yellen attends a news conference after chairing the second day of a two-day meeting of the Federal Open Market Committee to set interest rates in Washington on June 17, 2015. (Photo: Carlos Barria/Reuters)
Fehr said the Fed has always been reluctant to set any deadlines on their upcoming decisions, instead relying on economic indicators such as employment and inflation as drivers.
"The Fed has been careful to help set expectations for the market where appropriate, but without pigeonholing themselves into a decision that might run counter to the most recent data,'' he said.
"Their policy decisions will be data-dependent and to do so, they can't forecast with any sort of conviction what their next move will be.''
Even so, policy-makers at the central bank are aware of external factors that may impact their decision and cause more market volatility — including an upcoming U.S. presidential election and political instability overseas.
If the Fed makes a move on rates in September, it will likely take a pause from the next hike until it can see the impact of its decision on the economy.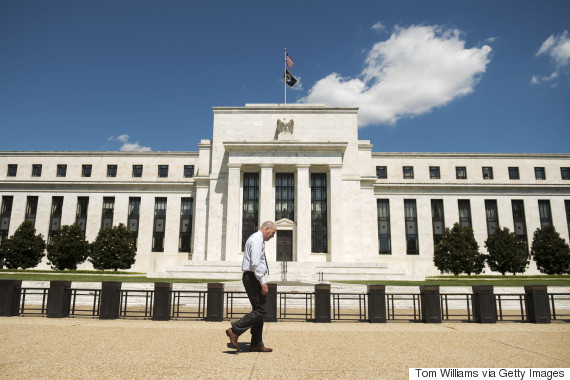 A man walks by the Marriner S. Eccles Federal Reserve Board Building on Aug. 23, 2016. (Photo: Tom Williams/CQ Roll Call via Getty Images)
Fehr noted that the risk the Fed runs into if it holds out on a decision until the new year are still unforeseeable at this point.
"The longer they delay the hike, the more potential there is for a disruptive event to come in to cause them to take a pause again,'' he said.
Meanwhile, North American stock markets planted themselves into positive territory Monday, as investors seemed unfazed by a possible U.S. interest rate hike.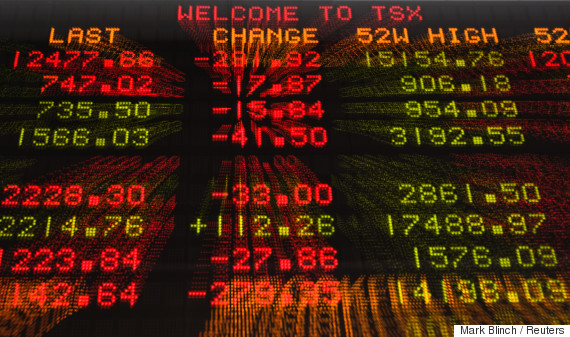 A sign shows TSX information in Toronto on Sept. 15, 2008. (Photo: Mark Blinch/Reuters)
In Toronto, the S&P/TSX composite index gained 42.09 points to 14,681.97, supported by gold and materials stocks.
New York racked up even larger gains, with the Dow Jones industrial average adding 107.59 points at 18,502.99, the broader S&P 500 composite index rising 11.34 points to 2,180.3, and the tech-heavy Nasdaq composite up 13.41 points at 5,232.33.
In other commodities, October natural gas dipped two cents at US$2.90 per mmBTU, the December gold contract added $1.20 to US$1,327.10 an ounce and December copper was down a penny to US$2.08 a pound.
Also on HuffPost
Canadian Dollar Through History