TORONTO — Ontario Liberals now say they want to ban all members of provincial parliament from fundraising events, after enduring months of criticism over so-called cash-for-access fundraisers. The Liberals dropped what the opposition parties are calling a bombshell in the middle of a committee considering amendments to an election finance reform bill.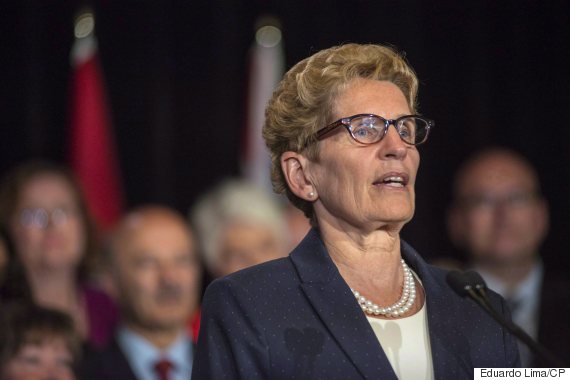 Ontario Premier Kathleen Wynne talks to media at Queen's Park in Toronto, on June 13 , 2016. (Photo: Eduardo Lima/CP)
The government introduced the legislation amid allegations they were selling access to cabinet ministers at high-priced dinners and receptions, though they denied that attendees at those functions influenced government decisions. As recently as last week, the Liberals had said they weren't keen on banning cash-for-access fundraisers through legislation, saying it could prohibit every MPP from fundraising and that would be too restrictive.
'Despicable' stunt: PC MPP
But that is now exactly what the Liberals are proposing, as laid out in a statement from Attorney General Yasir Naqvi. Progressive Conservative Randy Hillier called the statement a "despicable" stunt that makes a "total mockery" of the process.
Also on HuffPost
Least, Most Popular Premiers (May 2016)