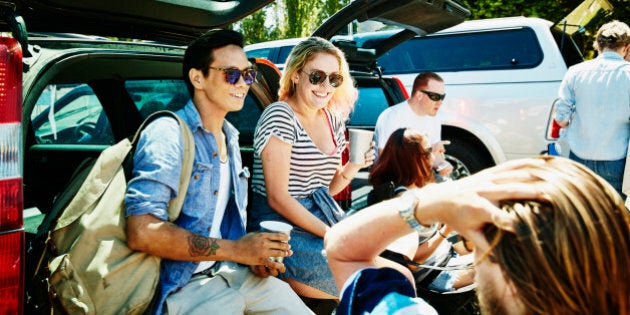 It takes a very specific person to tailgate. Some people know they have the knack for it at an early age, while others grow into the tradition. A chosen few learn they're born tailgaters by accident, and for some people, sitting on the bumper of their car getting their face painted is the most natural thing in the world. In partnership with the all-new 2017 Honda Ridgeline, we list the signs of a natural-born tailgater!
You're the Emergency Supplies Person
You're the one who always has the emergency essentials in your car. From sunscreen to road flares, you're prepared for any emergency and you're quick to help others in need too.
If bulk-buy stores are your best friend, you're likely ready and willing to prepare enough food for the whole parking lot. That's the kind of forward thinking and preparedness we're talking about.
Snack dad is never hungry because it would never occur to him not to have goodies on hand. Savoury? Sweet? Spicy? Snack dad is always packing.
You're A True King of Style
Your old ball cap suits you just fine. The permanent sweat stains? Little badges of honour.
You can always find a spot even in the most grim of parking lots. You know who's about to leave and how they're going to back out. You are a wizard, wrapped in a ninja, wrapped in a genius.
You're Everyone's Handyman
You rebuild decks and make benches from scratch. You've never met a lawnmower you couldn't fix or a sink you couldn't unclog.
You Do Sports Harder Than Everyone Else
You have a home jersey and an away jersey. You have the throwback jersey and the alternate jersey. You have jerseys of players not on your team because you like the sport itself. You have your team hat. You paint your face. You know the stats and the averages. You, my friend, are a sports-fan hero.
The grill master knows when to use propane and when you want to use gas. They smell of mesquite and wood chips, and probably wouldn't have it any other way.
Some people just can't drive but that's not you. You don't need a map, an app, or even good visibility. You're going to get there on time, every time, and avoid busy roads while doing it. No one ever honks at you, because you don't give them a reason to.
What's tailgating without the all-new 2017 Honda Ridgeline? It has lockable In-Bed Trunk with drain plug, in-bed outlet, dual-action tailgate, the largest, most versatile cabins in its segment and the industry's first Truck-Bed Audio System. Tailgaters, this truck is for you.