The Canadian dollar has lost serious ground against the U.S. greenback.
It's been this way for the past two years, with the loonie's value slumping as oil prices have plummeted from around US$100 per barrel to about $46 on Tuesday.
The dollar's value sat at US$76.79 on Monday, its lowest mark in two weeks.
And while there are signs that the loonie's value is being divorced from oil, the Bank of Montreal (BMO) has released a chart suggesting there may be more turbulent times ahead for the Canadian dollar.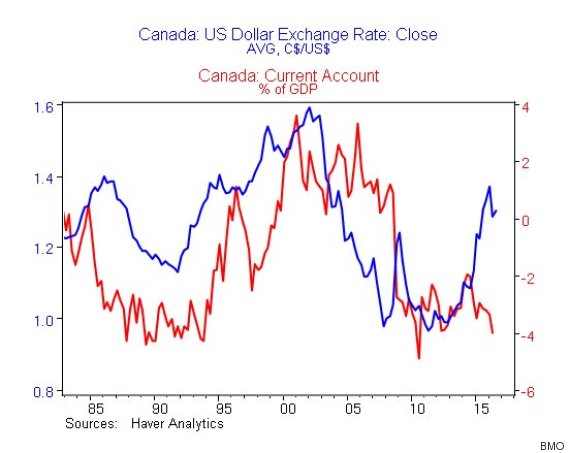 The chart above shows Canada's "Current Account," in red, as a percentage of GDP.
"Current Account" measures the difference between a country's investment and savings, according to Investopedia.
It takes into account factors such as net income from other countries, net current transfers, and a nation's trade balance (i.e. its exports, minus imports).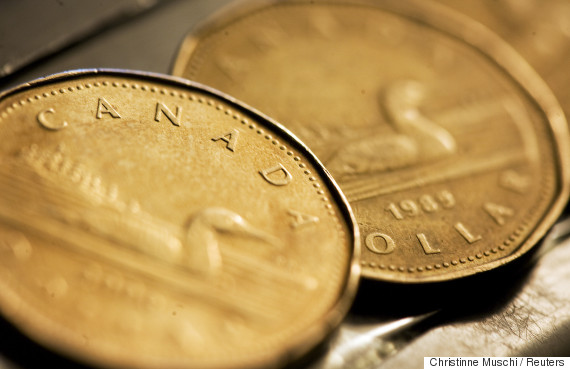 The loonie. (Photo: Christinne Muschi/Reuters)
A current account balance is one of a number of factors that influences a country's currency.
If the current account is in deficit, as Canada's is, it means that it's spending more money on foreign trade than it's bringing in. That means it needs to use more foreign currency than it's taking in through exports.
"The excess demand for foreign currency lowers the country's exchange rate until domestic goods and services are cheap enough for foreigners, and foreign assets are too expensive to generate sales for domestic interests," Investopedia explains.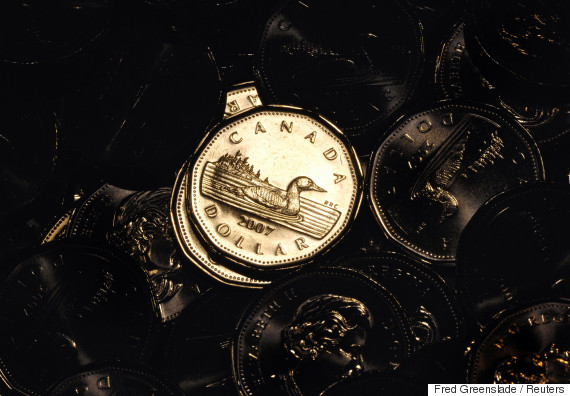 Newly pressed Canadian loonies at the Royal Canadian Mint in Winnipeg on Nov. 14, 2007. (Photo: Fred Greenslade/Reuters)
Canada's current account deficit hit an annualized level of $79.4 billion (actual deficit about $19.9 billion) in the second quarter, making it the "second largest nominal shortfall on record," according to BMO senior economist Benjamin Reitzes.
That averages out to about a -4 per cent share of Canada's GDP.
"Notably, the last time the current account deficit trended around these levels, the Canadian dollar started a decade-long depreciating trend (a much worse fiscal backdrop wasn't helping either)," Reitzes wrote.
Canada's current account is in this shape largely due to a goods trade deficit that's been driven, in part, by the Alberta wildfires, which slowed oilsands production this summer.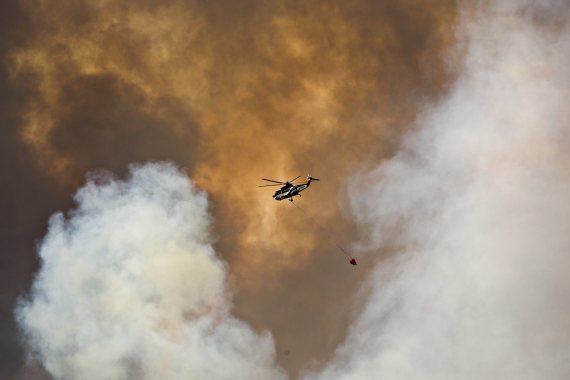 A helicopter flies through smoke as a wildfire burned in Fort McMurray in May 2016. (Photo: CP)
Reitzes said the loonie could be in for a "rough ride" unless trade figures for July show some improvement.
At $11.28 billion, Canada's trade in goods deficit was its highest on record in the second quarter, The Wall Street Journal reported.
This was due to a fall in exports of products such as cars, parts and consumer goods.
At this point, it seems likely that the loonie will fall further, CIBC economist Andrew Grantham said, as quoted by the Toronto Star.
"The ongoing current account deficit and specifically the recent softness in goods exports ... is a further indication that we need the Canadian dollar to stay at current or even slightly weaker levels to aid the rotation in the economy," he said.
Also on HuffPost