CALGARY — Unsealed court documents say five-year-old Emilio Perdomo suffered from numerous brain bleeds, broken bones and a "goose egg'' bruise "as large as you can get'' before he died.
The documents also say one of the suspects charged in the Calgary boy's death is actually his father.
Emilio was admitted to the Alberta Children's Hospital on July 10, 2015.
He had been living in Calgary for about a year after being sent to the city from Mexico by his mother, who hoped he would have a better life in Canada.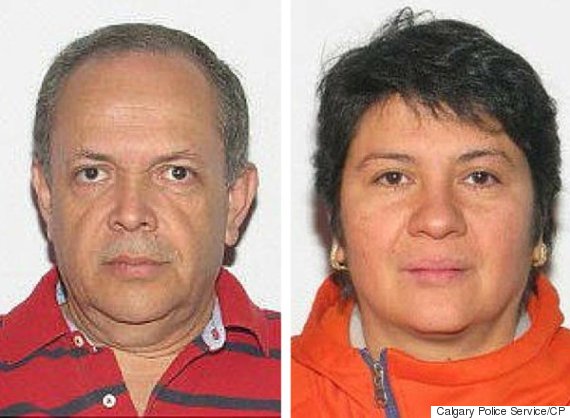 Allan Edgardo Perdomo Lopez and Carolina Del Carmen Perdomo are charged in Emilio's death. (Photo: CP/Calgary Police Service)
Allan Edgardo Perdomo Lopez, 56, and Carolina Del Carmen Perdomo, 49 — originally identified by police as the boy's grandfather and step-grandmother — were arrested in July but released on bail earlier this month.
Court documents used by police to obtain search warrants in the case suggest that Emilio was not the couple's grandson. The documents say that Carolina Perdomo told police during an interview that her husband had travelled to Mexico during their marriage and had an extra-marital affair.
In June 2014, she said, Allan Perdomo received a Facebook message from the woman telling him they had a son as a result of the affair and she wanted the boy to come to Canada. The documents say Carolina Perdomo told police her husband travelled to Mexico several times to complete the necessary paperwork.
Emilio was unresponsive, suffering from seizures
When Emilio was taken to the Alberta Children's Hospital, he was unresponsive and suffering from seizures, the documents say. Family members attributed his injuries to numerous accidents.
He died a week later. Police say an autopsy concluded his death was the result of multiple blunt-force trauma injuries.
"The findings are most compatible with an impact injury,'' wrote Dr. Neil Cooper, consulting pediatrician for the Child Abuse Service at Alberta Children's Hospital, in a report quoted by police in the documents.
"The vague history and the extent of the brain injury and bruising makes this suspicious for an inflicted injury.''
Significant injuries
In the court documents, identified injuries included a significant brain bleed with swelling of the brain, an acute and recent brain bleed over an old brain bleed, a large bruise on Emilio's forehead, bruising to his chest and abdomen, a possible broken arm and a "goose egg'' bruise "as large as you can get'' on the back of his head that was full of fluid.
The documents said one of the treating doctors said the bruising was "not typical bruises expected to be found on a toddler.''
The warrants were obtained before Emilio died. Police say in the documents they were warned the boy could die and, even if he didn't, would probably suffer from severe neurological damage.
Trial to begin in May
A trial date for the couple was set on Tuesday. The six-week trial, before a judge alone, is to begin May 1.
Because the charge is manslaughter, the case can be heard before a provincial court judge.
"As you know, the Court of Queen's Bench has a massive backlog on trials,'' said lawyer Brendan Miller, who is representing Carolina Perdomo.
"The provincial court was able to accommodate us for May.''
Miller said the two accused want the case dealt with as quickly as possible and that it's been hard on the family.
"Mr. Perdomo, in particular, had a biological member of his family pass away so of course it is very emotional. Emilio Perdomo was a young boy and it's very sad for the entire family.''
— Follow @BillGraveland on Twitter
Also on HuffPost:
Calgary's Most Wanted (July 2016)