When it comes to outerwear, the leather jacket is one of the chicest closet staples. There are so many styles, colours and hardware detail options to choose from.
And while we love a classic black biker jacket with gold hardware, we wouldn't shy away from the more unique colourways and designs like fringe and perforated leather!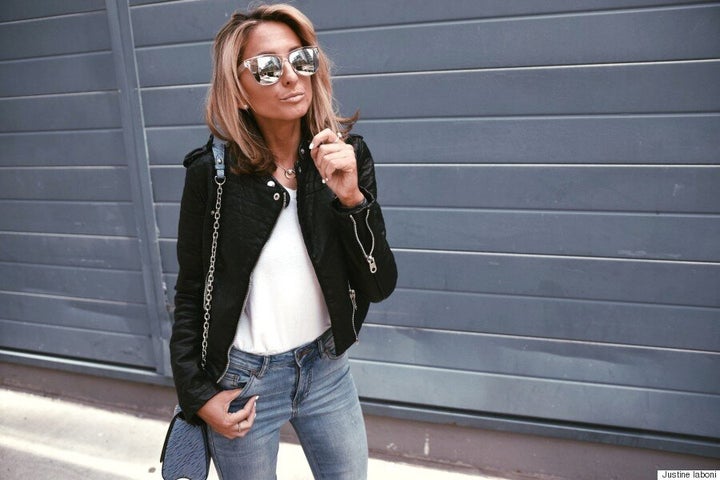 Choosing the right leather jacket takes hours of research and hopefully, only a few mistakes. We all remember the leather bomber phase of 2008; many closets still hold the vestiges of that short-lived trend, mine included. Before you drop upwards of $700 on a leather jacket, you must be sure that the style is something you can see yourself wearing for ages to come. We think the classic biker cut is as foolproof as it gets for your first leather jacket purchase.
Either way, here are a few things to consider before purchasing your first real leather jacket:
Because leather is a natural material, a skin, it is more difficult to manipulate sartorially than let's say, cotton. This means that you can try on the same leather jacket, but the fit will vary, slightly, between pieces. So, try on a few. More is more. Pay attention to where the jacket hits you at the waist and how the arms fit. Try it on with a sweater underneath and without.
The best part of a leather jacket is the hardware. This is where you can begin to express your personality. If you have a cool skin tone and wear mostly silver jewelry, go with silver or onyx hardware. If you're warmer toned, go for gold. If the jacket is in the traditional moto style, it will have a belt at the waist. Some people love that added detail, some don't. Trust, it can start to get really annoying when the belt buckle swings every time you take a step. When it comes to belts, it is better they are short with no use value.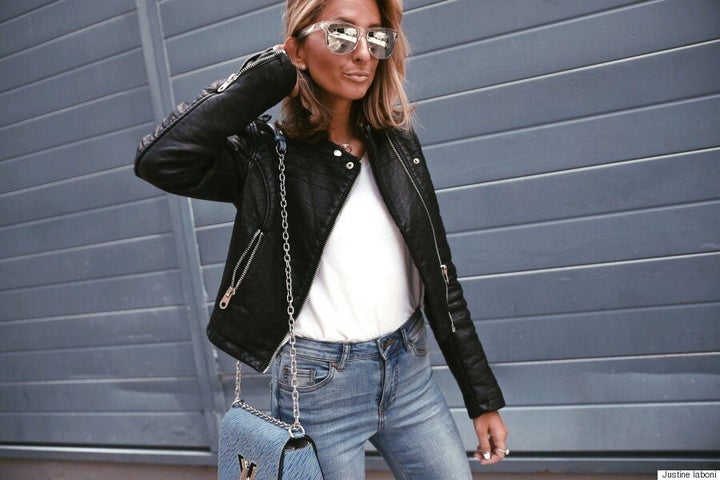 Often overlooked, the lining of any outerwear can easily make it or break it. Please, don't ever purchase a leather jacket without a lining — sure, it may be cheaper, but you'll regret it down the road. A lining not only adds a pop of colour, it protects you from your leather jacket, and vice versa. You don't want the leather touching your skin or clothes directly — it will cause the jacket to wear much quicker, and might give you a nasty rash. Go for a lining in a pretty satin or silk.
Most leather jackets will have a minimum of three pockets. Some are functional, some are not. If you like to put your hands in your pockets, get a leather jacket that sits a bit lower down the torso — maybe even one that goes down to your upper thigh. Just be wary of where the pockets sit and whether or not they can hold an iPhone 6 Plus.
Once you start to try on a few different types of leather jackets — we suggest trying both expensive and more affordable versions so you can see what your money gets you — you'll notice that the feel of leather changes depending on the type of skin used. Lambskin, for example, is one of the softest most luxurious leathers in the world. It's no wonder Chanel only uses lambskin for their most delicate 2.55 flapbags. Something more affordable, yet kind of rough is cow and pig leather — you'll see more fast-fashion pieces made from these two skins. Goat leather also has an interesting, more matte, finish. And if you want to be animal-friendly, there are some great vegan leather options that look just as good as the real deal.
Need more suggestions? Here's some of our all-time favourite leather jackets that will look great hanging in your closet: