TORONTO — The three people killed in a bloody crossbow attack at a home in Toronto's east end last week were the mother and two brothers of the accused, police said Tuesday after an Ontario court allowed the victims to be identified.
Court records name the victims as Susan, Alexander and Christopher Ryan. Police spokesman Mark Pugash confirmed their relationship Tuesday afternoon.
Brett Ryan, 35, has been charged with three counts of first-degree murder in the attack that stunned a tranquil residential neighbourhood last Thursday.
His brother Christopher, 42, was a station collector for the Toronto Transit Commission, where he had been working for 12 years, the agency said in a statement Tuesday.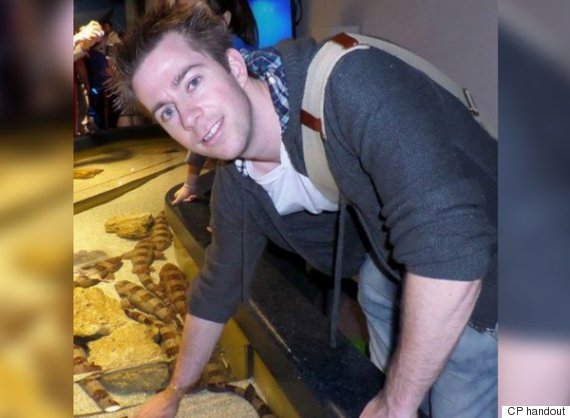 Brett Ryan is shown in this image from Facebook. (Photo: The Canadian Press Handout/Facebook)
"On behalf of the entire TTC family, we offer our deepest condolences to Mr. Ryan's family, friends and colleagues," it said, adding flags will be lowered to half-mast in his honour.
Warren Dalton, who lives across the street from the home, said the other brothers were in their mid to late 30s. Two of them — Alexander and a fourth brother who witnessed the attack — lived there with Susan, he said.
Dalton's wife was friends with Susan, who had severe osteoporosis and other health issues, he said, adding the two women would go shopping together and swap seeds for their gardens.
The two were supposed to go to the Canadian National Exhibition together on Thursday, he said, but rescheduled because Susan was feeling feverish.
"Make sure the police come, make sure the police come."
Dalton and his wife were home that afternoon when the fourth brother came to his door, covered in blood. Police have said that person, who they described as a witness, was treated and released from hospital.
"I carried him half into the living room and he fell onto the floor and he said 'Call 911, my brother is bleeding on the driveway,'" Dalton said in an earlier interview.
"Make sure the police come, make sure the police come."
While that brother was in their living room, Dalton's wife saw Brett Ryan sitting on the porch of the family's home, he said.
Police said they were called to a home for a report of a stabbing around 1 p.m. last Thursday.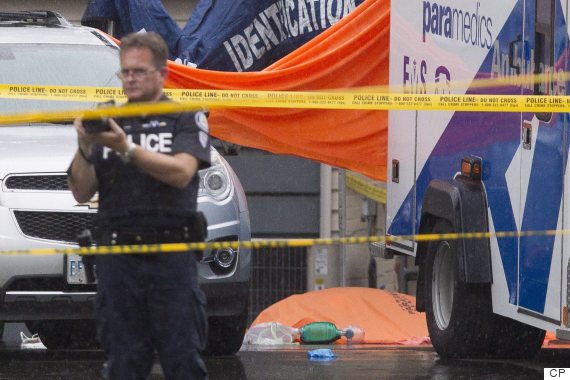 A body lies covered in front of a house in Scarborough, Ont., Aug. 25, after three people were killed in an apparent crossbow attack. (Photo: Chris Young/The Canadian Press)
They have since said the woman killed in the attack died from ligature strangulation, while one of the men died from a crossbow bolt stab wound to the neck and the other from a single arrowhead stab wound to the neck. They would not say whether the bolt and arrow were shot or used as handheld weapons.
The lead investigator on the case, Det. Sgt. Mike Carbone, said they were still trying to piece together a motive for the slayings and were asking for anyone who had contact with the accused on Thursday morning before the killings took place to contact police.
On Tuesday, a Toronto judge lifted a publication ban on the victims' identities. Ryan sat quietly in the prisoner's box during the hearing.
Police also examined a waterfront apartment associated with Ryan last Thursday but found there was no threat to the public, they said.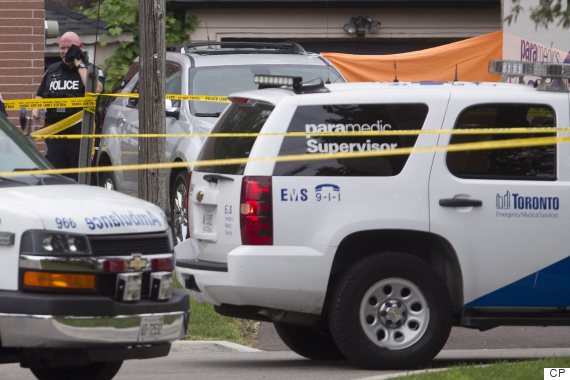 Police stand in front of a house in Scarborough, Ont., on Aug. 25, after three people were killed in an apparent crossbow incident. (Photo: Chris Young/The Canadian Press)
Ryan had previously served time in connection with a string of bank robberies in Toronto and nearby Durham Region in which a man showed a teller a note indicating he was armed and demanded cash.
In 2008, he was arrested in the case of the Fake Beard Bandit and charged with a total of 29 counts of robbery, intent to commit a crime while disguised, and a weapons offence.
He pleaded guilty in 2009 to eight counts each of robbery and intent to commit an indictable offence while disguised. The remaining counts were withdrawn. He was sentenced to 45 months in prison — less seven months for pre-trial custody. The court also imposed a lifetime weapons ban.
Social media profiles show Ryan was engaged to a registered physiotherapist. They were to be married in Hamilton on Sept. 16.
The couple, according to their registry page, met three years ago on a blind date in downtown Toronto.
Ryan is set to appear in court again on Friday.
Also on HuffPost
Student Kills Teacher With Crossbow In Spain