OTTAWA — The veterans affairs minister says the government intends to implement a number of recommendations to combat homelessness among veterans and to do so in what he calls a relatively timely fashion.
A draft of the government's proposed strategy to help homeless veterans shows that officials are looking at changing the vets benefits system to make it easier to hand out housing subsidies, an idea that has been shown to have some success in the United States.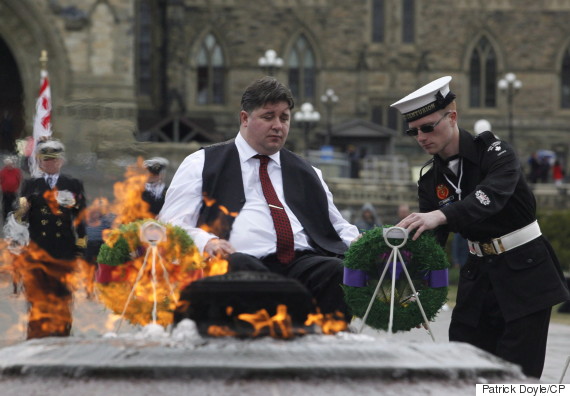 Veterans Minister Kent Hehr lays a wreath on Parliament Hill on May 1, 2016. (Photo: Patrick Doyle/CP)
Officials are also interested in building affordable housing dedicated to veterans and using current and retired military personnel to help department workers connect with homeless veterans.
A final copy of the strategy has yet to land on the desk of Veterans Affairs Minister Kent Hehr and may not arrive there until later this year once officials finalize the wording, facts, figures and recommendations.
Hehr said the final strategy on housing homeless veterans will feed into the national housing strategy the federal government is set to release before the end of the year.
'This is deeply important to me'
Until the work is done, he can't say how much it will cost to reduce veterans homelessness to a point where it is rare and brief when it does occur.
"I am sure there are going to be some changes along the way, but understand that this is deeply important to me, our ministry and the whole government," Hehr said.
"We are going to move forward on many of these recommendations in a relatively timely fashion to ensure that we are supporting veterans when they struggle."
That timeline is too long for some groups that help get vets off the street.
"The minister has told us that things are going to move quick. Guess what? They're not. They're not moving as quick as they should be."
The retiring president of the Ontario wing of the Royal Canadian Legion, which founded a nationwide program to house homeless vets, said "veterans can't wait that long and our veterans shouldn't have to wait that long" for the government to start housing them or providing them housing benefits.
Dave Gordon said he has spoken to federal officials for years about the need to educate federal support workers about the unique needs of homeless veterans and to build a national strategy based on work his group and others are doing across the country. The previous Conservative government talked about helping and the Liberals have made the same pledge, but little has been done, Gordon said.
"The minister has told us that things are going to move quick. Guess what? They're not. They're not moving as quick as they should be."
Hehr said he wants his department and Employment and Social Development Canada, which has the lead on combating homelessness, to provide help to homeless veterans and fill any cracks in the system that they could fall through.
Nearly 3,000 vets use shelters
"We want to ensure minimal overlap, with the maximum amount of resources dedicated to addressing the issue of homelessness among the general, and veterans, population," Hehr said.
He said Veterans Affairs already runs outreach projects for homeless vets in Vancouver, Calgary, Toronto, Ottawa, Montreal and Halifax.
Federal researchers estimate that 2,950 veterans use homeless shelters in Canada, although that number is likely to be higher as some shelter users may not disclose their military history to shelter workers, while others avoid shelters entirely because they lack the familiar structure that they had in the military. Other estimates put the number of homeless veterans at over 10,000.
Among those numbers was Cecil, who found himself living in a shelter in Ottawa after a variety of family and personal issues. He spent 14 years in the military before retiring in 1984.
The 64-year-old said that without the help of one volunteer group — Veterans Emergency Transition Services (VETS) Canada — he likely wouldn't have found an apartment and a job.
"The main thing in my life is to be safe and secure and I have that back," said Cecil, who didn't want his real name used over concerns it could affect his employment.
Also on HuffPost