The Philadelphia Zoo is making itself clear to the public: No, we won't name our new baby gorilla Harambe.
On Wednesday, the zoo posted a photo of the newest member in its ape family to its social media channels.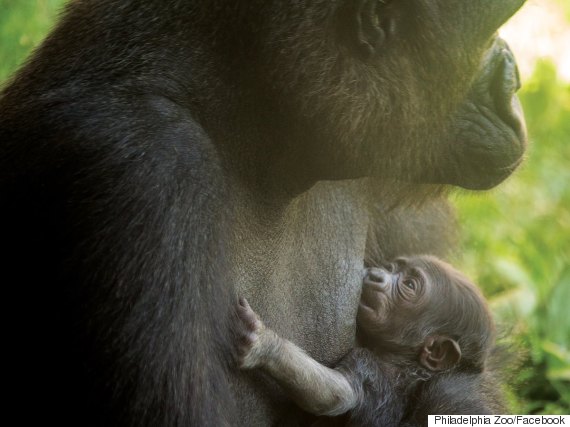 This adorable photo of the Philadelphia Zoo's newest gorilla was all the Internet needed to unleash a flood of Harambe memes. (Photo: Philadelphia Zoo/Facebook)
The zoo announced that in the coming weeks, after the gorilla's gender is determined, it would be listing "suggested names" for the newborn. Zoo officials said the public would be asked to vote for a name.
The Internet pounced at the opportunity and flooded the zoo with comments, tweets and posts asking for the baby to be named Harambe.
"I think that the name should mean something hopeful and powerful. A name that's more then just a name. A name people will always remember. Harambe," one user wrote on Facebook.
@phillyzoo Harambe has been reborn! Praise the heavens!

— Javi Moreno (@Javi386) August 31, 2016
@phillyzoo #Harambe: The Force Awakens

— Renee (@NopeMcNoperton) August 31, 2016
@phillyzoo name it harambe

— syd (@juvenilehes) August 31, 2016
On Thursday, the zoo's Chief Marketing Officer Amy Shearer told CNN she "totally" understands the online demand for the gorilla to be named Harambe, but clarified the zoo never actually said it would let the Internet decide on the name.
"What we are having is a voting opportunity for the community once we have better determined the gender of the baby and have worked internally with the team that has cared for the pregnancy and birth."
@phillyzoo @sashasIove name it harambe jr.

— gracie (@hotIineshay) September 1, 2016
@phillyzoo 2 Harambe 2 Furious

— Ben Karas (@bkaras523) September 1, 2016
Harambe, if you have been living off the grid for the past 90 days, was the name of a gorilla shot and killed at the Cincinatti Zoo in May after a child climbed into its enclosure.
His death first sparked sadness and despair, and then months later — a seemingly-endless supply of memes and weird Twitter fodder.
@phillyzoo YOU BETTER BE NAMING THAT GORILLA HARAMBE. THAT BABY BE A BLESSED APE.

— Jake Trent 🌐 (@JakeyBabes_) September 1, 2016
Also on HuffPost