The number of restricted guns in Canada shot up 9.5 per cent last year, bringing the number of restricted firearms registered across the country to its highest point in more than a decade.
Since 2004, the number of restricted firearms such as semi-automatic rifles and handguns in Canada has doubled.
According to the latest report of Canada's Commissioner of Firearms, there were 795,854 restricted firearms registered to Canadian owners in 2015 compared with 384,888 in 2004.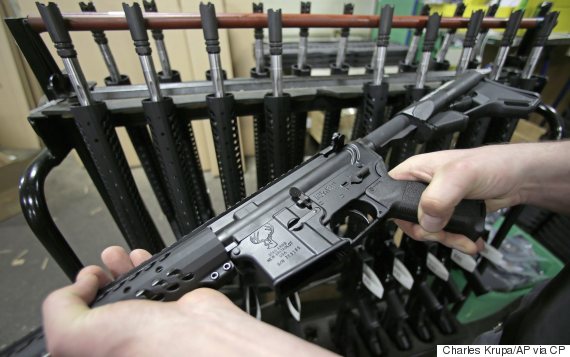 In this April 10, 2013, file photo, a man holds a newly-assembled AR-15 rifle in New Britain, Conn. (Photo: Charles Krupa/AP via CP)
The sharpest increase in 2015 was in Ontario, where the number of restricted firearms rose 14.8 per cent to 294,838. Ontario had nearly twice as many restricted guns as Alberta, where the total rose 7.9 per cent to 162,403. Ontario has about 12.8 million residents, to Alberta's 3.6 million.
The third largest number of restricted firearms was in British Columbia, where a 6.2 per cent rise brought the number to 144,725.
Increases in other provinces varied across the country:
- Newfoundland and Labrador, 11 per cent
- Nova Scotia, 4.5 per cent
- Prince Edward Island, 4.3 per cent 
- New Brunswick, 5.7 per cent
- Quebec, 7.7 per cent
- Manitoba, 3.4 per cent
- Saskatchewan, 6.9 per cent
- Yukon, 7 per cent
- Northwest Territories, 5.9 per cent
- Nunavut, 11.5 per cent
At the same time the number of prohibited firearms in Canada declined by 1.78 per cent.
No numbers on unrestricted firearms
It is impossible to know exactly how many non-restricted firearms there are in Canada. In 2011, the last year statistics were available before the Conservative government ended the reporting on non-restricted firearms, there were 7.1 million non-restricted guns in Canada.
In a statement, Goodale said he wants to strike a balance between public safety and the rights of gun owners.
"Our government believes in balanced, effective gun control that prioritizes public safety while ensuring law-abiding firearms owners do not face unfair treatment under the law," Goodale said, pointing out that the statistics cover firearms that are legally owned and subject to "significant restrictions."
"Our priority is on making it harder for criminals to get, and to use, handguns and assault rifles."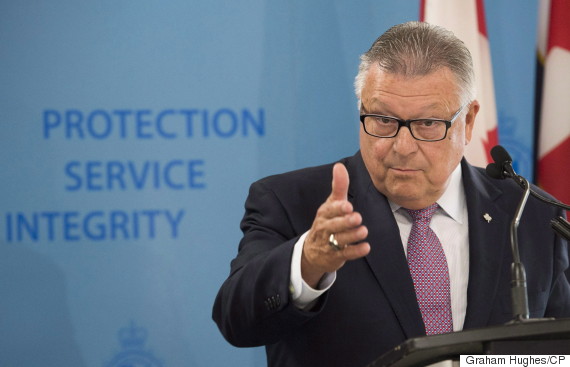 Public Safety Minister Ralph Goodale makes announcement in Quebec on Aug. 15, 2016. (Photo: Graham Hughes/CP)
However, that period also corresponds to an increase in popularity of handguns and semi-automatic assault style rifles across North America, say experts like A.J Somerset, author of Arms: The Culture and the Credo of the Gun.
Somerset says much of the increase in popularity of restricted firearms in Canada originates in the United States where laws have changed to make it easier to buy handguns and assault-style rifles. That has led to more models on the market and more advertising – attracting Canadian gun owners as well, he said.
"The trend in the United States with this growing market, with all kinds of marketing and advertising and so on, is naturally just pushing the same trend in Canada and we see growth in restricted firearms licences as a result."
Fear of terrorism is also fuelling some of the interest in restricted firearms, he added.
"People feel that they have a need to have firearms for self defence to a greater extent than in the past."
Target shooting has increased
Tony Bernardo of the Canadian Shooting Sports Association says an increase in popularity of target shooting in Canada explains the increase in the number of legal, restricted firearms.
"These firearms are used exclusively as target firearms by Canadians. In fact, they may only be discharged on a licensed range, despite the suitability of many restricted firearms for hunting purposes."
Bernardo said the decrease in prohibited firearms is due to the government's decision in 1993 to freeze the number of prohibited firearms in Canada.
"The existing owners were grandfathered, grandfathering being a form of deferred confiscation. As the owners of the legal firearms age, reduction by attrition is inevitable."
Heidi Rathjen, a gun control advocate with PolySeSouvient and a survivor of Montreal's 1989 Ecole Polytechnique massacre, says the rise of the number of restricted firearms across Canada is cause for concern.
Worrisome trend
"It's extremely worrisome," she said in an interview with CBC News. "These restricted weapons pose a significant threat to public health – that's why they are restricted."
Rathjen said the restricted category of firearms includes, not only hand guns, but also rifles with military characteristics.
"We feel that any weapon with military characteristics should be banned. It shouldn't be legal and so to see the growing numbers of these weapons is very worrisome."
Rathjen said she hopes Prime Minister Justin Trudeau's Liberal government will soon act on the promises it made during last year's election to tighten gun rules in Canada.
"Hopefully we can reverse this with better legislation, better screening and better applying the laws we already have on the books which were undermined by the previous government."
Also on HuffPost