A Toronto cyclist was sent flying into a street pole last month after being "doored" by a truck parked illegally in a bike lane.
On Aug. 26, Chelsea Mobishwash was riding down Adelaide Street when she noticed a delivery truck in the bike lane.
As she rode closer, the cyclist rang her bell as a heads up to anyone who might be inside the vehicle, reported CBC News.
But then, without warning, the passenger-side door opened and hit her.
"I had an eerie feeling that something was going to happen," the cyclist told the outlet. "Right as I was biking by I felt something hit me. To be honest I really didn't even know what it was until I hit the ground."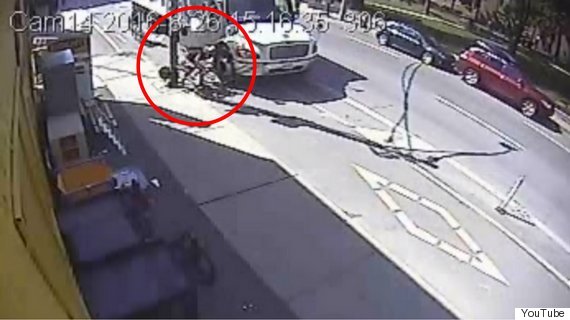 (Screenshot via YouTube)
Surveillance footage Mobishwash posted on YouTube Tuesday shows the cyclist smashing into the door and being knocked into a nearby post. (Watch above.)
Mobishwash, 25, told The Toronto Star that she needed six stitches to close a cut on her arm after the accident, and that she was left with bruising down her side.
She told the outlet that she has filed a police report.
Punishable offence
In Toronto, "dooring" is an offence punishable by a $365 fine, as well as three demerit points.
On Aug. 22, another cyclist suffered minor injuries when he was hit by a taxi. The cab driver was charged dangerous operation of a motor vehicle and assault with a weapon a few days later, reported CP24.
Follow The Huffington Post Canada on Facebook, Twitter, and Instagram
Also on HuffPost
Top 10 Cities for Cycling