CALGARY — A hearing is to begin Tuesday for a Federal Court judge who asked a sexual assault complainant why she couldn't just keep her knees together. The Canadian Judicial Council is to determine whether Justice Robin Camp, who made the comments in 2014 while a provincial court judge in Calgary, should be removed from the bench.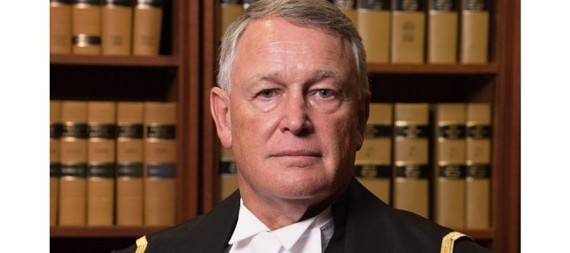 A hearing is set to begin to determine if Justice Robin Camp should be removed from the bench over comments he made to a sexual assault complainant in 2014. (Photo: Andrew Balfour)
Camp acquitted a man of sexually assaulting a 19-year-old girl after deciding that the man's version of events was more credible. Court transcripts show Camp questioned the woman's morals, suggested her attempts to fight off her attacker were feeble and described her as "the accused" throughout the trial. He asked her: "Why couldn't you just keep your knees together?" and said "pain and sex sometimes go together." The verdict was overturned on appeal and a new trial was ordered. "The council was created in 1971 ... and since that time there have been 11 public inquiries, so it's not a common occurrence," said Johanna Laporte, the judicial council's director of communications. "We do receive a number of complaints regarding judicial conduct per year but not all of them ... go to the public inquiry stage."
"He believes he can make a positive contribution as a member of the Canadian judiciary."
Camp is expected to be at the hearing. He has indicated he wants to continue serving as a judge and that he plans to apologize. "He believes he can make a positive contribution as a member of the Canadian judiciary. He will strive to keep improving and to keep learning," said a notice of response outlining Camp's position that was posted on the council's website. It also said he has undergone training and counselling with a superior court judge, a psychologist and an expert in sexual assault law.
Judicial 'privilege' violated: advocate
The committee that will weigh the allegations against Camp is made up of three judges, who are council members, and two senior lawyers. It's alleged Camp made comments that "reflected an antipathy" toward laws meant to protect vulnerable witnesses, engaged in "stereotypical or biased thinking" and asked the complainant questions that relied on "discredited, stereotypical assumptions" of how one should behave following a sexual assault. Danielle Aubry, executive director of Calgary Communities Against Sexual Abuse, doesn't think Camp should remain as a judge even if he is sorry for his actions. "When you become a judge, that's a privilege. It's a very high position. It's incredulous to me that there are people who are sitting on the bench that are not educating themselves about issues like sexual violence and domestic violence," said Aubry. "People on the bench really need to start looking at the fact that they need to be accountable." Seven days have been set aside for the hearing. The committee will then make a recommendation to the full Canadian Judicial Council. "Ultimately the council's responsibility is to make a recommendation to the minister of justice," said Laporte. "It's for the minister of justice to table ... any recommendation for removal if that were to be the case." The Federal Court has ordered Camp to no longer hear cases until further notice. — Follow @BillGraveland on Twitter
Also on HuffPost
'Surviving In Numbers': Stories Of Sexual Assault Survivors