EDMONTON — Alberta prosecutors are set to begin appeal arguments today in the acquittal of an Ontario trucker who was charged with killing an aboriginal woman.
A jury last year found Bradley Barton not guilty of first-degree murder in the death of Cindy Gladue, a 36-year-old sex worker who was found dead in a bathtub in an Edmonton motel room in 2011.
The verdict sparked protests in several Canadian cities, and calls for justice for aboriginal women across the country.
The Crown argued at trial that Gladue had been cut with a weapon, but the defence attributed the injury to rough sex.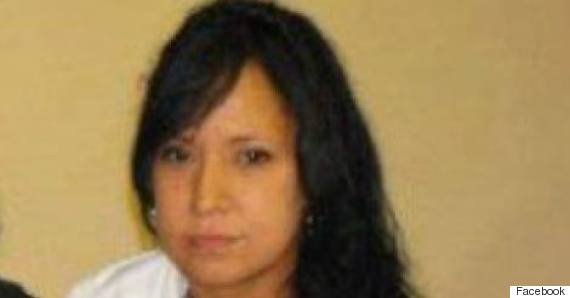 Cindy Gladue was found dead in 2011. (Photo: Facebook)
A rally is planned outside the Edmonton Law Courts building this morning by one of the groups that's been given permission to intervene in the appeal.
Muriel Stanley Venne of the Institute for the Advancement of Aboriginal Women says the rally is to support the family, noting the trial and the verdict sent a message that the rules for aboriginal women are different.
WARNING: CONTENT MAY DISTURB SOME READERS
Barton's trial heard that he had hired Gladue for two nights of sex in June 2011.
He testified that he put his fist in her vagina on the first evening. On the next night, after some drinking, he did the same but she started bleeding. When she went to the bathroom, he fell asleep, he said.
The next morning he found her body in the tub, he told court. He later called 911.
Barton told the jury the sex was consensual.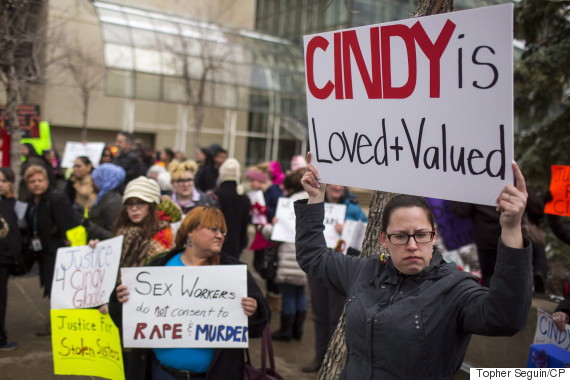 Protesters hold signs outside Edmonton city hall on April 2, 2015, in support of Cindy Gladue. (Photo: Topher Seguin/CP)
The Crown called a medical examiner at the trial, who testified that an 11-centimetre cut to the woman's vaginal wall had been caused by a sharp object. The victim's vagina had been preserved and the medical expert used that exhibit as he described the fatal wound to the jury.
In an interview Sunday, Stanley Venne said Gladue's death was "disrespectfully handled'' by the court, adding that she was "constantly'' referred to as prostitute and not by name.
"They dissected her body after she was dead and brought it into the courtroom on a paper towel,'' Stanley Venne said.
"I've heard expressed to me, that if it had been a non-aboriginal woman or in fact a white woman, it would not have happened. They would not have dared to do that without the consent of the family.''
"They dissected her body after she was dead and brought it into the courtroom on a paper towel."
The Crown said it was important for the jury to see and added that some autopsy photos were not as clear as they could have been.
The appeal notice last year by the Crown cited mistakes the judge made during his charge to the jury, including his instructions about how Barton could have been found guilty of manslaughter.
Dino Bottos, Bradley's lawyer, said the Crown's attempt to show a manslaughter conviction is possible is not based in law.
Bottos said Gladue's death was a tragedy and people are appalled at how she died. But he said that doesn't mean it was criminal.
"The jury considered this case very carefully and considered all the routes to manslaughter and murder, and found that Mr. Barton was simply was not guilty of any crime even though the circumstances were tragic and graphic,'' Bottos said.
"Sometime accidents happen and they happen in the throes of sexual activity and that doesn't mean that they're based on criminal intent but simply an accident having occurred.''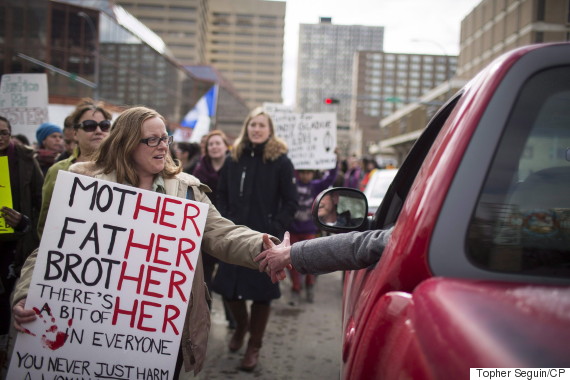 A driver reaches out in support to a protestor at a rally in support of Cindy Gladue in 2015. (Photo: Topher Seguin/CP)
Stanley Venne's group, as well as the Legal Education Action Fund, are arguing as interveners that myths about indigenous women and women in sex industries were allowed to infiltrate the trial. They argue it undercut notions of consent based on sexual history.
"In our minds there's good grounds for appeal and we hope with all our hearts that this will make a change in attitude towards the indigenous women in this country across this country,'' Stanley Venne said.
Also on HuffPost